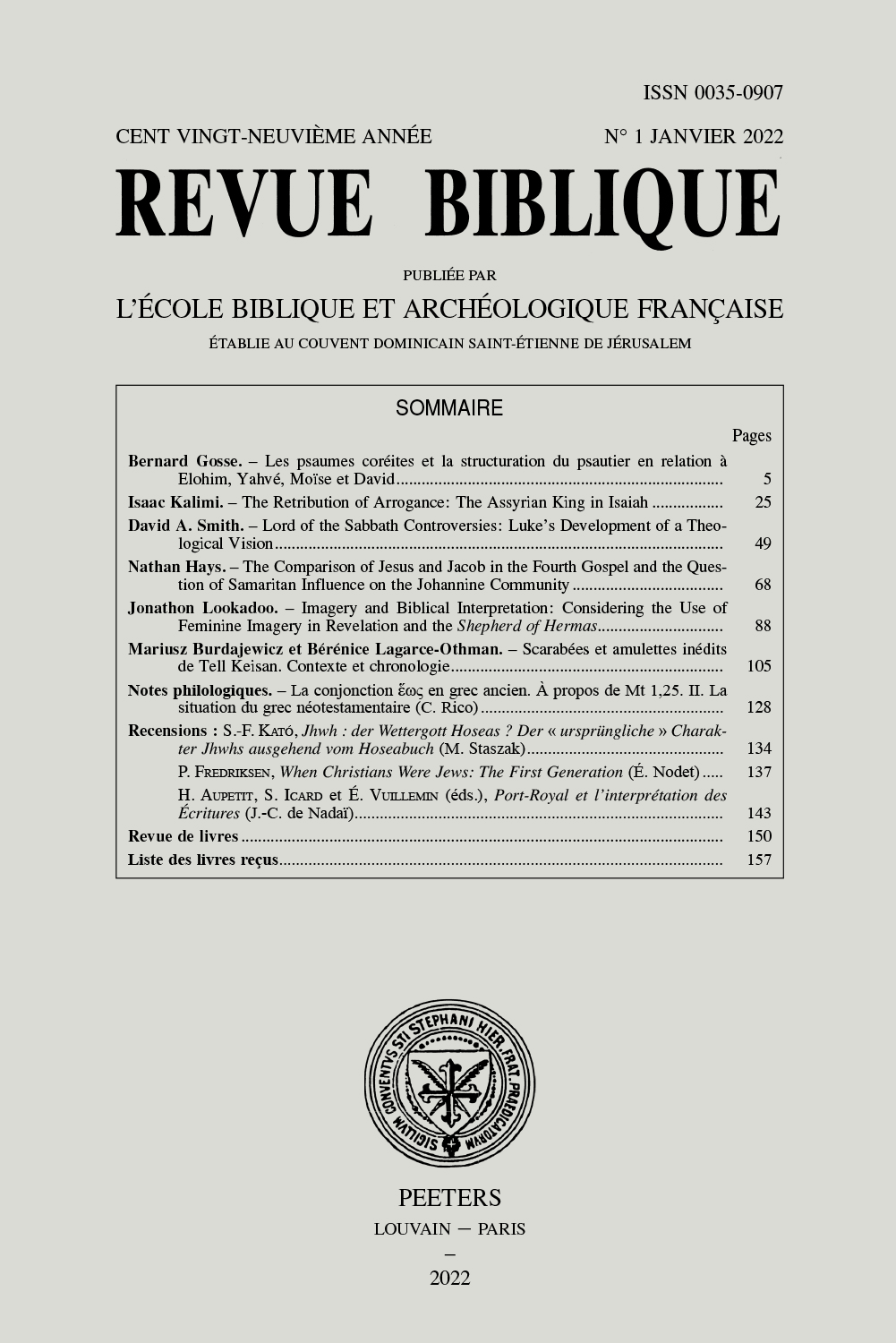 Document Details :

Title: Revisiting the Ezekiel Theodicy
Author(s): AMZALLAG, Nissim
Journal: Revue Biblique
Volume: 128 Issue: 4 Date: 2021
Pages: 525-545
DOI: 10.2143/RBI.128.4.3289742

Abstract :
The theodicy for the destruction of Jerusalem, though extensively developed in Ezekiel 1-24, remains obscure. This situation results from the gathering in the pool of sinners of the exile, of those remaining in Jerusalem, and of the previous generations. This latter group even encompasses the religious elite who promoted the Josiah reform. The present study argues that Ezekiel identifies this collective and transgenerational sin with the replacement, from the reign of Ahaz, of the copper altar by a stone altar for the performance of burnt-offerings in the Jerusalem temple. This premise emerges from an analysis of Ezekiel 8-9, and especially from the significance of the item designated as סמל הקנאה, and its implications concerning the way the copper altar conditions the divine presence in the temple. This interpretation is introduced by the content of Ezekiel 1, where the nature of the celestial domain is exposed. It is confirmed by the metaphor exposed in Ezekiel 24, whose content reveals that the successive religious reforms (Ahaz, Hezekiah, Josiah) prevented the Jerusalem temple from fulfilling its cosmic functions. This original explanation enables Ezekiel to elaborate a theodicy combining an ethic of responsibility with the expression of divine justice.


---

Quoique largement exposée dans les 24 premiers chapitres du livre d'Ézéchiel, la théodicée de la destruction de Jérusalem demeure obscure. Cette situation résulte principalement de l'incrimination non seulement des Judéens restés au pays, mais encore des exilés à Babylone ainsi que des générations précédentes, groupe qui inclut même les promoteurs de la réforme de Josias. La présente étude montre en quoi cette faute, selon Ézéchiel, consiste essentiellement en la substitution de l'autel originel en cuivre par un autel de pierre pour la combustion des holocaustes, et ce depuis le règne d'Achaz. Cette conclusion émerge de l'analyse des chapitres 8-9 d'Ézéchiel, et notamment de l'identification de l'objet désigné comme סמל הקנאה et de sa relation à l'autel de cuivre tout comme à la théophanie de YHWH. L'article montre également en quoi cette opinion est déjà préparée par la vision du domaine céleste exposée en Ézéchiel 1. Elle se trouve également réexposée en Ézéchiel 24, au travers d'une métaphore dénonçant l'impossibilité pour le temple de remplir ses fonctions d'ordre cosmique depuis l'abandon de l'autel de cuivre. Cette justification permet le déploiement, dans le livre d'Ézéchiel, d'une théodicée originale combinant une éthique de la responsabilité avec l'expression d'une justice divine.


Download article