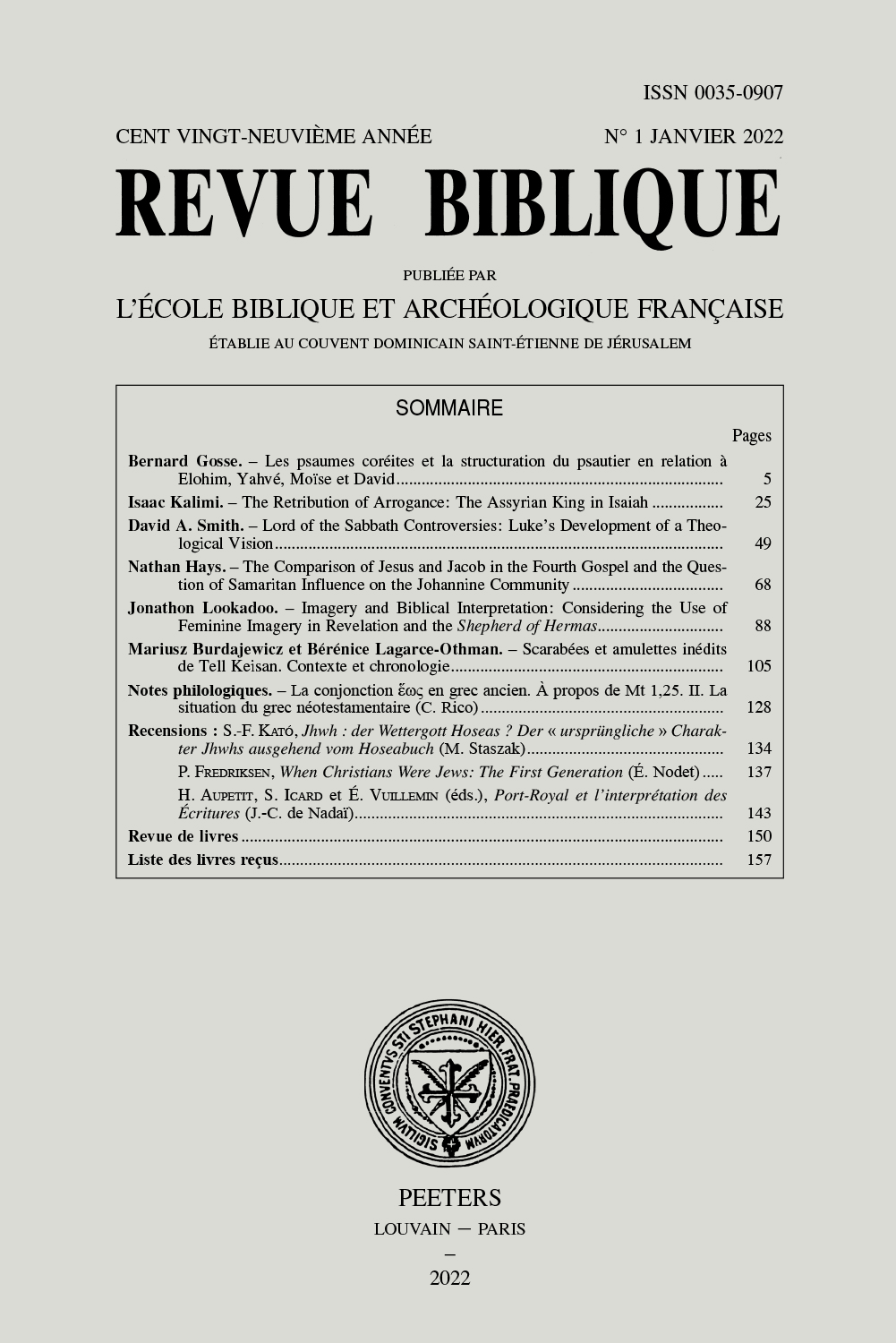 Document Details :

Title: Unparalleled Variant Readings for Leviticus 26:26b-44 and Numbers 4:15b-5:6a in an Early Christian Palestinian Aramaic Palimpsest from St Catherine's Monastery (Greek NF M 167)
Author(s): MÜLLER-KESSLER, Christa
Journal: Revue Biblique
Volume: 128 Issue: 3 Date: 2021
Pages: 354-370
DOI: 10.2143/RBI.128.3.3289517

Abstract :
One palimpsest bifolio from shelf number Greek NF M 167 was published as a poorly legible black and white photo in 1980 and again in 1981, together with other manuscript samples of the New Finds 1975 from a secluded storage room in the St George Tower at St Catherine's Monastery. It has so far defied identification for the underneath text. This Christian Palestinian Aramaic text in uncial letters (6th century) is overwritten by a Greek Menaion (11th century) and preserves in the lower text unparalleled textual readings for Leviticus 26:26b-44 and Numbers 4:15b-5:6a from a lost Greek witness.


---

Un bifolio palimpseste provenant du numéro d'étagère Greek NF M 167 a été publié sous la forme d'une photo en noir et blanc peu lisible en 1980, puis en 1981, avec d'autres échantillons de manuscrits du nouveau fonds (New Finds 1975) provenant d'une salle de stockage isolée de la tour Saint-Georges du monastère Sainte-Catherine du Sinaï et a jusqu'à présent défié toute identification pour le texte inférieur. Ce texte araméen christo-palestinien en lettres onciales (VIe siècle) est recouvert par un Menaion grec (XIe siècle) et préserve dans le texte inférieur de nouvelles variantes textuelles sans parallèle pour Lévitique 26,26b-44 et Nombres 4,15b-5,6a provenant d'un témoin grec non transmis.


Download article