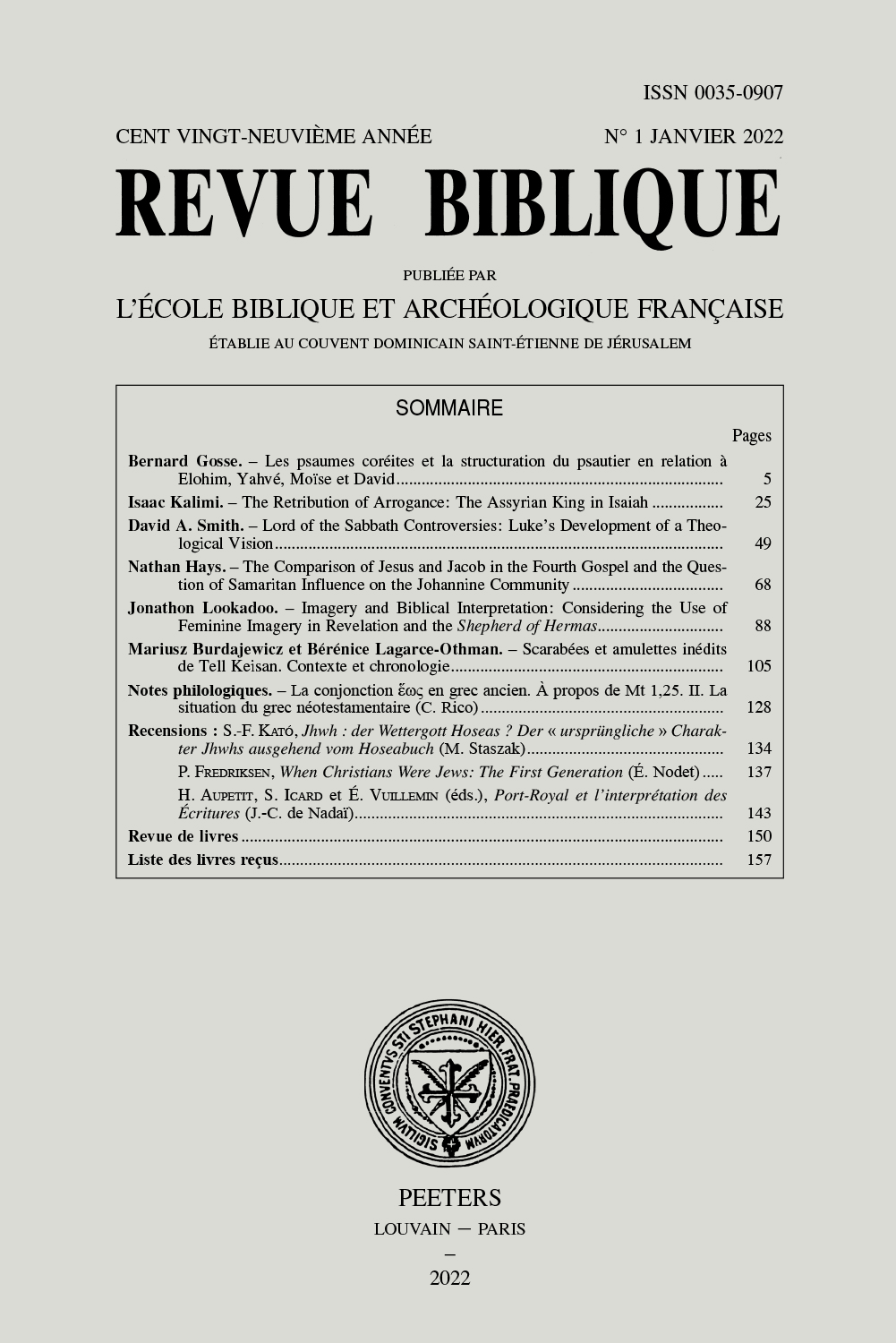 Document Details :

Title: 'Why do the Scribes Say' (Mark 9:11)
Subtitle: Scribal Expectations of an Eschatological High Priest and the Interpretation of Jesus' Transfiguration
Author(s): GIAMBRONE, Anthony
Journal: Revue Biblique
Volume: 128 Issue: 2 Date: 2021
Pages: 201-235
DOI: 10.2143/RBI.128.2.3289325

Abstract :
In Matthew and Mark, Jesus' dialogue with his disciples immediately after his Transfiguration highlights the return of Elijah as a key to the epiphanic event. The present study contextualizes this exchange within Second Temple cosmology and eschatology and creative traditions of scribal exegesis that generated expectations of a coming eschatological high priest. An identification of John with this Elijah/High-Priest figure, together with certain traditions about Moses' 'sanctification' in the cloud as well as the glorious high priestly vestments, positions Jesus' own remarkable transformation upon the mountain in a new and very suggestive priestly light.


---

Dans Matthieu et Marc, le dialogue de Jésus avec ses disciples immédiatement après sa Transfiguration met en évidence le retour d'Élie comme une clé de l'événement épiphanique. La présente étude replace cet échange dans le contexte de la cosmologie et de l'eschatologie du Judaïsme du Second Temple et des traditions créatives d'exégèse scribale qui ont généré des attentes quant à la venue d'un grand prêtre eschatologique. L'identification de Jean avec cette figure d'Élie/Grand-Prêtre, ainsi que certaines traditions concernant la «sanctification» de Moïse dans la nuée et les vêtements glorieux du grand prêtre, place la transformation remarquable de Jésus sur la montagne sous un jour sacerdotal nouveau et très suggestif.


Download article