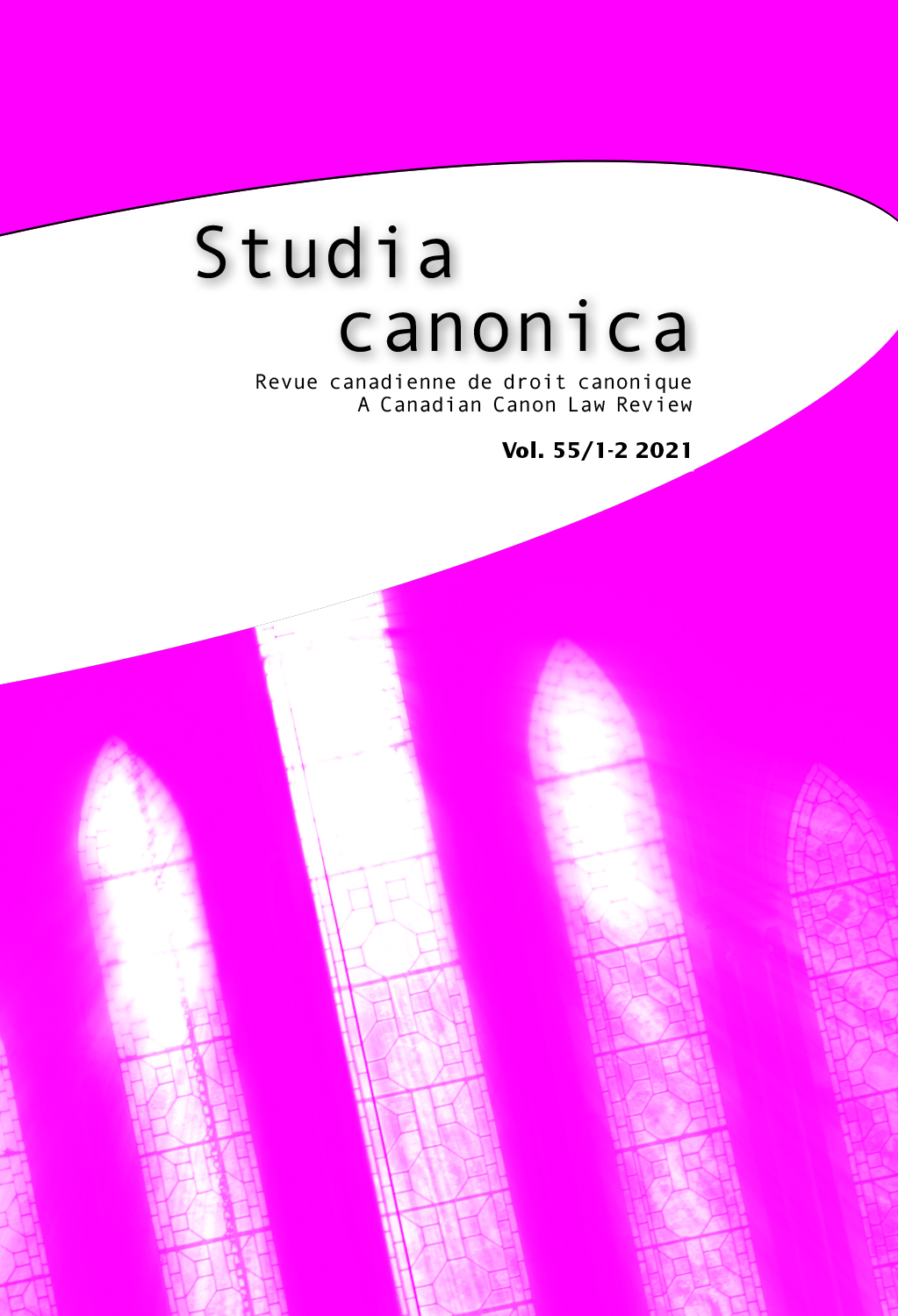 Document Details :

Title: L'enquête préliminaire dans les procédures de nullité de mariage
Author(s): NOBEL, Michael-Andreas
Journal: Studia Canonica
Volume: 54 Issue: 2 Date: 2020
Pages: 623-683
DOI: 10.2143/STC.54.2.3289271

Abstract :
Depuis des siècles, une enquête préliminaire est utilisée dans les procès criminels et les causes de canonisation afin de recueillir l'information nécessaire avant de commencer une procédure déterminée. Dans le contexte des procédures matrimoniales, ce concept semble être plutôt «récent» et certains de ses éléments peuvent être vus vers la fin du XIXe siècle. Des méthodes locales ont eu un impact significatif sur la législation universelle, mais seulement dans la foulée du Deuxième Concile du Vatican. En ce qui concerne la législation de l'Église latine, on examinera sous trois aspects le droit universel, tel que promulgué dans les Codes de droit canonique de 1917 et 1983: a) si elle contient des lois concernant une enquête préliminaire dans le contexte d'un procès en vue d'obtenir une déclaration de nullité de mariage, b) les éléments nécessaires à la préparation d'une demande et la manière dont ces informations sont recueillies, et c) la collecte des preuves comment ces renseignements sont colligés et, d) la collecte des preuves avant la litis contestatio ou contestation du litige. L'Instruction Dignitas connubii reconnaissait deux «enquêtes préliminaires» selon les articles 113 et 120. La dichotomie partielle demeure après que les dispositions du Code de droit canonique de 1983 sur les procédures matrimoniales furent changées par le motu proprio Mitis Iudex Dominus Iesus et la Ratio procedendi, reconnaissant une «enquête préjudiciaire et pastorale» et l'enquête préliminaire menée par le vicaire judiciaire afin de vérifier des aspects précis d'un libellus présenté, conformément à l'article 120 de Dignitas connubii.


---

For centuries, a preliminary inquiry was recognized for criminal and canonization procedures to gather information necessary prior to commencing a specific procedure. In the context of marriage procedures, this concept appears to be rather 'new', and elements of it can be seen in the late nineteenth century. Local approaches had a significant impact on universal legislation, but not until after the Second Vatican Council. With reference to the legislation of the Latin Church, the universal law as promulgated in the Codes of Canon Law from 1917 and 1983 are examined under three aspects: a) whether it contains any legislation on a preliminary inquiry in the context of a process to obtain a declaration of nullity of marriage, b) the elements necessary for a petition and how this information is gathered, and c) the collection of proofs prior to the litis contestatio. The Instruction Dignitas connubii recognizes two 'preliminary inquiries' according to articles 113 and 120. This partial dichotomy remains after the prescripts of the 1983 Code of Canon Law on marriage procedures were changed with the motu proprio Mitis Iudex Dominus Iesus and the Ratio procedendi, recognizing a 'pre-judicial' or 'pastoral inquiry' and, according to DC 120, the preliminary inquiry conducted by the judicial vicar, verifying specific aspects of a submitted libellus.


Download article