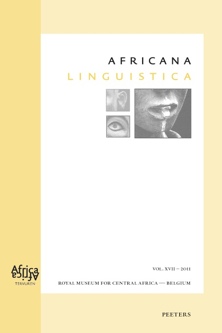 Document Details :

Title: The Proto-West-Coastal Bantu Velar Merger
Author(s): PACCHIAROTTI, Sara , BOSTOEN, Koen
Journal: Africana Linguistica
Volume: 26 Date: 2020
Pages: 139-195
DOI: 10.2143/AL.26.0.3289089

Abstract :
In this article, we assess the genealogical validity of West‑Coastal Bantu (WCB) as a major subclade of the Bantu family by means of the Comparative Method. Based on a comparative dataset of 66 different cognate series, we demonstrate that languages previously classified as WCB according to lexicon‑based quantitative methods share at least one common phonological innovation: the phonemic merger of the Proto‑Bantu velar stops *g and *k due to the devoicing of *g when not preceded by a nasal. We show that the velar merger is a unique phonological innovation distinguishing WCB from other Bantu phylogenetic groups such as South‑Western and Eastern. It probably also separates WCB from North‑Western and Central‑Western Bantu, where *g did devoice, but not always before *k became zero. However, at this stage, there is not enough empirical evidence and especially not sufficient systematic historical‑comparative linguistic research to further test this hypothesis. In any event, building on Möhlig (1981), we speculate that the recurrent devoicing of *g in several ancestral Bantu languages of the rainforest could be diagnostic of a pre‑Bantu hunter‑gatherer substrate.


---

Dans cet article, nous évaluons, par la méthode comparative, la validité généalogique du bantu de la côte occidentale (WCB, West-Coastal Bantu) en tant que sous‑groupe principal de la famille bantu. Tout en nous basant sur 66 séries de cognats, nous démontrons que les langues classifiées comme WCB selon les méthodes quantitatives lexicales partagent au moins une innovation phonologique: la fusion des occlusives vélaires *g et *k du proto‑bantu, suite au dévoisement du *g qui se produit lorsque celui-ci n'est pas précédé d'une nasale. Nous montrons que la fusion des occlusives vélaires est une innovation phonologique tout à fait unique distinguant le WCB des autres groupes phylogénétiques bantu tels que celui du sud‑ouest et celui de l'est. Il sépare probablement aussi le WCB des langues bantu du nord-ouest et du centre-ouest, où le *g s'est dévoisé, mais pas toujours avant que *k ne soit réduit à zéro. Cependant, à ce stade, les preuves empiriques manquent, et spécialement les recherches historico-comparatives systématiques, pour nous permettre de poursuivre la vérification de cette hypothèse. Quoi qu'il en soit, tout en nous fondant sur Möhlig (1981), nous conjecturons que le dévoisement récurrent de *g que l'on retrouve dans plusieurs langues bantu ancestrales de la forêt équatoriale pourrait signaler un substrat pré-bantu de chasseurs-cueilleurs.


Download article