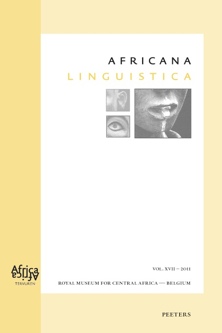 Document Details :

Title: The Formation of Existential Constructions in Western Serengeti
Subtitle: A Micro-Comparative Exploration of Variation and Change
Author(s): BERNANDER, Rasmus , LAINE, Antti
Journal: Africana Linguistica
Volume: 26 Date: 2020
Pages: 59-102
DOI: 10.2143/AL.26.0.3289087

Abstract :
This study is a micro‑comparative investigation of the expression of existentials in the closely related Bantu language varieties of the Western Serengeti (WS) subgroup of the South Mara branch of East Nyanza, itself a branch of Great Lakes Bantu or Zone J. After introducing the locative agreement system and copula paradigm, viz. the main subparts of the existential constructions, we offer a detailed presentation of the various types (and subtypes) of existentials as they appear in Ikoma, Ishenyi, Nata (all JE45) and Ngoreme (JE401). We show that there is remarkable variation not only within and between the members of the WS group but also in comparison to prototypical (Eastern) Bantu traits. In particular, some existential constructions do not adhere to the canonical criteria distinguishing an existential from a plain locational, namely an inversed constituent order and the specialized use of post‑finals on copulas. To account for this anomalous behavior and for the variation in general, we reconstruct the original sources and explore the diachronic forces behind the formation of these WS existentials.


---

Cette étude est une analyse micro-comparative de l'expression des existentiels dans des variétés bantu proches du Serengeti occidental (WS), sous-groupe de la branche Mara méridionale du Nyanza oriental, qui lui-même constitue une branche du bantu des Grands Lacs, ou zone J. Après avoir exposé le système d'accord locatif et le paradigme de la copule, soit les principales subdivisions des constructions existentielles, nous proposons une présentation détaillée des divers types (et sous-types) d'existentiels tels qu'ils apparaissent en ikoma, en ishenyi, en nata (tous JE45) et en ngoreme (JE401). Nous montrons qu'il existe une variation frappante, non seulement au sein des membres du groupe WS et entre eux, mais également par rapport aux caractéristiques du bantu prototypique (oriental). En particulier, certaines constructions existentielles n'adhèrent pas aux critères canoniques distinguant un existentiel d'un simple locatif, à savoir un ordre inversé des constituants et une utilisation spécifique de post-finales sur les copules. Pour expliquer ce comportement irrégulier et la variation en général, nous reconstituons les sources originales et explorons les forces diachroniques qui se trouvent derrière la formation de ces existentiels WS.


Download article