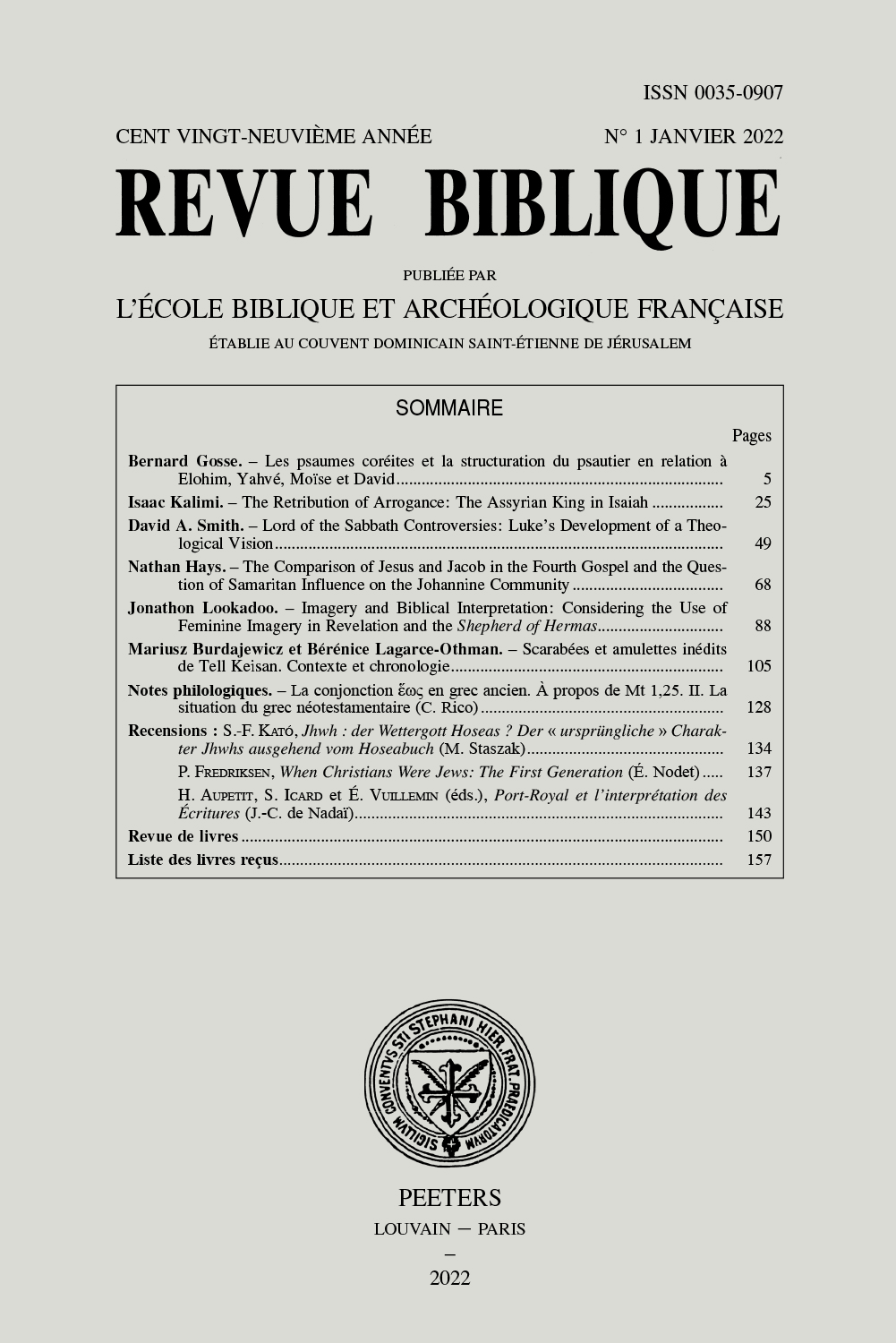 Document Details :

Title: Who Builds the House of Israel?
Subtitle: The Verb bnh in Genesis 2:22; 16:2; 30:3
Author(s): LEDER, Arie C.
Journal: Revue Biblique
Volume: 128 Issue: 1 Date: 2021
Pages: 5-26
DOI: 10.2143/RBI.128.1.3289061

Abstract :
Genesis restricts its use of the verb bnh to describe the building of women (2:22; 16:2; 30:3), cities (4:17; 10:11; 11:4, 5, 8), altars (8:20; 12:7, 8; 13:18; 22:9; 26:25; 35:7), and once of a house (33:17). This essay focuses on the niphal of bnh in Genesis 16:2 and 30:3 to argue that the referent of Sarai's and Rachel's wishes depicted by 'bnh is not limited to surrogacy but includes a subtle reference to YHWH's, normally unobtrusive and not mentioned, role in human reproduction, first signaled by YHWH's building of Eve (2:22), the mother of all living. A connection with the building of cities and altars is also explored.


---

La Genèse limite son utilisation du verbe bnh pour décrire la construction des femmes (2,22; 16,2; 30,3), des villes (4,17; 10,11; 11,4.5.8), des autels (8,20; 12,7.8; 13,18; 22,9; 26,25; 35,7), et une fois d'une maison (33,17). Cet essai se concentre sur le niphal de bnh en Genèse 16,2 et 30,3 pour soutenir que le référent des désirs de Saraï et de Rachel représenté par 'bnh ne se limite pas à la maternité de substitution mais inclut une référence subtile au rôle de YHWH, normalement discret et non mentionné, dans la reproduction humaine, signalée pour la première fois par YHWH construisant Ève (2,22), la mère de tous les êtres vivants. Une connexion avec la construction de villes et d'autels est également explorée.


Download article