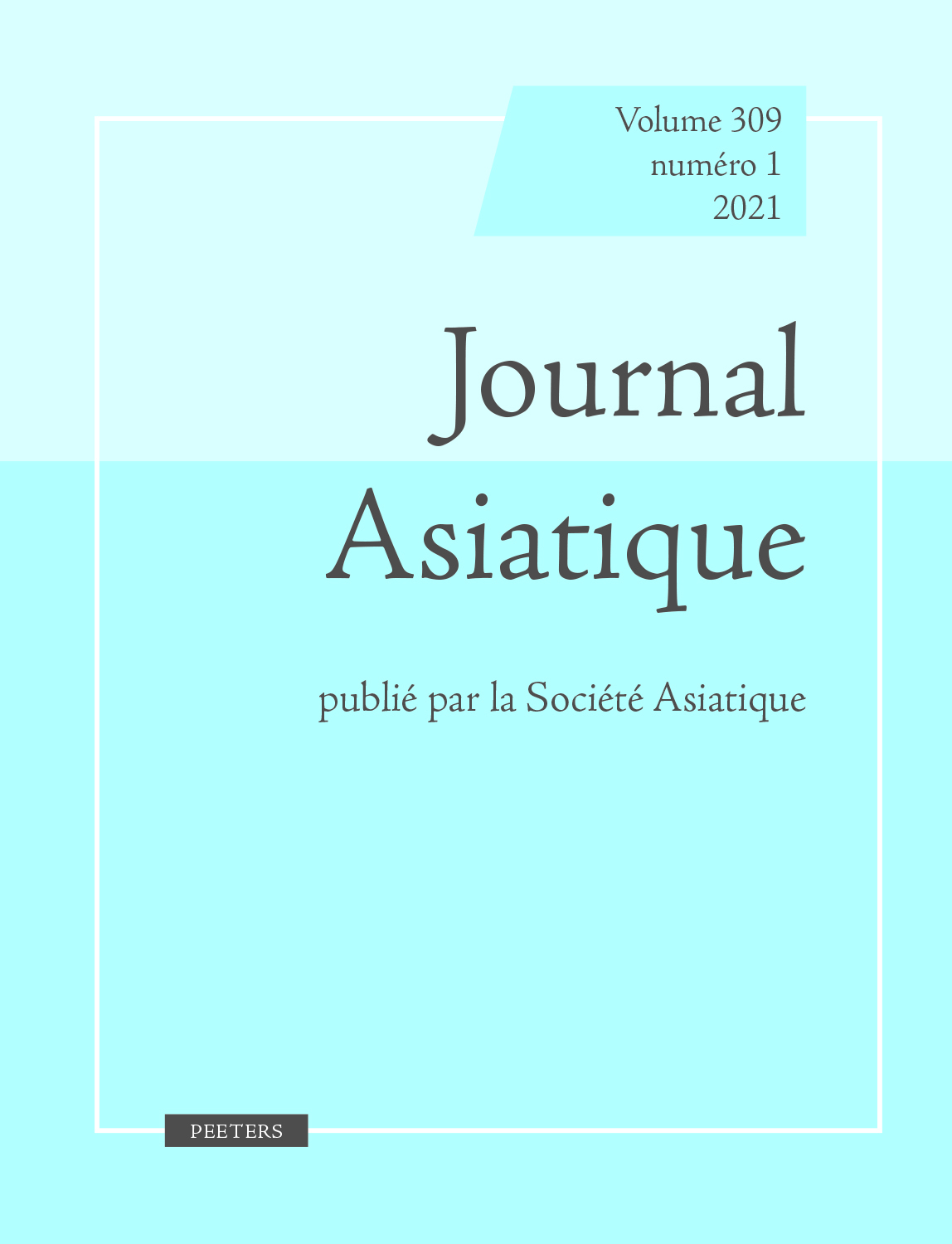 Document Details :

Title: Tocharian Abhidharma Texts I
Subtitle: A Philological Study of B 197
Author(s): CATT, Adam Alvah , HUARD, Athanaric , INABA, Yuima
Journal: Journal Asiatique
Volume: 308 Issue: 2 Date: 2020
Pages: 183-204
DOI: 10.2143/JA.308.2.3288910

Abstract :
This paper is a philological study of the Tocharian manuscript B 197. Kudara first identified this manuscript as a commentary on the Abhidharmāvatāra-prakaraṇa, a fifth-century CE Sarvāstivādin Abhidharma manual. Since Kudara's groundbreaking study and translation, essentially no research had been conducted on this text until Catt's study in 2016, which uncovered a new verb form that allowed for a better understanding of the first lines of the manuscript. In this new study, we present a complete transcription and translation of the text along with detailed commentary and two in-depth lexical studies. In particular, we demonstrate that the phrase yumāne nesalñe is to be understood as a calque of Skt. anu-bhava 'experience, perception', confirming an observation about the meaning of the root yu- made by Peyrot in 2013. We also identify the previously unclear form käkse in the manuscript as a scribal error for *wakse, an adjective meaning 'cool'. This allows us to connect the form with Tocharian A wpäs, a hapax, and the Tocharian B verb wäks-, in addition to further cognates in other Indo-European languages. The study will also be of interest to Buddhologists for the light it sheds on Tocharian Abhidharma texts and their relation to other Buddhist texts of this genre.


---

Cet article a pour but l'étude philologique du manuscrit tokharien B 197, que Kudara a été le premier à identifier comme un commentaire de l'Abhidharmāvatāra-prakaraṇa, un manuel d'Abhidharma de l'école Sarvāstivādin du cinquième siècle de notre ère. Après cette étude pionnière, aucune recherche n'a été menée sur ce texte jusqu'à Catt en 2016, qui a mis au jour une nouvelle forme verbale permettant une meilleure compréhension des premières lignes du commentaire. Dans cette nouvelle étude, nous présentons une transcription et une traduction complètes du texte ainsi qu'un commentaire détaillé et deux études lexicales approfondies. Nous montrons notamment que la périphrase yumāne nesalñe est à interpréter comme un calque du sanskrit anu-bhava «expérience, perception», confirmant ainsi une observation de Peyrot, et que la forme obscure käkse dans notre manuscrit doit être interprétée comme une erreur de scribe pour *wakse, un adjectif signifiant «froid». Cela nous permet de rapprocher cette forme de tokharien A wpäs, un hapax, et de la rattacher au verbe tokharien B wäks-, ainsi qu'à des formes apparentées dans les autres langues indo-européennes. Cette étude concerne aussi la bouddhologie dans la mesure elle donne un aperçu sur les textes tokhariens d'Abhidharma et leur relation aux autres textes bouddhiques de ce genre.


Download article