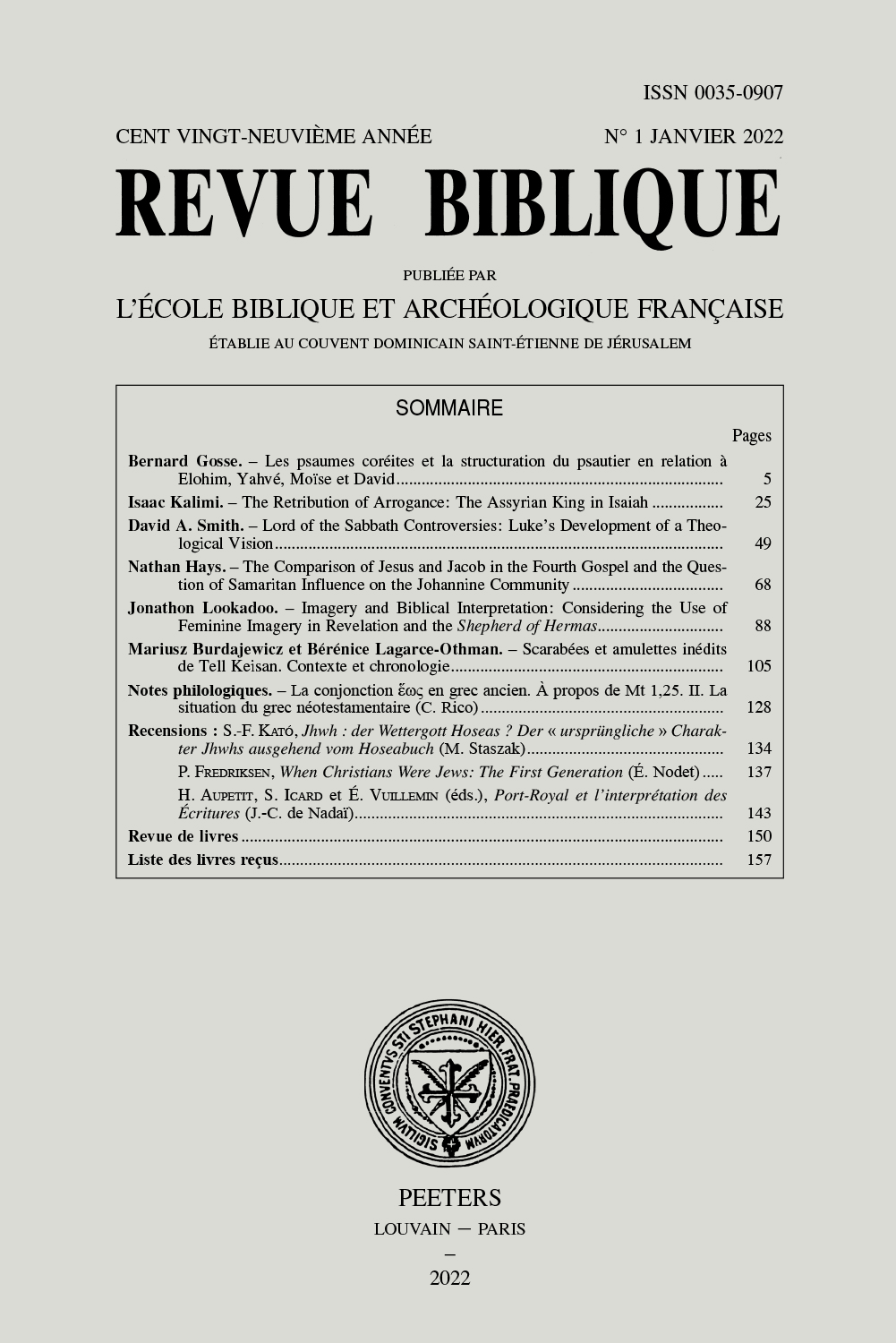 Document Details :

Title: An Examination of a Breaking (אשבר) in Job 38:10
Author(s): PINKER, Aron
Journal: Revue Biblique
Volume: 127 Issue: 2 Date: 2020
Pages: 196-214
DOI: 10.2143/RBI.127.2.3287569

Abstract :
This study suggests that the difficulties associated with the interpretation of וָאֶשְׁבֹּר in Job 38:10 can be resolved, if it is assumed that v. 10a describes God's deliberative process which leads to improved physical constraints, and eventually to a restraining order. This understanding capitalizes on the possibility that a שׂ/שׁ confusion has occurred, and the correct vocalization of MT וָאֶשׁבֹּר is וָאֶשְׂבֹּר, 'and examine'. This emendation leads to the position that vv. 8-11 refer to three acts of תקון עולם. Such cosmic intervention by the divine must have sent to Job the clear message that he too should engage in תקון עולם, albeit of his own personal 'world'.


---

Cet article suggère que les difficultés liées à l'interprétation de וָאֶשְׁבֹּר en Jb 38,10 peuvent être résolues si l'on considère que le v. 10a décrit le processus déliberatif de Dieu qui conduit à une amélioration des contraintes physiques et, finalement, à une injonction. Cette compréhension s'appuie sur la possibilité qu'une confusion שׂ/שׁ se soit produite, et que la bonne vocalisation de וָאֶשׁבֹּר du TM soit וָאֶשְׂבֹּר, «et j'ai examiné». Cette correction conduit à dire que les vv. 8-11 se réfèrent à trois actes du תקון עולם. Une telle intervention cosmique du divin devait envoyer à Job le message clair qu'il devrait s'engager lui aussi dans le תקון עולם, du moins pour son propre «monde» personnel.


Download article