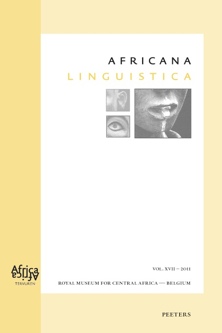 Document Details :

Title: L'inaccompli dans différentes vatiétés du wolof
Author(s): VOISIN, Sylvie , DRAMÉ, Mamour
Journal: Africana Linguistica
Volume: 25 Date: 2019
Pages: 321-386
DOI: 10.2143/AL.25.0.3287237

Abstract :
Il existe peu d'études sur les variétés de wolof et encore moins d'études comparatives entre ces variétés. Pourtant, la position d'isolat du wolof à l'intérieur de la famille pose certaines difficultés pour proposer des analyses diachroniques et des scénarios plausibles d'émergence des constructions actuelles. Dans cet article, nous nous focalisons sur les différentes formes d'expression de l'inaccompli. Nous montrons que la comparaison de ces formes et de leur condition d'utilisation sont des pistes sérieuses et prometteuses afin de comprendre les processus à l'origine du paradigme actuel de l'inaccompli dans chaque variété. Cette analyse nous conduit à poser deux sources distinctes à l'origine de ce paradigme, une copule la et une copule di/da. Étonnamment, la voie de grammaticalisation à partir de la copule la, attestée dans certaines langues du monde, est la moins visible en wolof commun, mais se voit très clairement dans l'observation d'autres variétés. À l'inverse, la construction à partir de la copule di/da, que l'on retrouve par exemple clairement sous la variante d= dans toutes les variétés, est une voie de grammaticalisation peu attestée dans les langues du monde. Notre hypothèse est que les paradigmes actuels de l'inaccompli dans les variétés de wolof sont le résultat de la fusion de ces deux sources et que les différences que l'on peut mettre en évidence entre chacune de ces variétés est le résultat de processus d'analogie et de régularisation différents plus ou moins poussés.


---

There has been little investigation of the varieties of Wolof, and even fewer comparative studies of these varieties. Yet the position of Wolof as an isolate within the family poses a number of challenges to the proposal of diachronic analyses and plausible scenarios for the emergence of current constructions. In this article, we focus on the different forms of expression of the imperfective. We show that the comparison of these forms and their conditions of use are strong and promising lines of enquiry for understanding the processes behind the current paradigm of the imperfective in each of the varieties. This analysis leads us to posit two distinct sources for this paradigm, a la copula and a di/da copula. Surprisingly, the grammaticalization path from the la copula, attested in some of the world's languages, is the least visible in common Wolof but can be very clearly observed in other varieties. Meanwhile, the construction involving the di/da copula, which is seen clearly for instance in the d= variant of all the varieties, is a rarely attested grammaticalization path in the world's languages. We hypothesize that current imperfective paradigms in the different varieties of Wolof are the result of the merger of these two sources, and that the differences which can be highlighted between each of the varieties are the result of different processes of analogy and regularization that are more or less advanced.


Download article