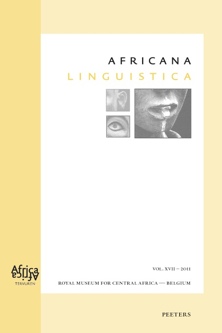 Document Details :

Title: Differential Diagnoses of Language Change in Ngoreme, a Bantu Language of Tanzania
Author(s): ROTH, Tim , GIBSON, Hannah
Journal: Africana Linguistica
Volume: 25 Date: 2019
Pages: 281-319
DOI: 10.2143/AL.25.0.3287236

Abstract :
Ngoreme (Bantu JE401) is spoken in the Mara Region of northwest Tanzania, and presents an interesting case study in the attempt to disentangle contact from genetic inheritance. Ngoreme is located geographically in between two major subgroups in the region, 'North Mara' (NM) and 'South Mara > Western Serengeti' (SM > WS). Ngoreme shares a series of typologically unusual features with each of these subgroups, e.g. asymmetric vowel distribution and auxiliary inversion with NM, height dissimilating prefixes and final vowel deletion with SM > WS. We entertain two main possibilities for the genetic classification of Ngoreme: (1) Ngoreme belongs to both subgroups, as a 'cladistic hinge', and (2) Ngoreme does not belong to both subgroups; therefore, one set of features are shared innovations, while the other set of features are due to contact. We argue that the current evidence better supports the conclusion that Ngoreme is a SM > WS language that borrowed a host of lexical items, as well as an assortment of other linguistic features. In making these arguments, we explore some further implications for the study of language change in general.


---

Le ngoreme (langue bantu JE401) est parlé dans la région de Mara, dans le Nord-Ouest tanzanien, et constitue un cas d'étude intéressant dans l'exercice de différenciation de l'héritage génétique de celui dû aux contacts. Le ngoreme concerne géographiquement une région située entre deux sous groupes importants de la région, le «mara du nord» (NM) et le «mara du sud > Serengeti occidental» (SM>WS). Il partage avec chacun de ces deux sous-groupes une série de formes typologiquement inhabituelles: la distribution asymétrique des voyelles et l'inversion de l'auxiliaire avec le NM, et la dissimilation de hauteur vocalique sur les préfixes et l'effacement de la voyelle finale avec SM > WS, par exemple. Nous retenons deux possibilités principales quant à la classification génétique du ngoreme: (1) il appartient aux deux sous-groupes, en tant que «charnière cladistique», et (2) il n'appartient pas aux deux sous-groupes, et par conséquent une série de traits sont des innovations partagées, les autres sont apparus par contact. Nous soutenons que les données actuelles portent à conclure que le ngoreme est une langue SM>WS ayant emprunté au NM de nombreux éléments lexicaux, en même temps qu'une série d'autres traits linguistiques. En développant ces raisonnements, nous explorons un certain nombre d'implications supplémentaires valables pour l'étude des changements linguistiques en général.


Download article