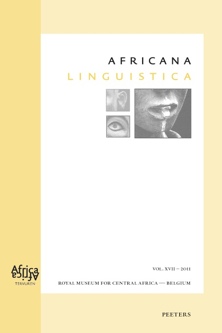 Document Details :

Title: Regular Homophones
Subtitle: A Tool for Semantic Typology and for Linguistic Reconstruction
Author(s): POZDNIAKOV, Konstantin , SEGERER, Guillaume
Journal: Africana Linguistica
Volume: 25 Date: 2019
Pages: 231-279
DOI: 10.2143/AL.25.0.3287235

Abstract :
This article deals with two different aspects of 'regular homophony' in comparative historical linguistics. 'Homophony' is used here as a cover term for both polysemy and homonymy, i.e. all the cases where a word is given several meanings in a dictionary. Our results are based on the semi-automatic analysis of regular homophony in RefLex, the richest online lexical database, which gathers 1,150,000 words from 1289 sources, covering 785 African languages (as of 2018). We show that the first aspect of regular homophony, i.e. regular polysemy, may be effectively used for semantic reconstruction and for the finding of new cognates. An Appendix gives the inventory of all regular polysemic links found in the RefLex corpus for notions included in the Swadesh-100 list. The second aspect, regular homonymy, may be effectively used for the finding of regular sound correspondences between related languages. Such correspondences may even be set up between genetically distant languages, without having to rely on intermediate reconstructions.


---

Le présent article traite des deux différents aspects de l'«homophonie régulière» dans la linguistique historique comparative. Le terme «homophonie» recouvre ici à la fois la polysémie et l'homonymie, à savoir qu'il inclut tous les cas où le dictionnaire donne à un mot plusieurs sens. Nos résultats partent d'une analyse semi-automatique d'homophones réguliers trouvés dans RefLex, la banque de données lexicales la plus fournie que l'on puisse trouver sur le net, et qui comptait en 2018 non moins de 1.150.000 mots provenant de 1289 sources différentes et couvrant 785 langues africaines. Nous montrons que le premier aspect de l'homophonie régulière, à savoir la polysémie régulière, peut être utilisé efficacement dans la reconstruction sémantique et dans la recherche de nouveaux mots apparentés. Un appendice fournit l'inventaire de tous les liens polysémiques réguliers trouvés dans le corpus RefLex et se rapportant aux notions contenues dans la liste des 100 mots de Swadesh. Le second aspect, l'homonymie régulière, peut effectivement être utilisé pour trouver les correspondances phonétiques régulières entre des langues apparentées. De telles correspondances peuvent même être établies entre des langues génétiquement éloignées, sans que l'on ait à s'aider de reconstructions intermédiaires.


Download article