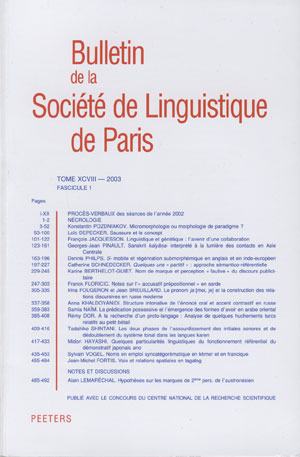 Document Details :

Title: À propos d'éventuels cognats caucasiques en élamite
Author(s): BAVANT, Marc
Journal: Bulletin de la Société de Linguistique de Paris
Volume: 114 Issue: 1 Date: 2019
Pages: 341-383
DOI: 10.2143/BSL.114.1.3287160

Abstract :
La question de la parenté de l'élamite reste ouverte. Cette langue, attestée par des inscriptions cunéiformes datées d'entre les 23e et 4e siècles avant notre ère, était parlée en plusieurs points du territoire de l'actuel Iran, donc non loin du Caucase. Si, peu après sa découverte, l'hypothèse de sa parenté avec les langues caucasiques a été promptement évoquée, elle n'a jamais été fondée de manière plus convaincante que les diverses autres conjectures de cet ordre, comme l'hypothèse élamo-dravidienne, qui semble s'être plus ou moins imposée dans les esprits. Le présent article entend reprendre l'étude de l'hypothèse élamo-caucasique sur de nouvelles bases. Il commence par souligner les écueils d'une démarche qui concerne une langue assez mal connue, l'élamite, et le très vaste ensemble des langues caucasiques, dont la parenté interne n'est pas totalement établie, et qui sont soumises à de fortes influences aréales; écueils d'une démarche qui doit aussi s'appuyer sur des «ressemblances» entre faits de langue terriblement distants dans le temps. L'article dévoile ensuite des parallèles fonctionnels élamo-caucasiques fondés sur le rôle important de l'accord de classe nominale dans l'expression de la dépendance syntaxique. Puis il présente des parallèles lexicaux, peu nombreux, mais qui peuvent être frappants, comme celui de l'élamite kur-pi «mains», qui semble avoir de nombreux cognats en caucasique du Nord-Est (avar kwer, oudi kul… «main»). Mais l'article évoque aussi sans ambages les dissemblances entre les langues comparées, dont la plus frappante, qui concerne les systèmes phonologiques, n'est pourtant pas rédhibitoire pour l'hypothèse qu'il soutient. En conclusion, il est affirmé que l'hypothèse élamo-caucasique, vue sous cet angle neuf, est à prendre sérieusement en considération dans les développements à venir de l'élamologie.


---

The kinship of the Elamite language remains an open question. Attested by cuneiform inscriptions dated from between the 23rd through the 4th centuries B.C.E., the language was spoken in various parts of the territory of modern day Iran, thus not far from the Caucasus. If, early after the discovery of the language, the hypothesis of its kinship with Caucasian languages arose, it has not received more convincing proofs than have other similar conjectures, among which is the Elamo-Dravidian hypothesis, which seems more or less accepted nowadays. The present paper aims to reassess the Elamo-Caucasian hypothesis from new bases. It begins by highlighting the pitfalls of such an enterprise, concerning a rather poorly known language, Elamite, and the huge set of Caucasian languages, the inner kinship of which has not been firmly established, and which are under strong areal influences. An enterprise which, furthermore, must rely on 'similarities' between language facts extremely distant in time. Then the paper discloses functional Elamo-Caucasian parallels related to the importance of noun class agreement in expressing syntactic dependency. Thereafter, lexical parallels are explored, which, although not numerous, are sometimes striking, as in the case of Elamite kur-pi 'hands', which seems to have cognates in many North-East Caucasian languages (avar kwer, udi kul… 'hand'). But the paper also presents non-similarities, the most striking of which, related to the phonological systems, is in fact not so hampering for the supported hypothesis as it might seem. In conclusion it is asserted that the Elamo-Caucasian hypothesis should be taken into serious consideration in future developments of elamology.


Download article