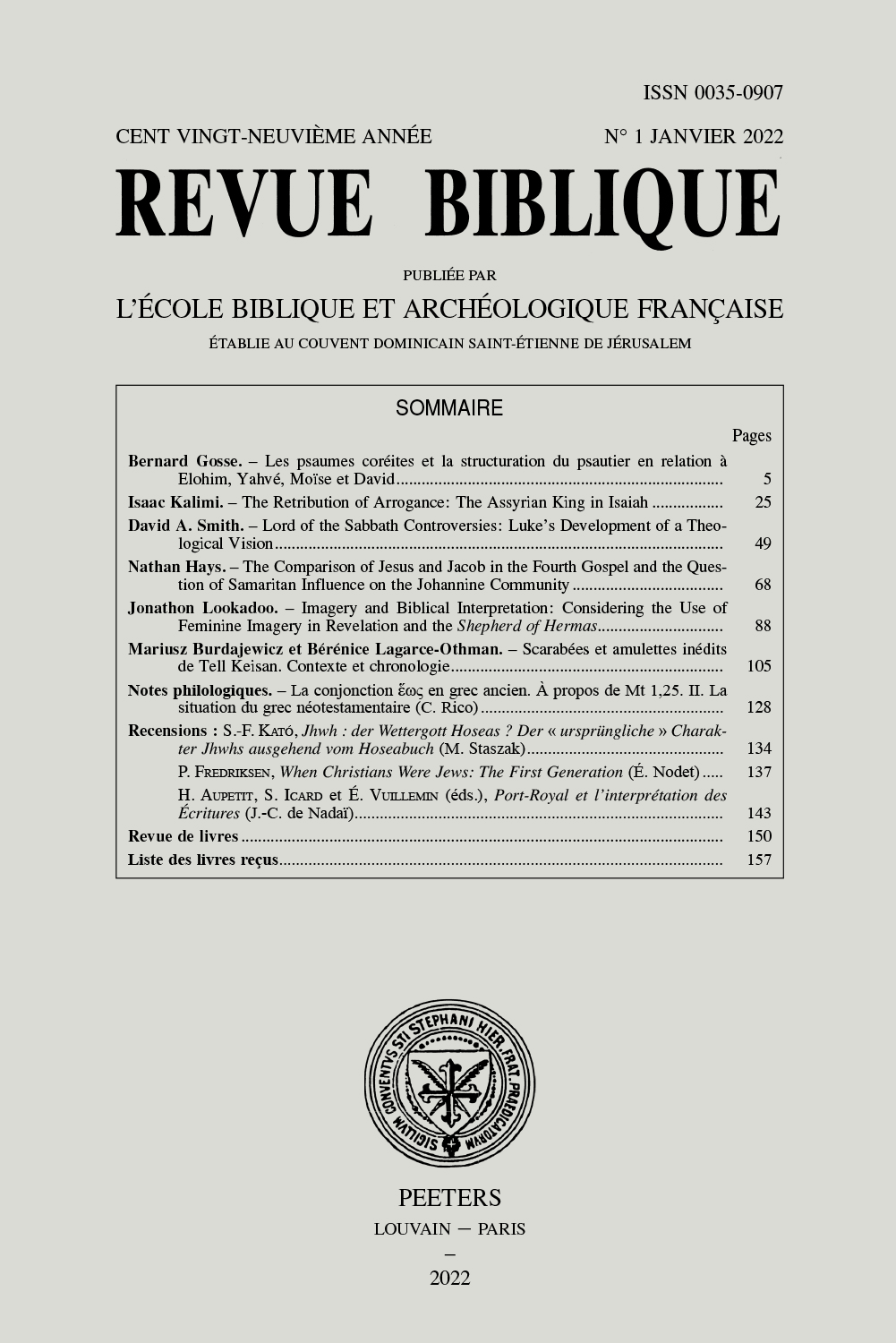 Document Details :

Title: 'Dies war das Erbteil des Stammes der Söhne Juda' (Jos 15,20)
Subtitle: Sprachliche Brücken vom Numeri- zum Josuabuch
Author(s): GASS, Erasmus
Journal: Revue Biblique
Volume: 126 Issue: 2 Date: 2019
Pages: 207-234
DOI: 10.2143/RBI.126.2.3286409

Abstract :
As proved by the applied idioms there might have been an original source behind Josh 15-19 sketching the tribal areas of seven tribes (Judah, Ephraim, Benjamin, Zebulun, Issachar, Asher, Naphtali) in the form of border descriptions. Given the idiomatic similarity, these land distribution texts belong to the literary horizon of Num 34. Josh 15-19 was updated by a gôrāl-redaction connecting Num 26; 33; 34. By these extrapolations certain formulas as well as incomplete city lists were incorporated. Following this, successive supplements and upgrades were added.


---

Comme l'ont montré les expressions idiomatiques employées, il se pourrait qu'une source originelle se cache derrière Jos 15-19 donnant un aperçu des régions tribales des sept tribus (Juda, Éphraïm, Benjamin, Zabulon, Issachar, Asher, Nephtali) sous forme de description des frontières. Compte tenu des similarités idiomatiques, ce texte de distribution des terres appartient à l'horizon littéraire de Nb 34. Jos 15-19 a été actualisé par une rédaction gôrāl faisant le lien avec Nb 26, 33 et 34. Dans le cadre de cette actualisation rédactionnelle, certaines formules ont été ajoutées, tout comme des listes incomplètes de villes. À la suite de cela, des compléments successifs et des mises à jour ont été ajoutés.


Download article