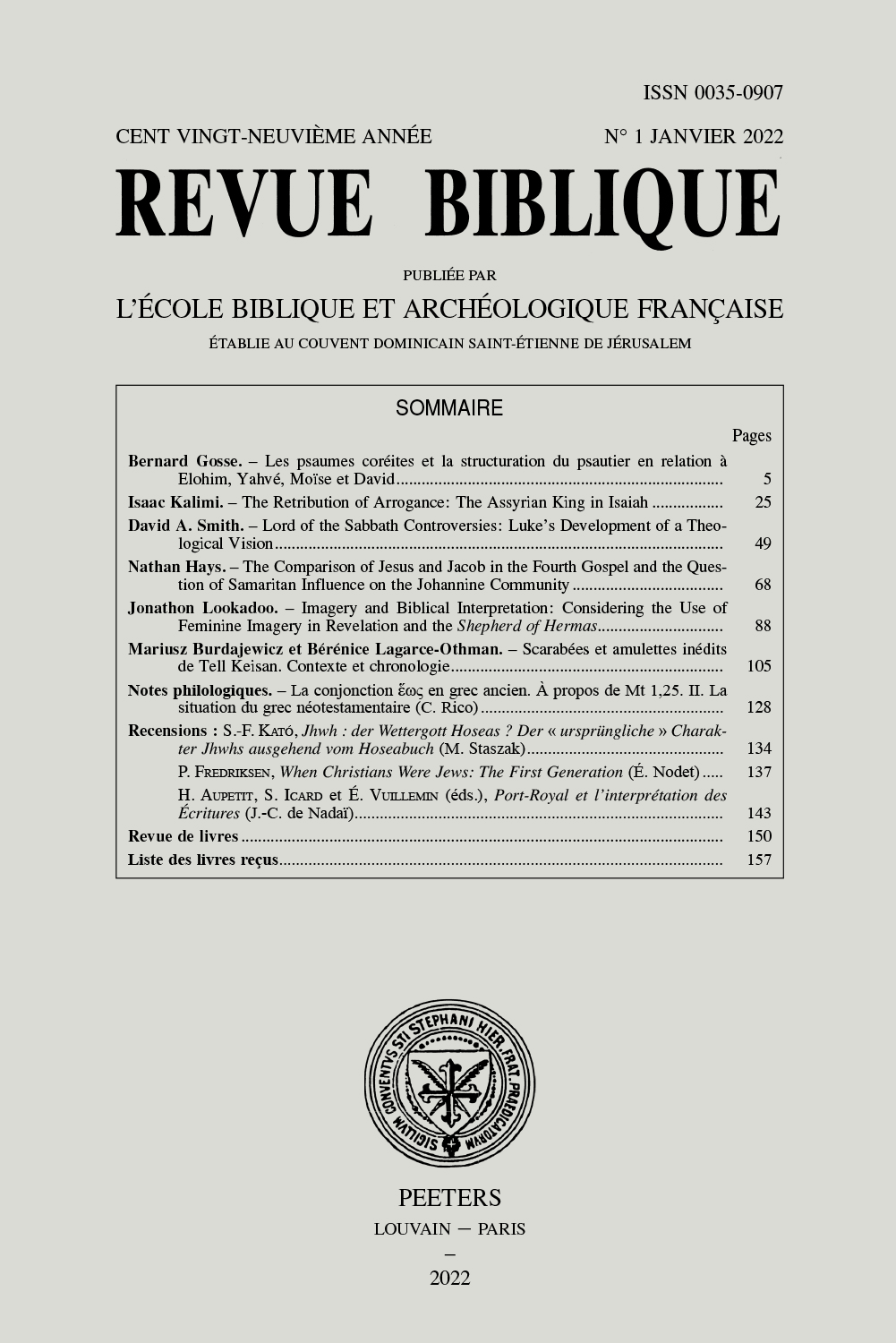 Document Details :

Title: John the Baptist or Lazarus, the Patron Saint of Leprosy?
Author(s): ZIAS, Joe
Journal: Revue Biblique
Volume: 126 Issue: 1 Date: 2019
Pages: 86-108
DOI: 10.2143/RBI.126.1.3286086

Abstract :
The massive Judean Hills water installation dating from the 8th century BC, published as The Cave of John the Baptist has generated wide media attention since its discovery and excavation. Gibson and Tabor's decision to name the site in memory of John the Baptist, as well as linking it perhaps to Jesus himself based mainly upon graffiti crudely inscribed on the cistern walls, is, in my opinion, an incorrect attribution. They argued, primarily upon ceramic evidence, that the cistern had a cultic function during the Roman period. The excavated fill contained over 100,000 ceramic sherds, mainly small juglets, implying that individuals were coming to the site for purposes of healing in which the individual upon completing the healing process, destroyed the vessel for reasons of ritual purity. Interestingly enough, aside from two potsherds, no oil lamps were found among these potsherds, unlike Hamat Gader, which were one of the defining artifacts found in the Roman period pools for the cleansing of the leper. Nor were there any votive objects or any other cultural object appearing which could support their theory. Gibson and Tabor's attempt to associate the site with John the Baptist, Jesus and baptism, the main premises in the book, film and press, are, however in my opinion, totally unconvincing. The graffiti, along with the historical and anthropological evidence clearly and plainly, argue in favor of St. Lazarus, the patron saint of leprosy sufferers from the Crusader period.


---

L'importante installation d'eau des collines de Judée, datant du VIIIe siècle av. J.-C., publiée sous le titre The Cave of John the Baptist, a suscité une grande attention, dans les médias, depuis sa découverte et les fouilles qui ont suivi. La décision de Gibson et de Tabor de nommer le site en souvenir de Jean-Baptiste, ainsi que de l'associer peut-être à Jésus lui-même, basée principalement sur des graffitis grossièrement gravés sur les murs de la citerne, est, à mon avis, une attribution incorrecte. Ils ont soutenu, principalement sur des preuves en céramique, que la citerne avait une fonction cultuelle pendant la période romaine. Le remblai exhumé contenait plus de 100000 tessons de céramique, principalement des petites cruches, suggérant que des individus, se rendant sur le site afin de guérir, détruisaient, après avoir terminé le processus de guérison, le récipient pour des raisons de pureté rituelle. Fait intéressant, à part deux tessons de poterie, contrairement à Hamat Gader, n'a été trouvée aucune lampe à huile qui était l'un des artefacts caractéristique trouvé dans les bassins de l'époque romaine pour le nettoyage de la peau du lépreux. Il n'y avait pas non plus d'objets votifs ni d'autres objets culturels susceptibles d'appuyer leur théorie. L'effort de Gibson et de Tabor d'associer le site à Jean-Baptiste, à Jésus et au baptême, les prémisses fondamentales du livre, du film et de la presse, ne sont pas cependant, à mon avis, convaincants. Les graffitis, ainsi que les preuves historiques et anthropologiques, plaident clairement en faveur de saint Lazare, le saint patron des malades de la lèpre durant la période croisée.


Download article