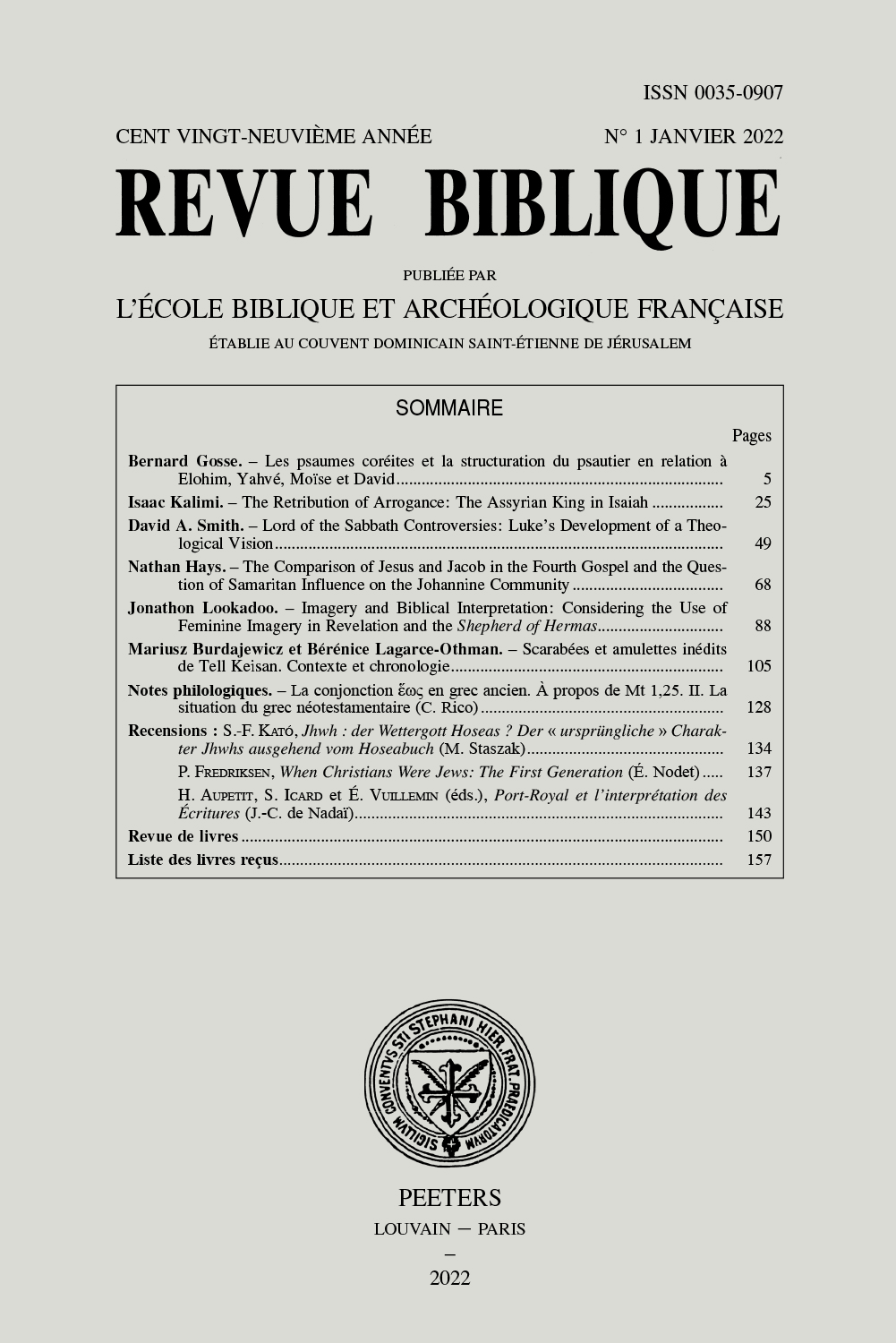 Document Details :

Title: Moïse dans le Psautier
Author(s): GOSSE, Bernard
Journal: Revue Biblique
Volume: 126 Issue: 1 Date: 2019
Pages: 52-63
DOI: 10.2143/RBI.126.1.3286084

Abstract :
Dans le Psautier, le nom de Moïse en dehors de Ps 77,21, apparaît uniquement dans le quatrième livre du Psautier, Ps 90-106. Il s'agit d'un «cavalier» qui prépare au rôle de Moïse dans le quatrième livre. En Ps 90,1, la mention de Moïse doit se comprendre en référence au thème de la mort déjà présent dans les Ps 88-89 et repris dans le Ps 90. Nous avons un renvoi à Dt 32-34 et à la mort de Moïse. Mais Moïse apparaît également comme un intercesseur se substituant au roi. En Ps 99,6 et 103,7 est développé le rôle d'intercesseur de Moïse en relation à Ex 32-33. L'attestation de Ps 105,26, correspond au transfert des titres davidiques sur les patriarches et leur descendance. En Ps 106,16, nous avons un renvoi à Nb 16-17, avant que les Coréites ne soient concernés. En 106,23 il y a un rappel du rôle d'intercession de Moïse, avec conjointement la reprise des titres davidiques. En 106,32 nous avons de nouveau une allusion à la mort de Moïse, faisant ainsi inclusion avec le Ps 90.


---

In the Psalter, the name of Moses, except Ps 77:21, appears only in the fourth book of the Psalter, Ps 90-106. We will see that Ps 77:21 prepares the part of Moses in the fourth book. In the beginning of the fourth book of the Psalms, the mention of Moses must be understood in relation to the theme of the death, yet present in psalms 88-89 and developed in Psalm 90. We have a relation to Deut 32-34 and the death of Moses. But Moses appears also like an intercessor that substitutes the king. In Ps 99:6 and 103:7 is developed the part of intercessor of Moses in relation to Exod 32-33. The attestation of Ps 105:26, corresponds to the transfer of the Davidic titles to the patriarchs and their descendants. In Ps 106:16 we have an allusion to Num 16-17, before the introduction of the part of the Corahites. In 106:23 we have a new allusion to the intercession of Moses with a new use of the Davidic titles. In 106:32 we have a new allusion to the death of Moses, an inclusion with Ps 90.


Download article