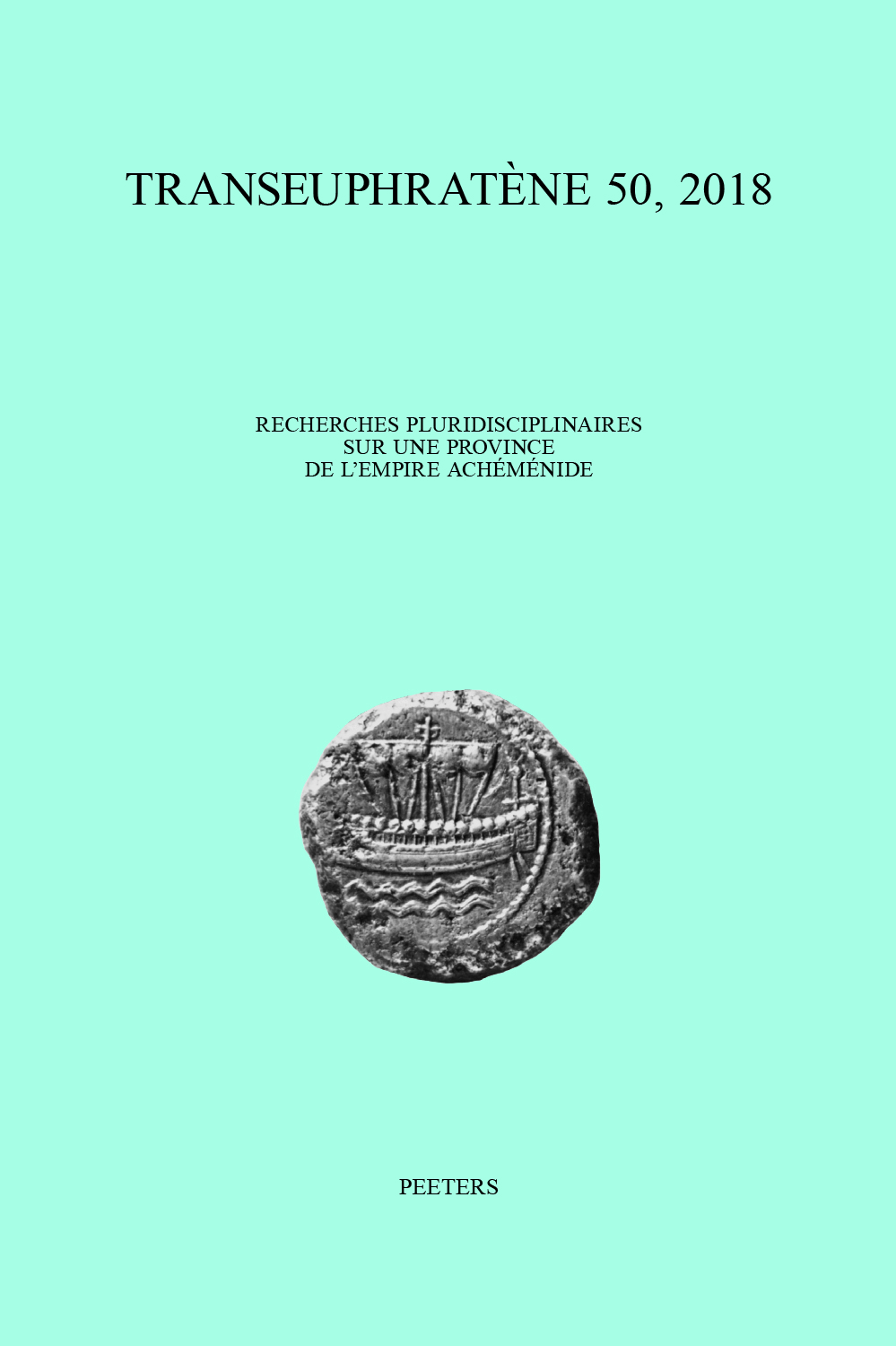 Document Details :

Title: Phoenician Coinages in the Nablus 1968 Hoard of the Fourth Century BC
Author(s): GITLER, H. , TAL, O.
Journal: Transeuphratène
Volume: 50 Date: 2018
Pages: 49-85
DOI: 10.2143/TE.50.0.3285506

Abstract :
Some fifty years ago the largest Persian-period hoard ever recorded in Palestine was found in the region of Samaria. This hoard, which allegedly contained 965 coins and numerous pieces of jewellery, was documented in the Inventory of Greek Coin Hoards (1504) as: Nablus (anc. Neapolis) region, Samaria, 1968. A. Spaer with the help of S. Hurter, acting on behalf of Bank Leu, purchased large parts of the hoard and prepared documentary cards of the coins Spaer kept in his collection (308 issues and all 92 pieces of jewellery), as well as other coins from the hoard which were acquired by six institutions or sold in the antiquities market. The 293 Phoenician coins belonging to this hoard have been mentioned in Elayi and Elayi's 1993 publication of hoards and their 2004 and 2009 corpora of Sidonian and Tyrian coinages. This study presents a fully illustrated, updated and corrected catalogue of this entire group, as well as a concordance of this material, which had appeared in Elayi and Elayi's earlier publications.


---

Il y a une cinquantaine d'années, le plus grand trésor de la période perse jamais enregistré en Palestine a été trouvé dans la région de Samarie. Cette trésor, qui aurait contenu 965 pièces de monnaie et de nombreuses pièces de bijoux, a été documentée dans Inventory of Greek Coin Hoards (1504) comme: Nablus (anc. Neapolis) region, Samaria, 1968. A. Spaer avec l'aide de S. Hurter, pour le compte de la Bank Leu, en a acheté une grande partie et a préparé des cartes documentaires des pièces de monnaie conservées dans sa collection (308 numéros et les 92 bijoux), ainsi que d'autres pièces de monnaie acquises par six institutions ou vendues sur le marché des antiquités. Les 293 monnaies phéniciennes appartenant à ce trésor ont été mentionnées dans la publication Elayi et Elayi 1993 de trésors et leurs corpus 2004 et 2009 de monnaies de Sidon et de Tyr. Cette étude présente un catalogue entièrement illustré, mis à jour et corrigé de tout ce groupe, ainsi qu'une concordance de ce matériel, qui était apparu dans les publications antérieures d'Elayi et Elayi.


Download article