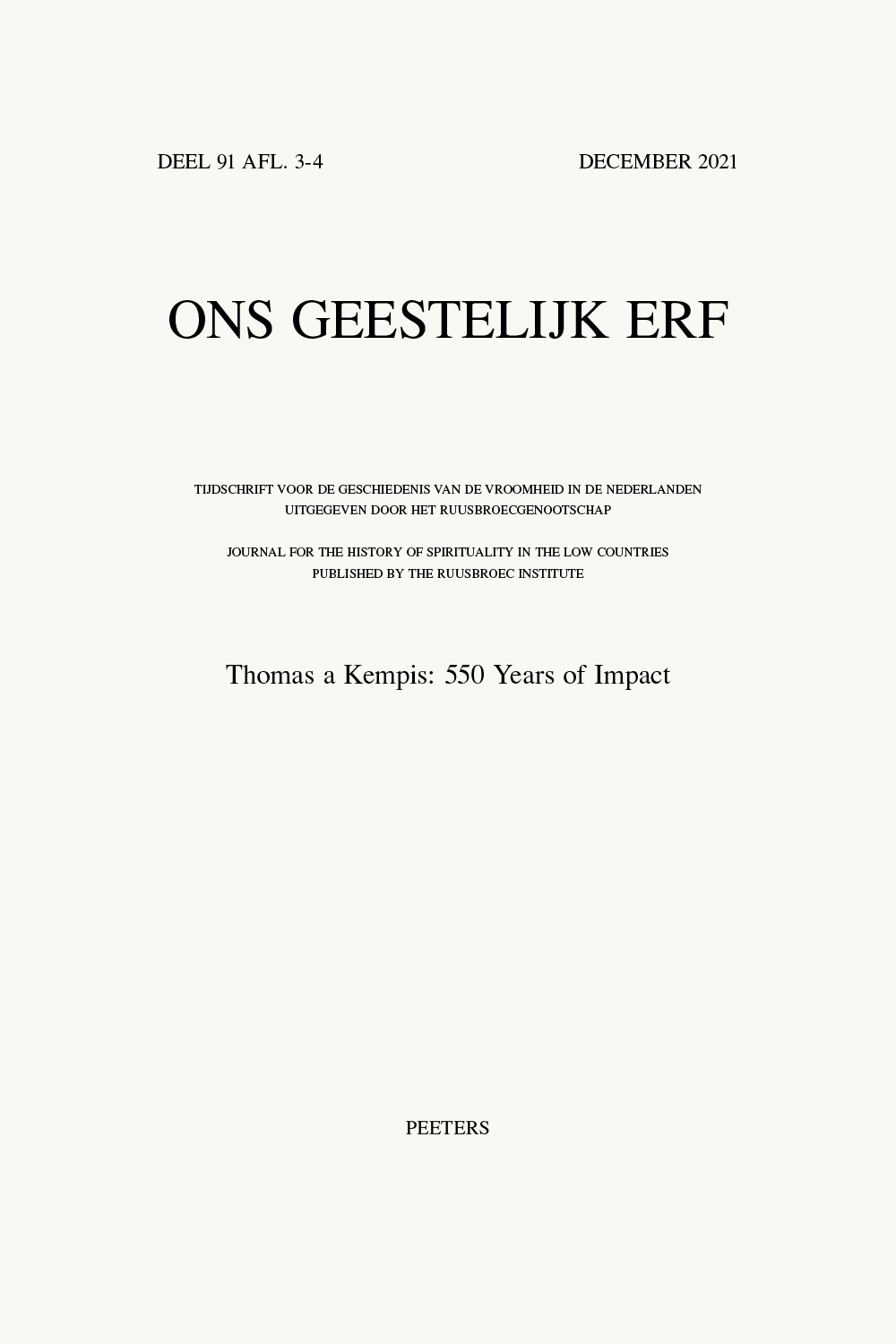 Document Details :

Title: Hugo van Sint-Victors Soliloquium de arrha animae in het Middelnederlands
Subtitle: Kritische editie van de oudste Middelnederlandse vertaling van Hugo's zelfgesprek over de opgang naar de hoogste liefde
Author(s): SCHEPERS, Kees , HOFF, Renske
Journal: Ons Geestelijk Erf
Volume: 89 Issue: 1 Date: 2018
Pages: 6-49
DOI: 10.2143/OGE.89.1.3285125

Abstract :
In this article we present a critical edition of a Middle Dutch translation of the Soliloquim de arrha animae of Hugh of Saint-Victor (c. 1096-1141). This translation is found in manuscript Paris, Bibliothèque Mazarine, 920, a late-fourteenth century codex from the Rooklooster near Brussels that, however, most probably originates from the charterhouse in Herne. The Soliloquium is a dialogue between two 'voices', that of Hugh (of Saint-Victor) and of his soul. Hugh helps the soul to understand that the highest form of love is to love the eternal God. God is the highest, most deserving and everlasting object for a person's love, especially since God – even though invisible and only partially knowable – is the source of all the graces a person receives in this life. Those graces – beauty, being, feeling and thinking – can be seen as the dowry each person receives in this finite life that ensure him of the eternal spiritual marriage in the afterlife. The Soliloquium testifies to the centrality of love in twelfth-century monastic spirituality, a theme that continued to be popular in vernacular spiritual literature of the fourteenth and fifteenth centuries.


Download article