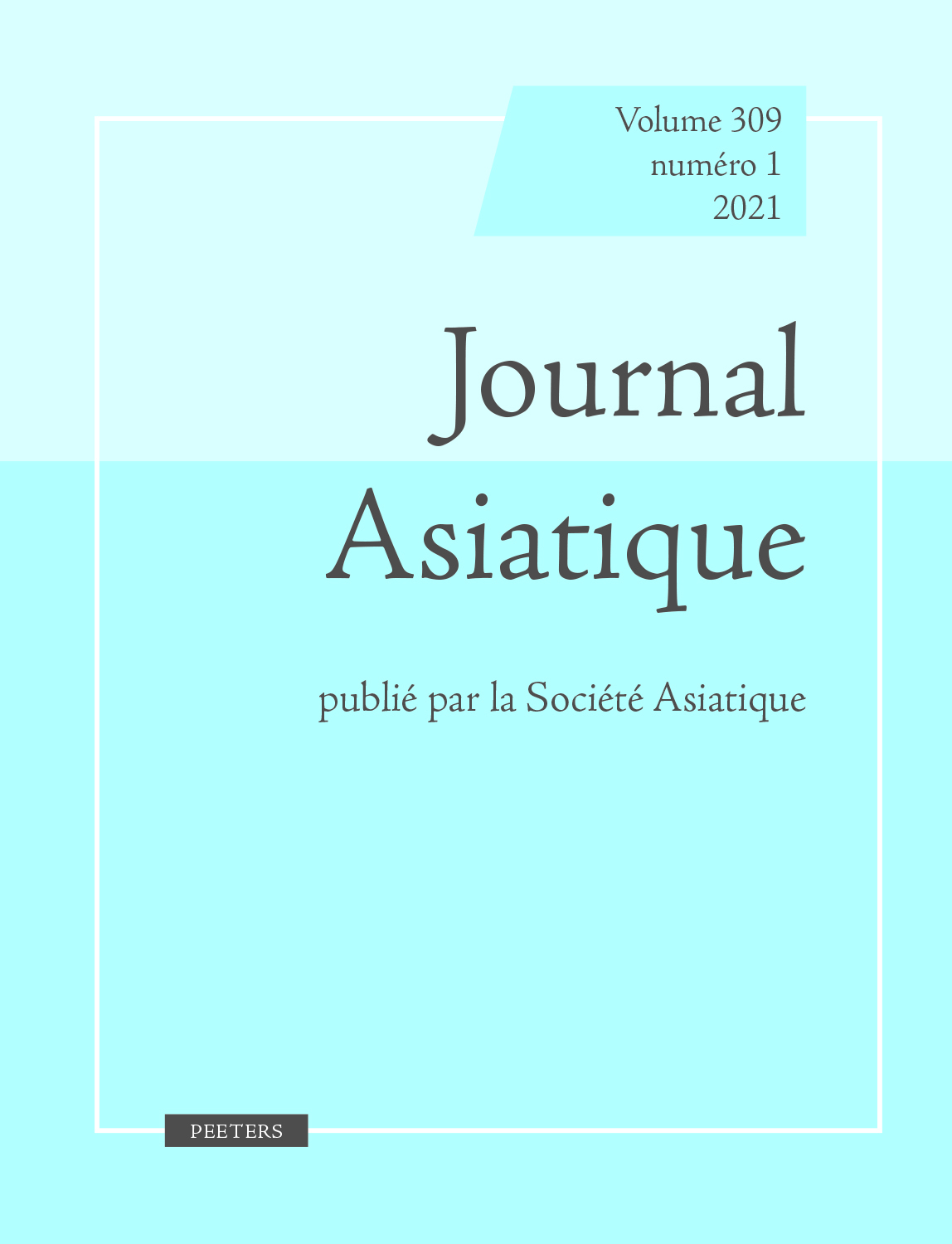 Document Details :

Title: The Quintessence of the Mādhyamika Teaching Blossoms Again
Subtitle: Some Considerations in View of the 5th-7th c. A.D. (I) Reading the Alkhan's Document (Schøyen MSS 2241) in Religious and Political Context
Author(s): SCHERRER-SCHAUB, Cristina
Journal: Journal Asiatique
Volume: 306 Issue: 1 Date: 2018
Pages: 115-146
DOI: 10.2143/JA.306.1.3284959

Abstract :
Le document Schøyen (MSS 2241), publié par Gudrun Melzer en 2006, offre un bel exemple de la dynamique qui s'instaure entre les principes doctrinaires et religieux et leur reflet dans le discours politique. L'examen du contexte dans lequel s'inscrit cet acte de fondation d'un monument bouddhique, situé vraisemblablement dans les régions actuelles du Nord du Pakistan, met en lumière la complexité du réseau de communication mis en place par l'institution bouddhique sur l'aire très vaste sillonnée, notamment par les Kidarites et les Alkhans au cours du 5e s. de notre ère. Rédigé dans un milieu de fins lettrés, sans doute héritiers de l'école cachemirienne du Deutero Nāgārjuna et de son traducteur le Sérindien Kumārajīva, le document montre l'habilité de son auteur, scoliaste Mādhyamika, qui excelle à composer un texte où les motifs littéraires, religieux et politiques s'adressent à la fois à une société non nécessairement bouddhique (ou si peu) et à ses dirigeants, pour les convaincre de l'autorité du Dharma enseigné par le Buddha. S'il contribue à l'histoire complexe des Alkhans, cet acte de fondation atteste un chapitre inédit de l'histoire du bouddhisme indien et de l'école Madhyamaka en particulier et de son rôle en tant que médiateur dans les affaires du monde.


---

The Schøyen document (MSS 2241) published by Gudrun Melzer in 2006, famous for having shed new light on the debated Alkhan's chronology, invites the reader to question a precise chapter of the religious and political history of Buddhism in the north-western regions. It appears as a deed that commemorates the dedication of a monument, jointly made by a mixed body of religious and secular persons, in a region where, possibly, the Alkhan were trying to take control over the routes, and in particular the salt route. Most interesting a careful analysis of the narrative shows that the document has been redacted in a milieu of literati, in succession to the Kāśmīrian disciples of the Deutero Nāgārjuna and his translator, the Serindian Kumārajīva. In a sophisticated style, the text speaks to a large audience, not necessarily Buddhist (or not very) and to their rulers showing that the Buddha is the sole legitimate to teach the Dharma. If it contributes to the complex history of the Alkhan, the dedicatory deed opens a novel chapter in the history of the Mādhyamikas, and of his role as mediator in secular affairs.


Download article