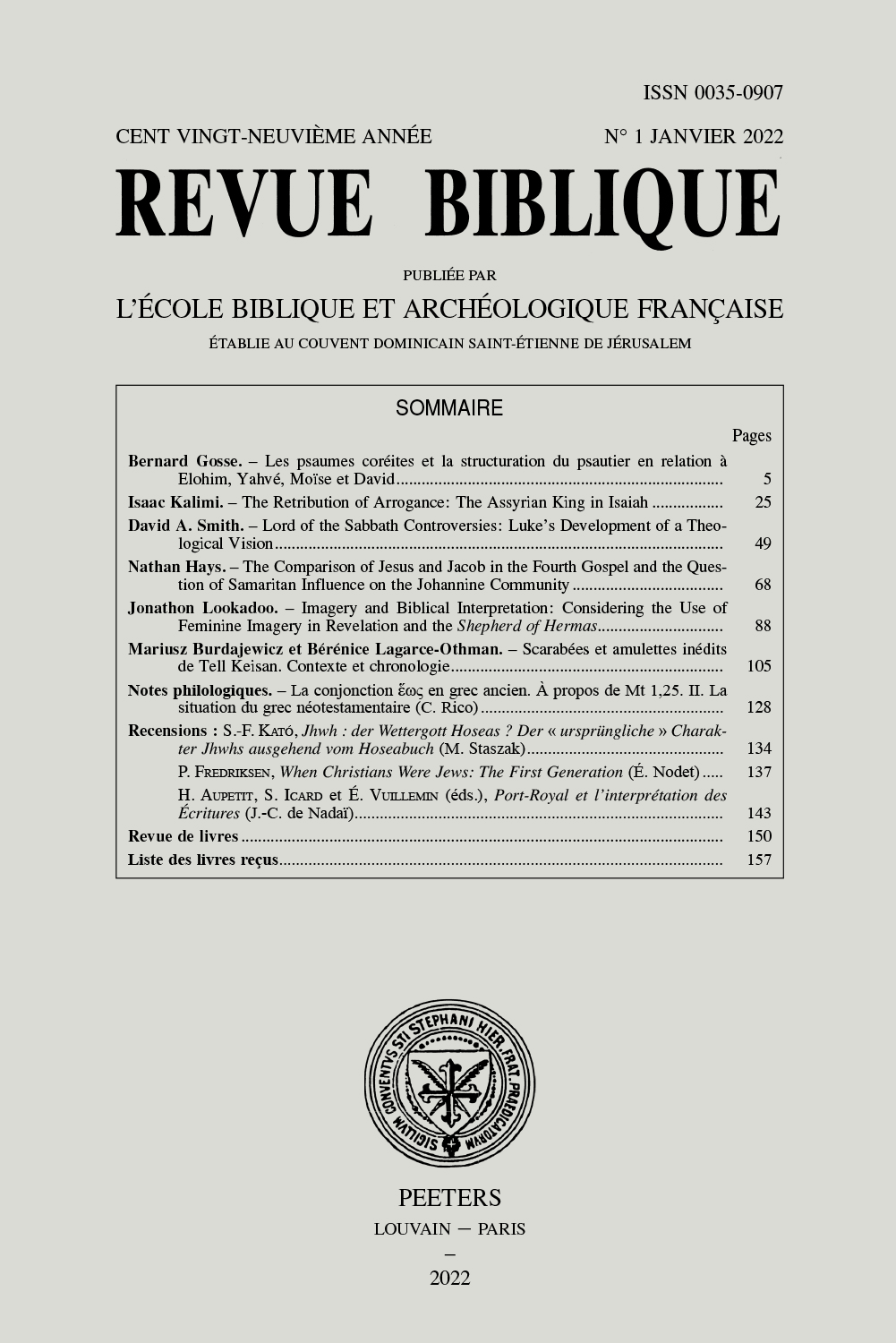 Document Details :

Title: Kh. Umm er-Rus (Horbat Bet Bad) Reconsidered
Subtitle: New Insights from an Underground Archaeological Survey
Author(s): KLEIN, Eitan , GOLDENBERG, Gidon , HADAD, Ilan
Journal: Revue Biblique
Volume: 125 Issue: 1 Date: 2018
Pages: 90-119
DOI: 10.2143/RBI.125.1.3284860

Abstract :
Horbat Bet Bad (in Arabic, Kh. Umm er-Rus) extends over 1.5 hectares at the top of a hill 442 meters above sea level, east of the Ela Valley in the Judean Shephelah. The site is located 2.5 kilometers southeast of Horbat Beit Nattif and 3 kilometers northeast of Tel Adullam. A church decorated with mosaics and bearing a dedicatory inscription to St. John in Greek and Syriac was uncovered at the site in 1898. Beneath the church is a burial cave with arcosolia in the walls; the cave was identified as a Byzantine crypt belonging to the church. In 2014 this burial cave was resurveyed by inspectors from the Antiquities Theft Prevention Unit following damage to the site caused by antiquities looters. It was found that the cave walls were coated with gray plaster of the type characteristic of the Second Temple period, suggesting that this was a miqveh from that period that was later converted into a burial cave. A test excavation carried out as a result by the Israel Antiquities Authority (IAA) confirmed this hypothesis, and its results enable us to reconstruct the various stages of use of the installation. The fieldwork also included a survey of additional subterranean spaces at the site, among them cisterns, underground storage installations, a hiding complex, and other miqva'ot. The results of our fieldwork as presented here will make possible a clearer understanding of settlement processes there in antiquity.


---

Horbat Bet Bad (en arabe, Kh. Umm er-Rus) s'étend sur 1,5 hectares au sommet d'une colline à 442 mètres d'altitude, à l'est de la vallée d'Ela (vallée des térébinthes), dans la Shéphélah judéenne. Le site est situé à 2,5 kilomètres au sud-est de Horbat Beit Nattif et à 3 kilomètres au nord-est de Tel Adullam. Une église décorée de mosaïques et portant une inscription dédiée à saint Jean en grec et en syriaque a été découverte sur le site en 1898. Sous l'église se trouve une grotte funéraire avec des arcosolia dans les murs; la grotte a été identifiée comme une crypte byzantine appartenant à l'église. En 2014, cette grotte funéraire a été réexaminée par des inspecteurs de l'Antiquities Theft Prevention Unit à la suite de dommages causés au site par des pilleurs d'antiquités. Il a été constaté que les murs de la grotte étaient recouverts d'un enduit gris du type caractéristique de la période du Second Temple, suggérant qu'il s'agissait d'un miqveh de cette période qui fut ensuite converti en une grotte funéraire. Par la suite, une fouille réalisée par l'Israel Antiquities Authority (IAA) a confirmé cette hypothèse, et ses résultats nous permettent de reconstituer les différentes étapes d'utilisation de l'installation. Le travail de terrain comprenait également une étude d'espaces souterrains supplémentaires sur le site, parmi lesquels des citernes, des installations souterraines de stockage, un complexe caché et d'autres miqva'ot. Les résultats de notre travail de terrain, présentés ici, permettront une meilleure compréhension des processus de peuplement du site dans l'Antiquité.


Download article