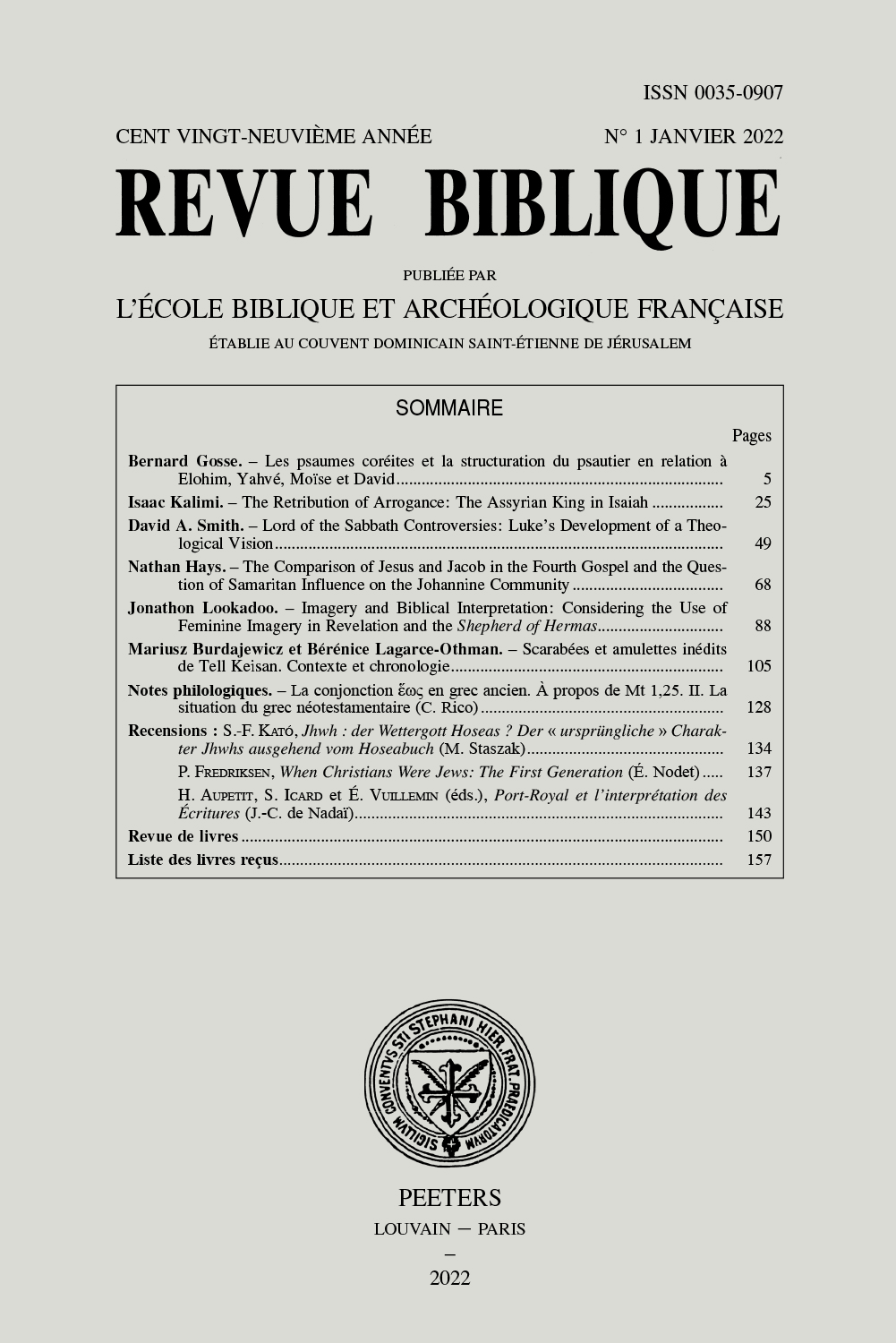 Document Details :

Title: Beyond Nose and Anger
Subtitle: A Reinterpretation of 'ap in YHWH's Context
Author(s): AMZALLAG, Nissim
Journal: Revue Biblique
Volume: 125 Issue: 1 Date: 2018
Pages: 5-28
DOI: 10.2143/RBI.125.1.3284857

Abstract :
Beyond denoting nose and anger, the divine 'ap also signifies burning wind, consuming fire, and pouring of hot liquid. This article suggests that this fiery imagery is not introduced simply to illustrate the concept of God's fury. Rather, 'ap refers to a specific mode of divine action closely associated with metallurgy and volcanism. These observations, together with the combination of wind and fire, further suggest that 'ap also designates the blowing apparatus of a furnace. This interpretation is supported by both the structural and functional homology between the blowing apparatus of ancient furnaces and the respiratory system, and by the identification of metallurgy as one of YHWH's most essential attributes, the source of the preternatural properties of the divine fire. It is concluded that the wrath expressed through the divine 'ap is probably not an anthropopathic extension of human anger that references the nasal perturbations inherent to fury. Rather, divine anger appears to be a metaphorical extension of the divine metallurgical reality. It frequently expresses, in a language accessible to the Israelite audience, the imminence of the explosive and destructive consequences of enhanced activity of the celestial blowing apparatus.


---

Au delà d'une désignation du nez et de la colère, le terme 'ap, dans le contexte divin, évoque également une action au moyen d'un vent incendiaire, un feu dévorant et la versée d'un liquide brûlant. Le présent article suggère que cette réalité ardente n'est pas simplement introduite pour figurer la colère divine, mais qu'elle exprime un mode volcanique et métallurgique d'action de YHWH. Ces observations, ainsi que l'intime relation entre feu et vent, suggèrent que le terme 'ap désigne dans certains cas la soufflerie d'un fourneau de fonte. Cette interprétation est appuyée par l'homologie, tant structurale que fonctionnelle, entre les anciennes souffleries et l'appareil respiratoire. Elle est confirmée par l'identification de la métallurgie comme étant l'un des attributs les plus essentiels de YHWH, la source des propriétés préternaturelles du feu divin. L'article conclut que la dimension colérique de l'usage de 'ap dans le contexte divin ne reflète pas nécessairement la transposition des perturbations nasales caractérisant le stade avancé de furie chez l'homme. Elle représenterait plutôt le prolongement métaphorique d'une réalité métallurgique propre au divin. Cette extension au domaine psychologique exprimerait, dans un langage accessible aux Israélites, l'imminence des conséquences explosives et destructrices de l'augmentation d'activité de la soufflerie céleste.


Download article