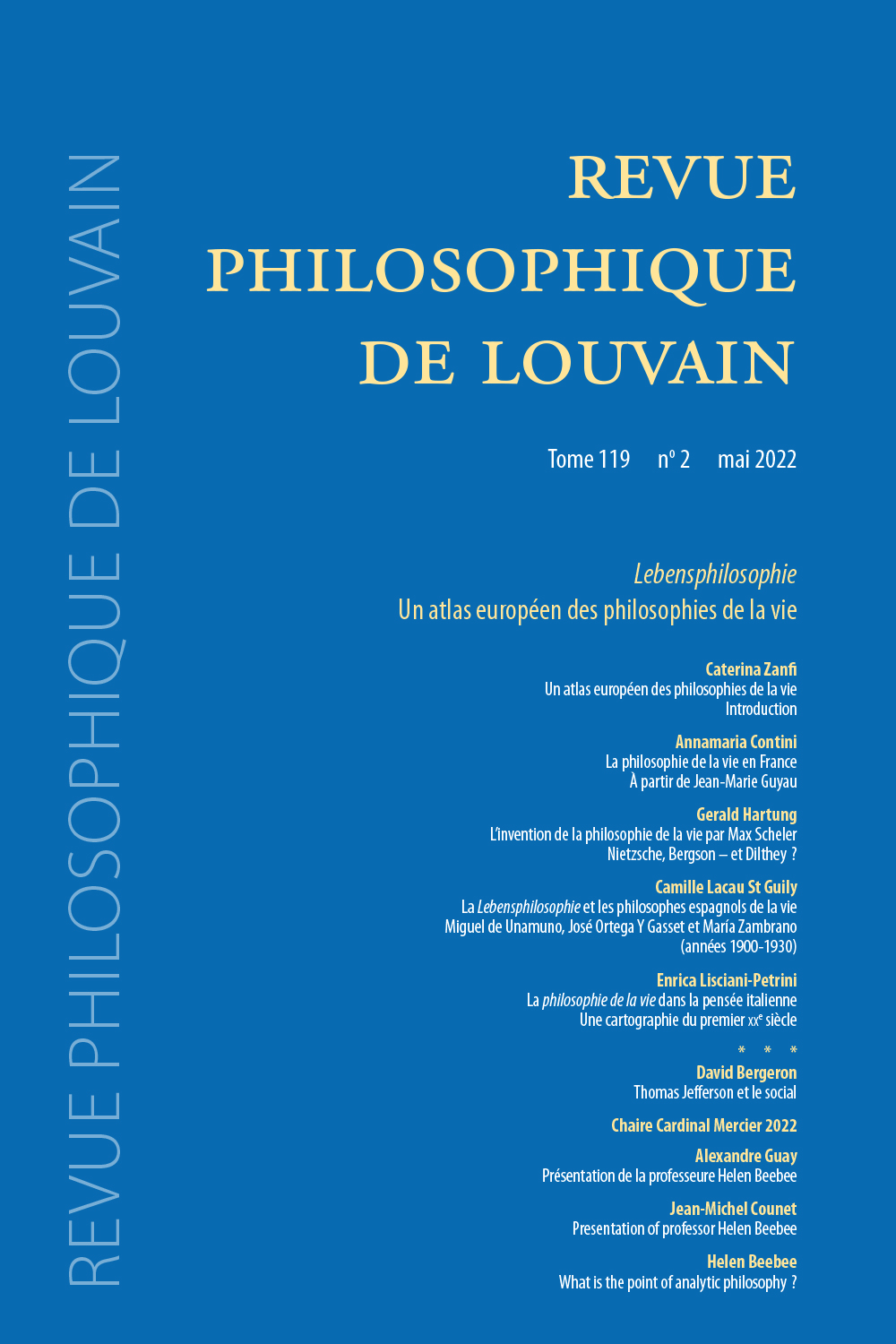 Document Details :

Title: Le temps de l'histoire
Subtitle: Löwith critique de Hegel
Author(s): CANTIN-BRAULT, Antoine
Journal: Revue Philosophique de Louvain
Volume: 115 Issue: 4 Date: novembre 2017
Pages: 647-674
DOI: 10.2143/RPL.115.4.3284771

Abstract :
Cet article vise à prendre la mesure de la critique de Karl Löwith à l'égard de la pensée historique de Hegel. En un premier temps, l'article vise à montrer les limites de la critique löwithienne qui paraît souvent assez injuste à l'égard de ce qu'avance Hegel. Une mise au point sur les idées de fin de l'histoire, de ruse de la raison et de théodicée sert à recadrer ce qu'avance Hegel, contre Löwith. En un deuxième temps, l'article insiste sur ce qui est digne d'intérêt chez Löwith lorsqu'il critique l'histoire hégélienne, c'est-à-dire sa problématisation du sens de la temporalité présente dans cette histoire. Löwith propose une temporalité pour l'histoire qui n'a rien à voir avec l'éternité philosophique de Hegel: ces deux temporalités sont-elles nécessairement exclusives? Hegel montre que non, même s'il ne peut pas s'intéresser directement à la temporalité que propose Löwith.


---

This article aims to evaluate Karl Löwith's criticism of Hegel's view of history. In the first place, the article aims to show the limits of Löwith's criticism, which often appears rather unjust in regard to Hegel's views. A clarification of the ideas of the end of history, the cunning of reason, and of theodicy serves to reframe Hegel's standpoints, against Löwith. In the second place, the article emphasizes what is interesting in Löwith when he criticises history according to Hegel, namely his problematisation of the meaning of temporality present in this history. Löwith proposes a temporality for history which is in no way related to Hegel's philosophical eternity. Are these two temporalities necessarily exclusive? Hegel shows they are not, even if he cannot be directly interested in the temporality proposed by Löwith.


Download article