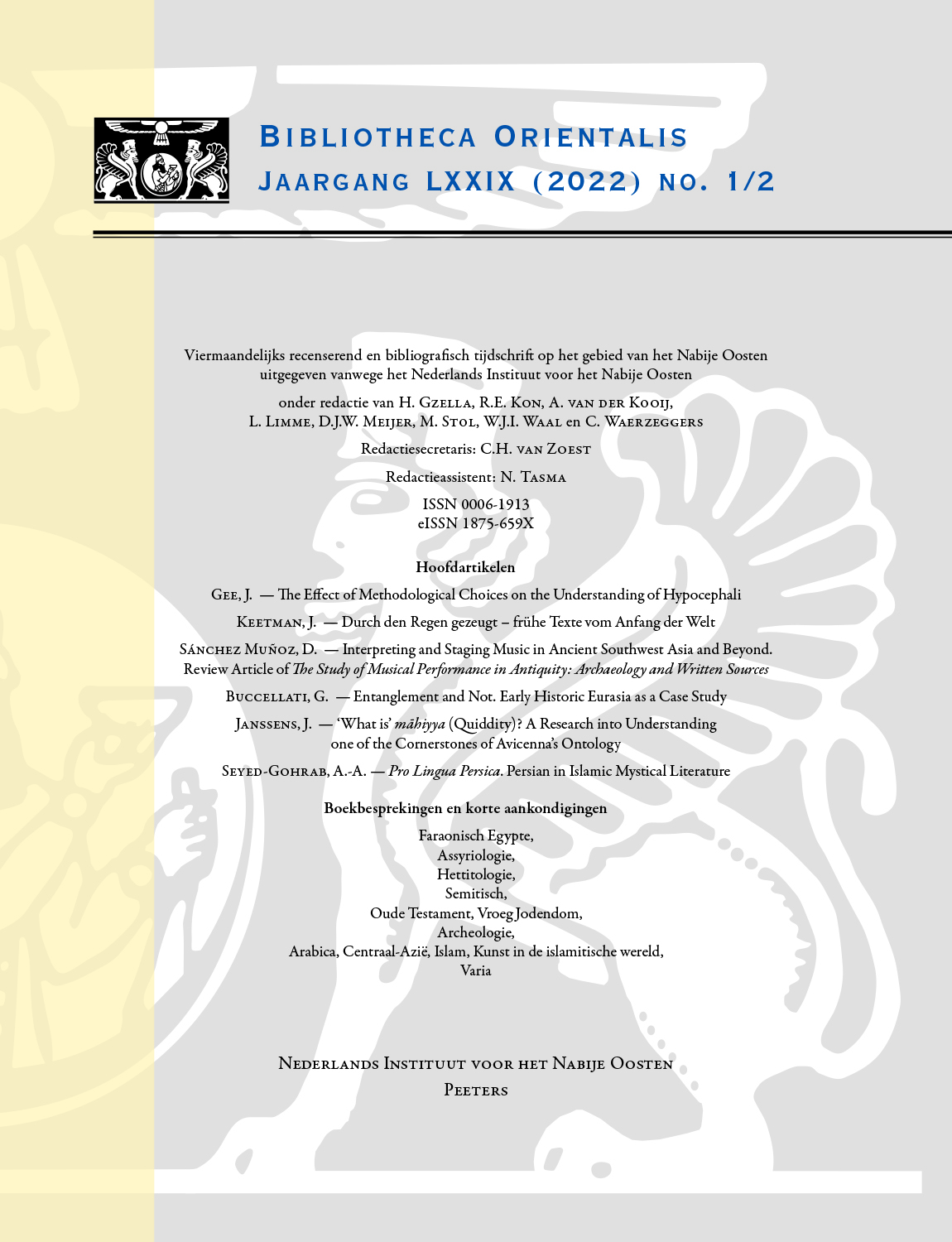 Document Details :

Title: Archeologie
Author(s):
Journal: Bibliotheca Orientalis
Volume: 74 Issue: 5-6 Date: 2017
Pages: 634-678
DOI: 10.2143/BIOR.74.5.3284762

Abstract :
WERNER, P. - Der Anu-Adad Tempel in Assur. (WVDOG 145; Baudenkmäler aus assyrischen Zeit 15). Verlag Otto Harrassowitz, Wiesbaden, 2016.

MORANDI BONACOSSI, D. (ed.) - Settlement Dynamics and Human-Landscape Interaction in the Dry Steppes of Syria. (Studia Chaburensia 4). Verlag Otto Harrassowitz, Wiesbaden, 2014.

ABADIE-REYNAL, C. et YON, J.-B. (éd.) - Zeugma VI. La Syrie romaine. Permanences et transferts culturels. (travaux de la Maison de l'Orient et de la Méditerranée, Série recherches archéologiques 68). Maison de l'Orient et de la Méditerranée, Lyon, 2015.

ANASTASIO, S. and BOTARELLI, L. - The 1927-1938 Italian Archaeological Expedition to Transjordan in Renato Bartoccini's Archives. Archaeopress, Oxford, 2015.

VÖRÖS, G. - Machaerus II. The Hungarian Archaeological Mission in Light of the American-Baptist and Italian-Franciscan Excavations and Surveys. Final Report 1968-2015. (Studium Biblicum Franciscanum, Collectio Maior 55). Edizioni Terra Santa, Milano, 2015.

BLAYLOCK, S.R. - Tille Höyük 3.2. The Iron Age: Pottery, Objects and Conclusions. (British Institute at Ankara Monograph 50). British Institute of Archaeology at Ankara, London, 2016.

TODD, I.A. - The Field Survey of the Vasilikos Valley, Volume II: Artefacts Recovered by the Field Survey. (Studies in Mediterranean Archaeology 71; Vassilikos Valley Project 10). Paul Åstroms Förlag, Uppsala, 2016.

VATANDOUST, A., PARZINGER, H. and HELWING, B. (eds.) - Early Mining and Metallurgy on the Western Central Iranian Plateau. The First Five Years of Work. (Archäologie in Iran und Turan 9). Verlag Philipp von Zabern, Mainz am Rhein, 2011.

GARNER, J. - Das Zinn der Bronzezeit in Mittelasien II. Die montanarchäologischen Forschungen an den Zinnlagerstätten. (Veröffentlichungen aus dem Deutschen Bergbau-Museum, Bochum 194; Archäologie in Iran und Turan 12). Deutsches Archäologisches Institut, Eurasien-Abteilung, Berlin, 2013.

PORTER, B.J. and BOUTIN, A.T. (eds.) - Remembering the Dead in the Ancient Near East. Recent Contributions from Bioarchaeology and Mortuary Archaeology. University of Colorado Press, Boulder, 2014.

BRANDT, J.R., HAGELBERG, E., BJØRNSTAD, G. and AHRENS, S. (eds.) - Life and Death in Asia Minor in Hellenistic, Roman and Byzantine Times. Studies in Archaeology and Bioarchaeology. (Studies in Funerary Archaeology 10). Oxbow Books, Oxford, 2017.

KERNER, S., DANN, R.J. and BANGSGARD, P. (eds.) - Climate and Ancient Societies. Museum Tusculanum Press, Copenhagen, 2015.

Korte aankondiging:
CANBY, J.V. - The 'Ur-Nammu' Stela. University of Pennsylvania Museum, Philadelphia, 2004.


Download article