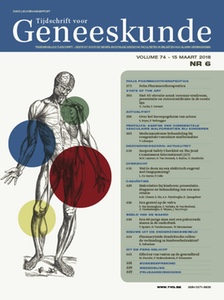 Document Details :

Title: Waar en hoe ontstond de hiv-pandemie?
Author(s): BUVÉ A
Journal: Tijdschrift voor Geneeskunde
Volume: 64 Issue: 16 Date: 2008
Pages: 804-806
DOI: 10.2143/TVG.64.16.2000374

Abstract :
Aids werd voor het eerst beschreven bij homoseksuele mannen in de Verenigde Staten in 1981, maar het oudste gekende geval van hiv-infectie is een man die in 1959 in het toenmalige Belgisch Kongo leefde. Op basis van de verscheidenheid van de circulerende hiv-stammen heeft men kunnen berekenen dat hiv-infecties al sedert het begin van de 20e eeuw voorkomen bij de mens.
Men onderscheidt twee typen van hiv: het hiv-1- en het hiv-2-type. Hiv-2 komt vooral in West-Afrika voor en is afkomstig van een lentivirus van de roetmangabey, een primaat, die zijn habitat in West-Afrika heeft. Hiv-1 is veruit het belangrijkste type en is afkomstig van lentivirussen van de chimpansee Pan troglodytes troglodytes, die leeft in Centraal-Afrika. Overdracht van lentivirussen van apen naar mensen zou gebeurd zijn door contact met bloed van besmette apen.



---


The search for the origins of the HIV pandemic
AIDS has first been described in homosexual men in the United States in 1981. Still, the oldest known case of hiv infection was a resident of Kinshasa (Democratic Republic of Congo) whose blood was taken in 1959 and kept frozen for several decades.
The variability of hiv strains which circulate in the human population, has been used to estimate the likely date hiv was introduced in the human population. Thus it is thought that hiv entered the human population between 1890 and 1945.
Two types of HIV do exist, HIV-1 and HIV-2. The former is found mainly in West Africa and its ancestor appears to be a lentivirus that infects the sooty mangabey. This primate has its habitat in West Africa. HIV-1 is by far the most common HIV type and appears to have originated from Simian Immunodeficiency Viruses of the chimpanzee, Pan troglodytes troglodytes, whose habitat is situated in Central Africa.
Transmission of viruses from primates to humans occurred most likely through the consumption of bush meat and contact of humans with blood of infected animals.