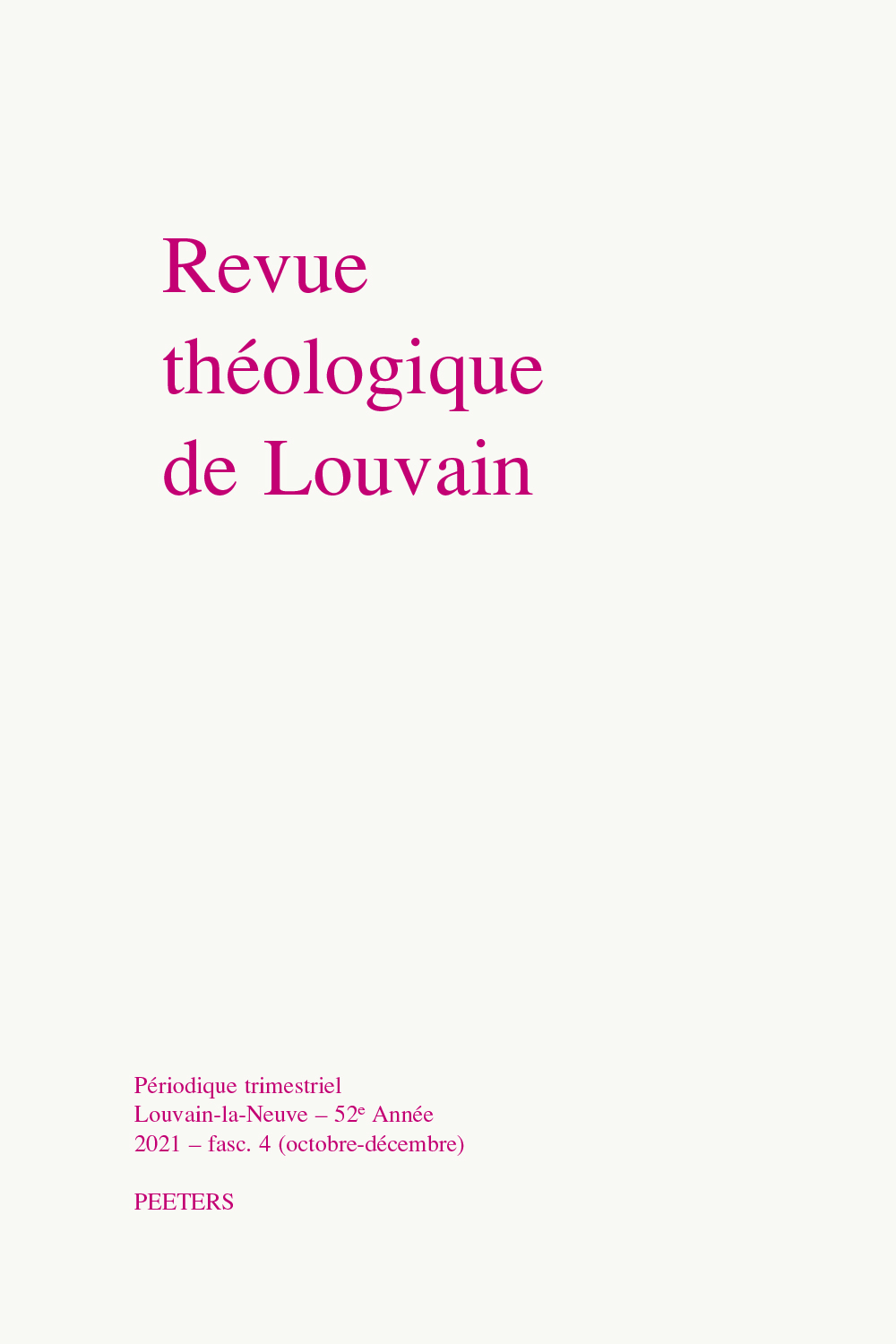 Document Details :

Title: La multiplicité du dire du temps dans la Bible, d'après Paul Ricœur
Author(s): AMHERDT, François-Xavier
Journal: Revue Théologique de Louvain
Volume: 48 Issue: 4 Date: 2017
Pages: 492-509
DOI: 10.2143/RTL.48.4.3265661

Abstract :
C'est au terme de l'examen des ripostes que la poétique de la fonction narrative apporte aux problèmes attachés au dire du temps (dans la trilogie Temps et récit) que Paul Ricœur dégage les apories de la temporalité qui demeurent. Parmi elles, le fait que la corrélation entre «le temps» (singulier collectif) et les diverses «extases du temps» (présent, passé, futur) n'est pas du seul ressort du récit, implique de recourir aux autres genres littéraires qui tissent les Écritures et qui, chacun, déploient une modalité temporelle: à l'antériorité narrative conjointe à l'antériorité éthique de la Loi s'ajoutent l'irruption de l'eschatologie prophétique et l'aujourd'hui intemporel de la Sagesse et des hymnes. C'est par l'entrelacement de ces diverses désignations temporelles que s'élabore le modèle intertextuel pluriel dénommé «temps biblique» – auquel il faudrait ajouter le temps apocalyptique que Ricœur étudie peu. À ce paradigme intertextuel de la temporalité (surtout) vétérotestamentaire, correspond une triple identité du sujet lecteur adressé, stable, avec les points de repère de la Torah, ébranlée et réassurée avec les prophètes, singulière et universelle à travers les écrits sapientiels. C'est par cette pluralité irréductible que la poétique du récit s'efface devant le mystère de la temporalité qui toujours la dépasse et que la Bible livre le testament du temps humain dans ses rapports à l'éternité divine.


---

At the end of the study about the answers of the poetics of narrative function to the problems with the ways of saying the time (in his three volumes Time and Narrative), Paul Ricœur treats the apories of the temporality. Among them, the correlation between 'the time' (collective singular) and the diverse 'ecstasies of time' (present, past, future) is not only the fruit of the narrative: it implies to appeal to the other literary devices which are found in the Scriptures and which each reveal a modality of temporality. It is necessary to add to the anteriority of narrative and law (in the Torah) the irruption of prophetic eschatology and the permanence of Wisdom and hymns. Through the intersection of these diverse temporal modalities, the intertextual plural paradigm called 'biblical time' grows – it would be necessary to add the apocalyptic time, what Ricœur doesn't study in detail. To this intertextual model of the (above all) Old Testament temporality corresponds a threefold identity of the addressed subject: stable with the landmarks of the Torah, shaken and re-assured with the prophets, singular and universal with the Wisdom writings. Through this un-exceeded plurality, the poetics of narrative paves the way for the mystery of time and the Bible gives the testament of human temporality in its relations to the divine eternity.


Download article