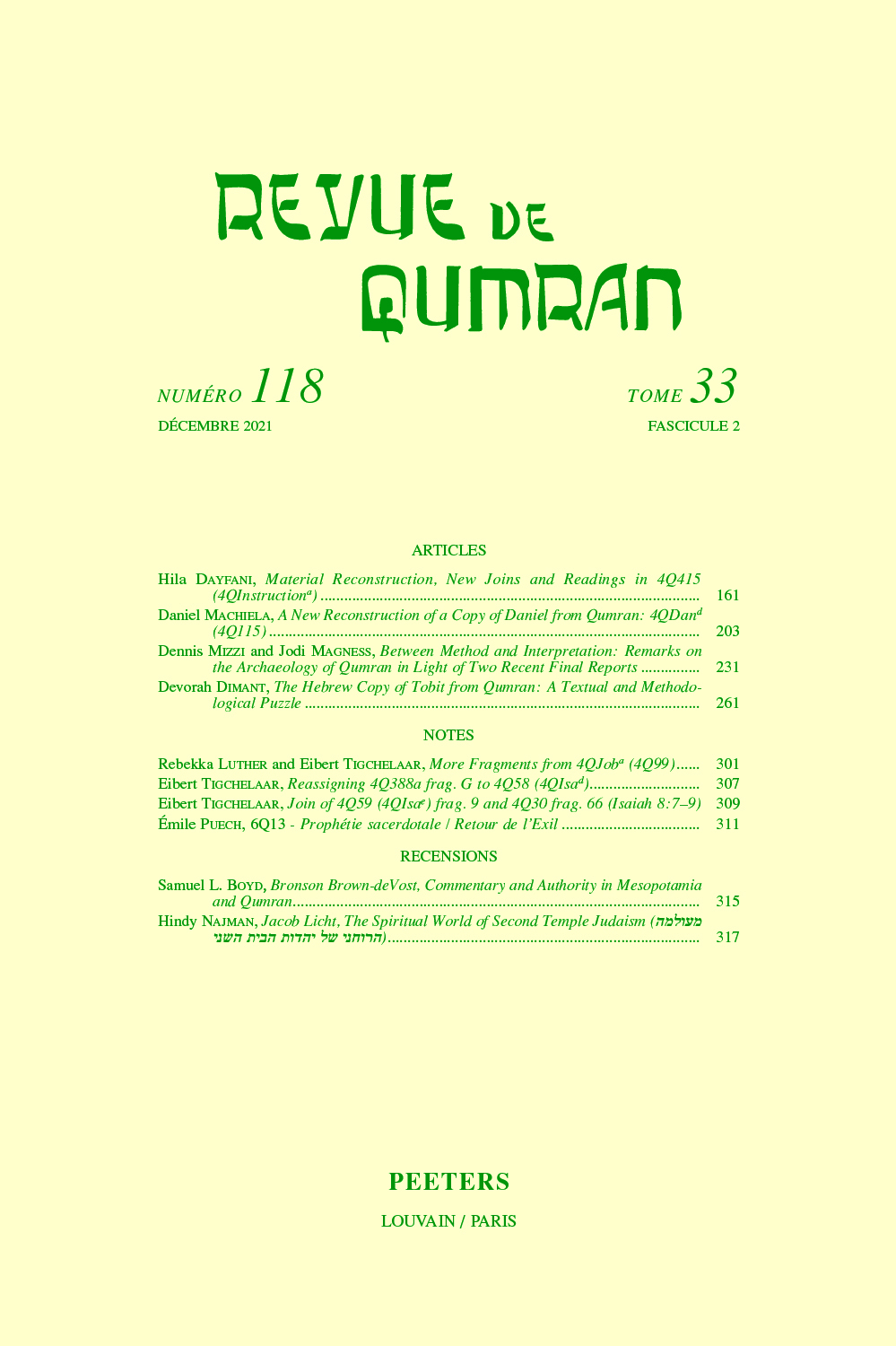 Document Details :

Title: Die Doppelurkunden aus der Judäischen Wüste
Subtitle: Das Verhältnis vom oberen (inneren) und unteren (äusseren) Text
Author(s): GEIGER, Gregor
Journal: Revue de Qumran
Volume: 29 Issue: 2 Date: numéro 110, 2017
Pages: 247-279
DOI: 10.2143/RQ.29.2.3262837

Abstract :
Der Artikel beschreibt die Doppelurkunden aus der Judäischen Wüste, zum einen ihre materielle Beschaffenheit und ihr Layout, zum anderen das Verhältnis des oberen (inneren) und unteren (äußeren) Texts. Es sind drei Formen zu unterscheiden: zwei weitgehend identische Texte, die untereinander auf eine Seite des Blattes geschrieben sind; zwei ebensolche Texte, von denen der obere auf der Rückseite des Blattes beginnt; sowie Dokumente mit stark verkürztem oberen Text. Der obere Text ist oft nachlässiger geschrieben. Sowohl das Layout der Dokumente als auch einige der Unterschiede zwischen den beiden Texten deuten darauf hin, daß der obere Text zuerst geschrieben und der untere Text vom oberen abgeschrieben wurde.


---

The article describes the double documents from the Judaean Desert, on the one hand their material conditions and their lay out, on the other hand the relationship between the upper (inner) and the lower (outer) texts. There are three different forms: two widely identical texts, written one below the other on one side of a sheet; two such texts the first of which starts on the back of the sheet; and, third, documents with a noticeably shortened upper text. The upper text is often less carefully written. Both the lay out and some of the differences between the two texts point to the conclusion that the upper text was written first, while the lower text was copied from the upper one.


Download article