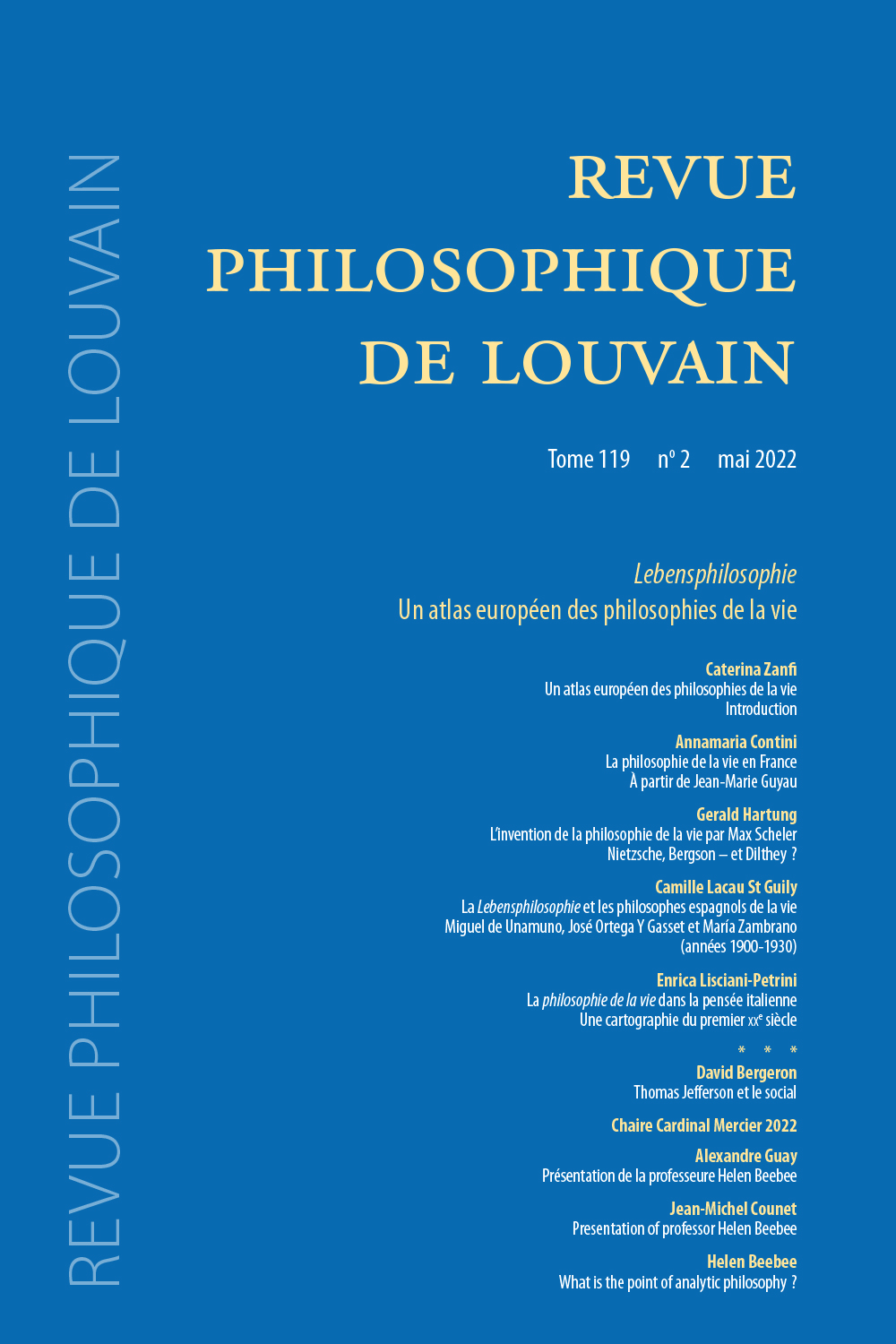 Document Details :

Title: L'impasse des théories du moi et la nécessité d'un changement de paradigme
Author(s): ROMANO, Claude
Journal: Revue Philosophique de Louvain
Volume: 115 Issue: 2 Date: mai 2017
Pages: 183-212
DOI: 10.2143/RPL.115.2.3245499

Abstract :
La question soulevée par cet article est celle de la légitimité d'un des concepts qui semble le mieux établi dans le lexique philosophique contemporain, celui du moi. Ce concept qui, à sa création, répond à des problèmes bien définis, a revêtu un sens de plus en plus vague au fur et à mesure de sa diffusion, au point qu'il est devenu souvent difficile de dire ce qu'il signifie au juste chez la plupart des philosophes qui l'emploient. En revenant à la source de cette notion, le présent article s'efforce d'examiner quelques-uns des problèmes qu'elle soulève. Il s'attache plus particulièrement à montrer que la thèse selon laquelle le moi possède une identité en première personne, distincte de l'identité en troisième personne de l'individu dans le monde, soulève des problèmes insolubles. Or cette thèse repose nécessairement au fondement de toute conception qui prétend distinguer le moi de l'être humain individuel.


---

The question raised by this article is that of the legitimacy of one of the seemingly best-established concepts in the contemporary philosophical lexicon, namely that of the self. This concept, which, at the time of its creation, provided an answer to clearly defined problems, has taken on a more and more vague meaning as it has spread, to the extent that it has often become difficult to say what exactly it means in most of the philosophers who use it. Returning to the source of this notion, the present article endeavours to examine some of the problems it raises. It aims more particularly to show that the thesis that the self possesses an first-personal identity, as distinct from the third-personal identity of the individual in the world, raises insoluble problems. But this thesis lies necessarily at the basis of any conception that claims to distinguish between the self and the individual human being.


Download article