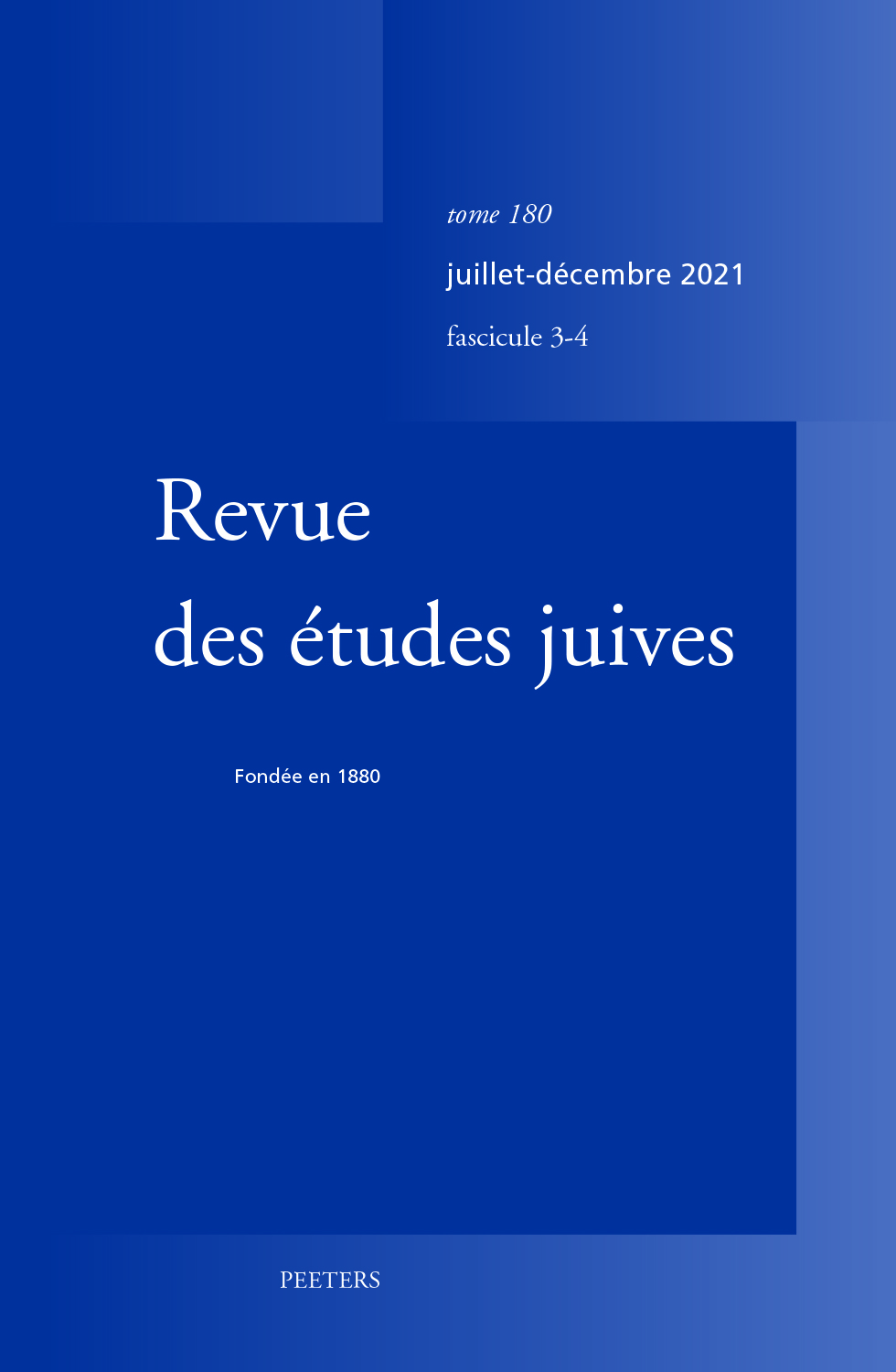 Document Details :

Title: Les Épîtres de Paul, une source pour le pharisaïsme historique
Author(s): TOMSON, Peter J.
Journal: Revue des Études Juives
Volume: 176 Issue: 1-2 Date: janvier-juin 2017
Pages: 1-23
DOI: 10.2143/REJ.176.1.3209395

Abstract :
L'un des problèmes les plus épineux pour les historiens de l'Antiquité est la relation entre les pharisiens et les rabbins. On présume un lien assez étroit, mais il est difficile de le démontrer. C'est que la littérature rabbinique, censée être un véhicule de la tradition pharisaïque, n'a été mise par écrit qu'à partir du IIIe siècle de l'ère commune, après avoir subi beaucoup de modifications. Il faut donc des sources contemporaines écrites par des pharisiens qui puissent être comparées avec la littérature rabbinique. Contrairement aux écrits de Flavius Josèphe, les épîtres de l'ex-pharisien Paul manifestent une expertise convaincante dans l'interprétation de l'Écriture ainsi que dans le domaine des lois et des croyances populaires, qui correspondent aux trois aspects fondamentaux de la littérature rabbinique: midraš, halakha et aggada. Les six passages de Paul étudiés ici montrent qu'il est tout à fait compétent dans ces matières, bien qu'il prenne parfois une position différente de celle des rabbins. Les passages ne soulignent pas uniquement les connaissances propres à Paul, mais ils témoignent de l'existence d'un système d'enseignement pharisien au début du Ier siècle. Ainsi les épîtres de Paul semblent confirmer la continuité entre la mouvance des pharisiens et celle des rabbins, alors que la littérature rabbinique elle-même doit être comprise comme le produit d'une époque postérieure.


---

One of the more tricky problems for historians of Antiquity is the relationship between Pharisees and rabbis. While one suspects a rather close link, it is difficult to prove. The problem is that rabbinic literature, thought to be the vehicle of Pharisaic tradition, was reduced to writing only from the third century onwards, having undergone many changes. Therefore what we need are contemporaneous sources written by Pharisees that could be compared with rabbinic literature. Of the two authors to be considered, Josephus does not show a true expertise. Only the letters of Paul, the former Pharisee, display a convincing expertise in interpreting Scripture, specifying commandments, and formulating popular beliefs. These are the subjects for which the Pharisees are appreciated in our sources; moreover they correspond to the three disciplines of midraš, halakha, and aggada of rabbinic literature. In this paper, six Pauline passages are scrutinized for their affinity with the three disciplines. Paul shows himself to be fully competent, even if he sometimes takes a different position from the rabbis. In addition to his own education, the passages also bear testimony to the existence of a Pharisaic educational system in the early first century. Thus Paul's letters seem to confirm the continuity between the Pharisaic movement and that of the rabbis, while rabbinic literature itself must be viewed as the product of a later age.


Download article