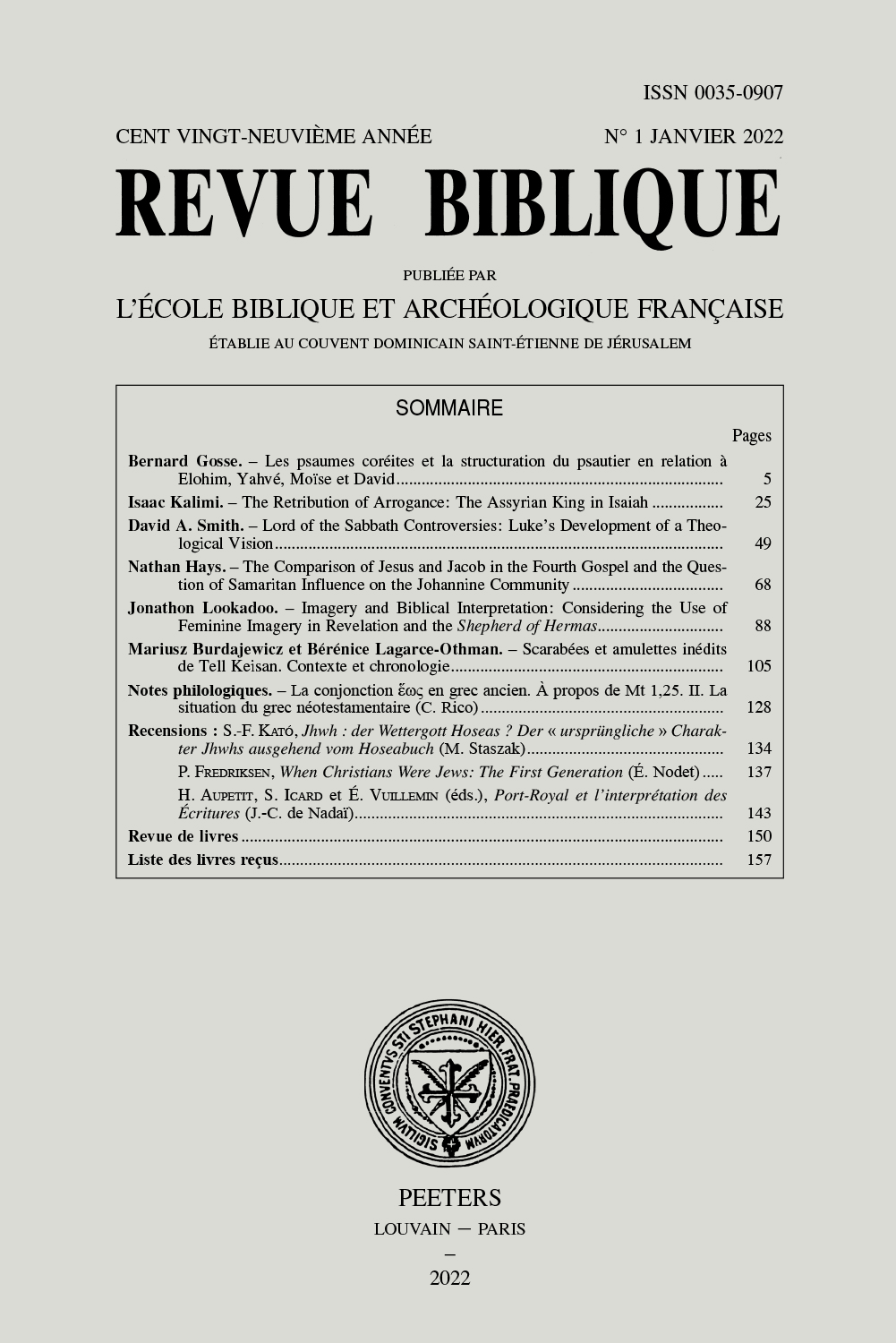 Document Details :

Title: L'arbre et l'homme (gJob 14:7-17)
Subtitle: Les prétendues allusions à l'après-vie dans la version grecque du livre de Job (Première partie)
Author(s): MANGIN, Dominique
Journal: Revue Biblique
Volume: 115 Issue: 1 Date: 2008
Pages: 26-48
DOI: 10.2143/RBI.115.1.3206492

Abstract :
Les différences constatées par les critiques entre texte court de la version grecque du livre de Job et texte massorétique ont été attribuées, dans les années 1946-1954, par G. Gerleman, H.S. Gehman et D.H. Gard à des raisons théologiques; cette attribution a été récemment reprise par H. Tremblay (2002). Si l'on en juge par l'étude des passages de la Septante ancienne où ces chercheurs ont relevé des allusions à la croyance en une vie après la mort, leur thèse est le résultat d'une sur-interprétation du texte grec. La première partie de l'article est consacrée à l'analyse du passage-clé, 14:7-17; la seconde étudiera tous les autres lieux qu'ils invoquent à l'appui de leur thèse.


---

The differences noted by critics between the short Greek version of the Book of Job and the MT were considered to be theological in origin by G. Gerleman, H.S. Gehman and D.H. Gard, in the years 1946-1954. This assumption has recently been taken up anew by H. Tremblay (2002). However, study of the Old Septuagint passages where those researchers found allusions to belief in an afterlife shows that their hypothesis results from an over-interpretation of the text. This first part of the article is devoted to the key passage, gJb 14:7-17; the second part will check the other passages quoted by the above mentioned researchers.


Download article