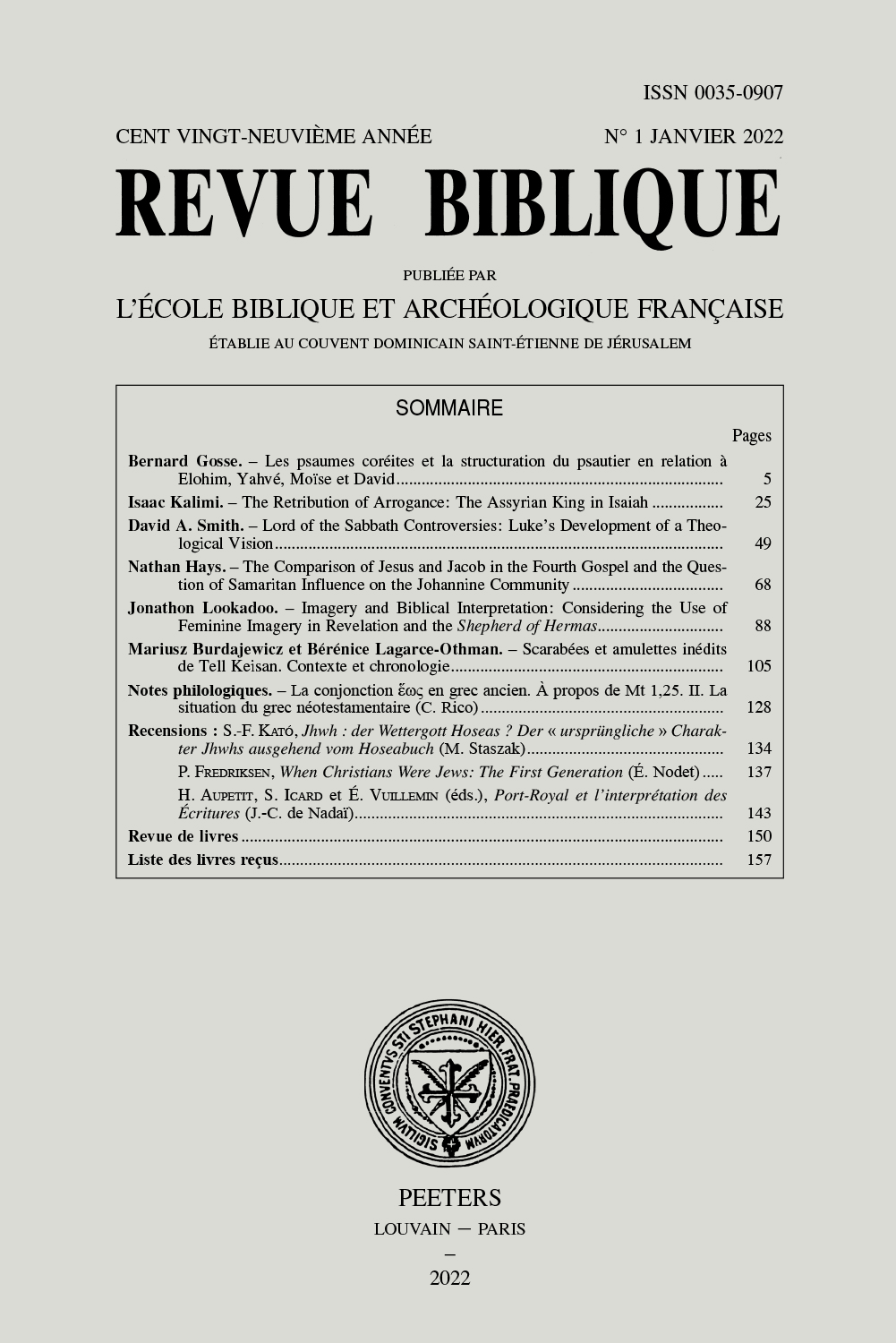 Document Details :

Title: Échos de Josias dans le Nouveau Testament
Author(s): CHARLES, Dominique
Journal: Revue Biblique
Volume: 118 Issue: 2 Date: 2011
Pages: 186-224
DOI: 10.2143/RBI.118.2.3206320

Abstract :
Cette étude essaie de détecter l'ombre de Josias, le dernier roi «juste» de Juda, dans le Nouveau Testament. La recherche porte principalement sur: la généalogie selon saint Matthieu (Mt 1,17); la référence au Transpercé de Za 12,10 en Jn 19,37; la mention de Harmagedôn en Ap 16,16; plusieurs occurrences en Luc évoquant la mise à mort du juste (notamment Lc 23,47; Lc 23,27-30); les récits de mise au tombeau de Luc et de Jean; le credo pré-paulinien de 1Co 15,3-5. Ces indices, pris ensemble, ne révéleraient-ils pas la trace d'un courant du christianisme des origines pour qui Josias aurait été une figure du Messie crucifié?


---

The study tries to trace allusions to Josiah, the last 'just' king of Judah, in the New Testament. We will look particularly into: the Genealogy in Matthew (Mt 1:17); the reference to the pierced one of Za 12:10 in Jn 19:37; the mention of Armageddon in Rev 16:16; some cases in Luke recalling the death of the Just (mainly Lk 23:47; Lk 23:27-30); the narratives about the entombment in Luke and John; the pre-Pauline creed in 1 Co 15:3-5. Those clues, taken together, may reveal something about tendency among the first Christians to see Josiah as a figure of the crucified Messiah?


Download article