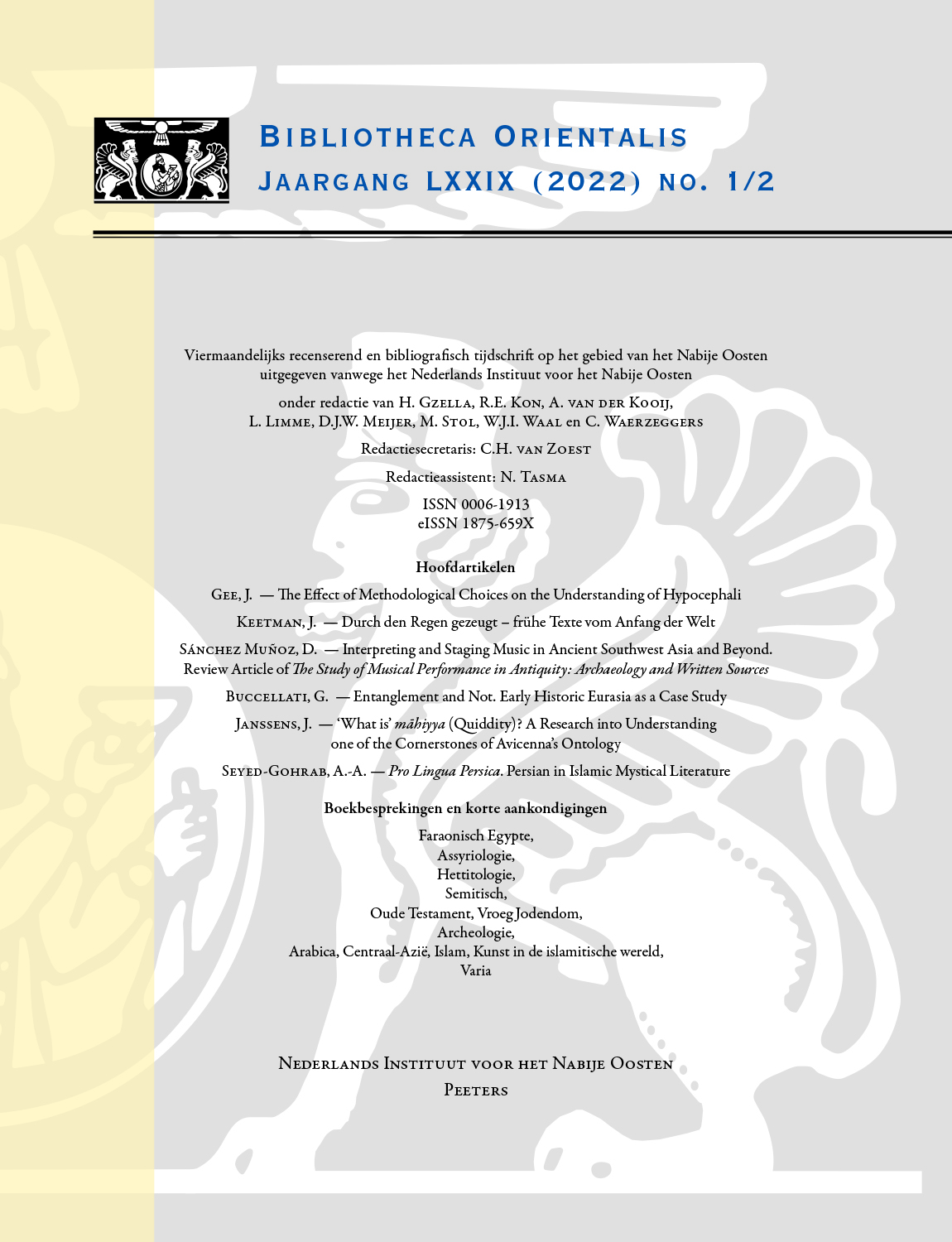 Document Details :

Title: Faraonisch Egypte
Author(s):
Journal: Bibliotheca Orientalis
Volume: 73 Issue: 3-4 Date: 2016
Pages: 360-399
DOI: 10.2143/BIOR.73.3.3191748

Abstract :
THOMPSON, J. - Wonderful Things. A History of Egyptology. 2: The Golden Age: 1881-1914. The American University in Cairo Press, Cairo, 2015.

VOSS, S. - Die Geschichte der Abteilung Kairo des DAI im Spannungsfeld deutscher politischer Interessen von 1881-1966. (Menschen - Kulturen - Traditionen 8.1; Studien aus den Forschungsclustern des Deutschen Archäologischen Instituts 5). Verlag Marie Leidorf, Rahden, 2013.

MARTIN, G.T., with contributions by J. VAN DIJK and K.J. FRAZER - The Tomb of Maya and Merit I: The Reliefs, Inscriptions, and Commentary. (EES Excavation Memoir 99). Egypt Exploration Society, London, 2012.

JORDAN, M., BICKEL, S., et CHAPPAZ, J.-L. - Travaux du Fonds pour l'Égyptologie de Genève I: La porte d'Horemheb au Xe pylône de Karnak. (Cahiers de la Société d'Égyptologie 13). Société d'Égyptologie de Genève, Grand Saconnex, 2015.

RAY, J.D. - Demotic Ostraca and Other Inscriptions from the Sacred Animal Necropolis, North Saqqara. (Texts from Excavations 16). Egypt Exploration Society, London, 2013.

LIPPERT, S. und STADLER, M.A. (Hrsg.) - Gehilfe des Thot. Festschrift für Karl-Theodor Zauzich zu seinem 75. Geburtstag. Verlag Otto Harrassowitz, Wiesbaden, 2014.

DEPAUW, M. and BROUX, Y. (eds) - Acts of the Tenth International Congress of Demotic Studies, Leuven, 26-30 August 2008. (Orientalia Lovaniensia Analecta 231). Peeters, Leuven, 2014.

VERNER, M. - Sons of the Sun. Rise and Fall of the Fifth Dynasty. Charles University, Prague, 2014.

LEMBKE, K. (Hrsg.) - Ammoniaca II. Das Grab des Siamun in der Oase Siwa. (Archäologische Veröffentlichungen 115). Verlag Otto Harrassowitz, Wiesbaden, 2014.


Download article