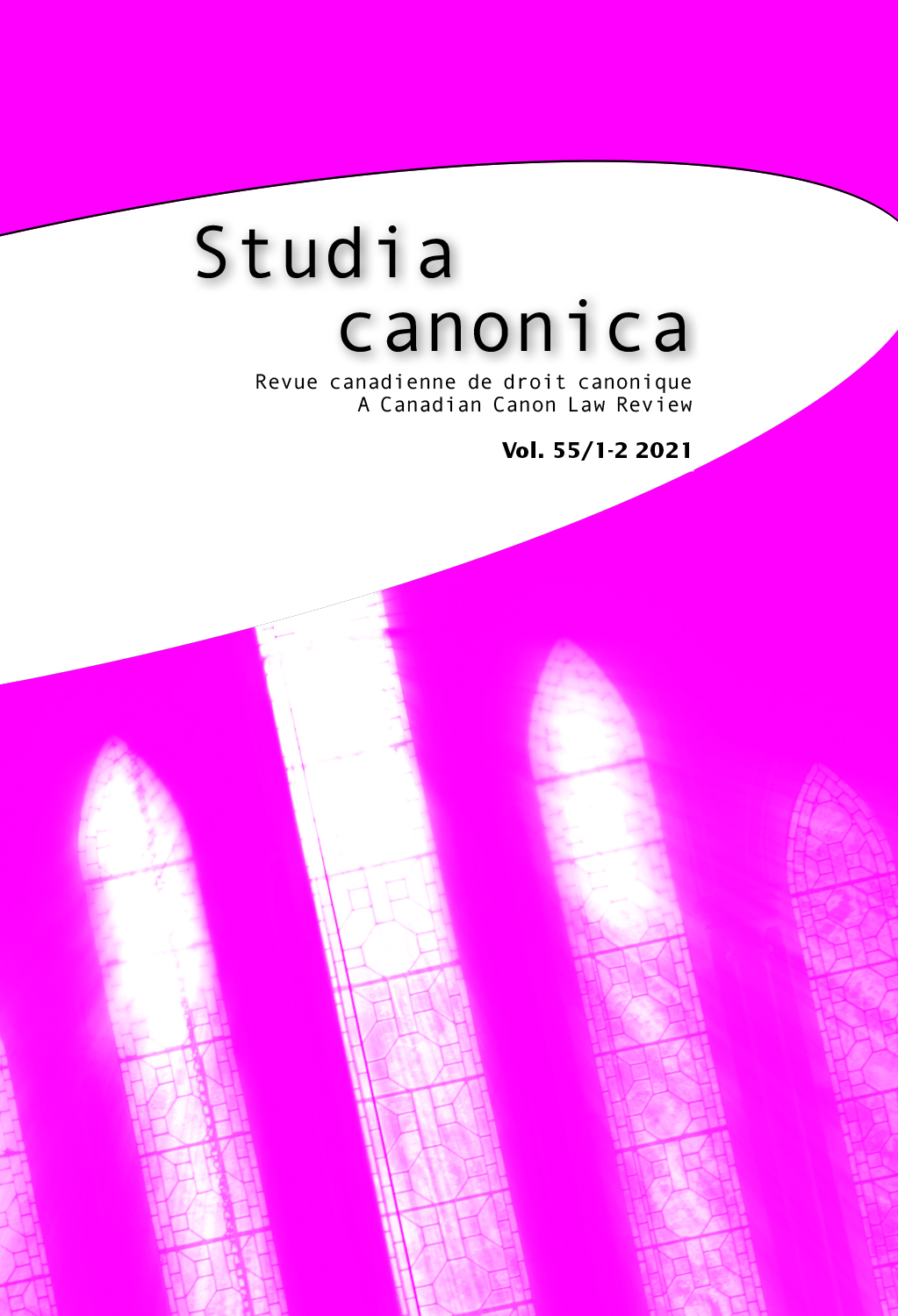 Document Details :

Title: De concordia inter codices
Subtitle: A Commentary
Author(s): ABBASS, Jobe
Journal: Studia Canonica
Volume: 50 Issue: 2 Date: 2016
Pages: 323-345
DOI: 10.2143/STC.50.2.3183445

Abstract :
In his apostolic letter, De concordia inter Codices, given motu proprio, Pope Francis recognizes that the Latin and Eastern Codes have their own unique norms and that they remain mutually independent. However, for concrete pastoral reasons today, the pope is also concerned that an appropriate degree of harmony between the two Codes is necessary. To achieve this end, the motu proprio reformulates some Latin norms or adds others along the lines of the later Eastern Code. His Holiness is solicitous to do so for two specific reasons: 1) While recognizing the disciplinary peculiarities of various Churches that occur in a regional context, especially in the West, he seeks an equilibrium between safeguarding the law proper to the Eastern minority with the canonical tradition of the Latin majority; and 2) Even though the Codes generally apply only to the Catholic faithful, he aims to better define relations with the faithful of the non-Catholic Churches especially in regards to Catholic ministers' celebration of the sacraments of baptism and marriage for non-Catholic faithful under certain conditions. In this study, the author provides a commentary of the motu proprio from its preamble, to its eleven articles and Latin canons thereby affected, to its promulgation and entry into force.


---

Dans sa lettre apostolique, De concordia inter Codices, donnée sous forme de motu proprio, le pape François reconnaît que les Codes latin et oriental ont leurs propres normes respectives et qu'ils sont indépendants l'un de l'autre. Toutefois, pour des raisons pastorales concrètes auxquelles nous sommes confrontées aujourd'hui, le pape est également conscient qu'un degré d'harmonie entre les deux Codes est nécessaire. Pour y parvenir, le motu proprio reformule certains canons du Code latin ou en ajoute quelques-uns qui sont dans la même ligne que le Code oriental promulgué ultérieurement. Sa Sainteté désire ces changements pour deux raisons précises: 1) Tout en reconnaissant que les diverses Églises ont des particularités disciplinaires qui se trouvent dans les contextes régionaux, particulièrement en Occident, le pape cherche un juste équilibre entre la sauvegarde des lois propres à la minorité orientale et la tradition canonique de la majorité latine; et 2) Même si, en général, les Codes s'appliquent seulement aux fidèles catholiques, le pape vise à mieux définir les relations avec les fidèles des Églises non-catholiques en particulier en ce qui concerne la célébration sous certaines conditions des sacrements du baptême et du mariage par des ministres catholiques pour des fidèles non-catholiques. Dans cette étude, l'auteur fournit un commentaire du motu proprio à partir de son préambule, ses onze articles et les canons latins ainsi touchés, jusqu'à sa promulgation et l'entrée en vigueur.


Download article