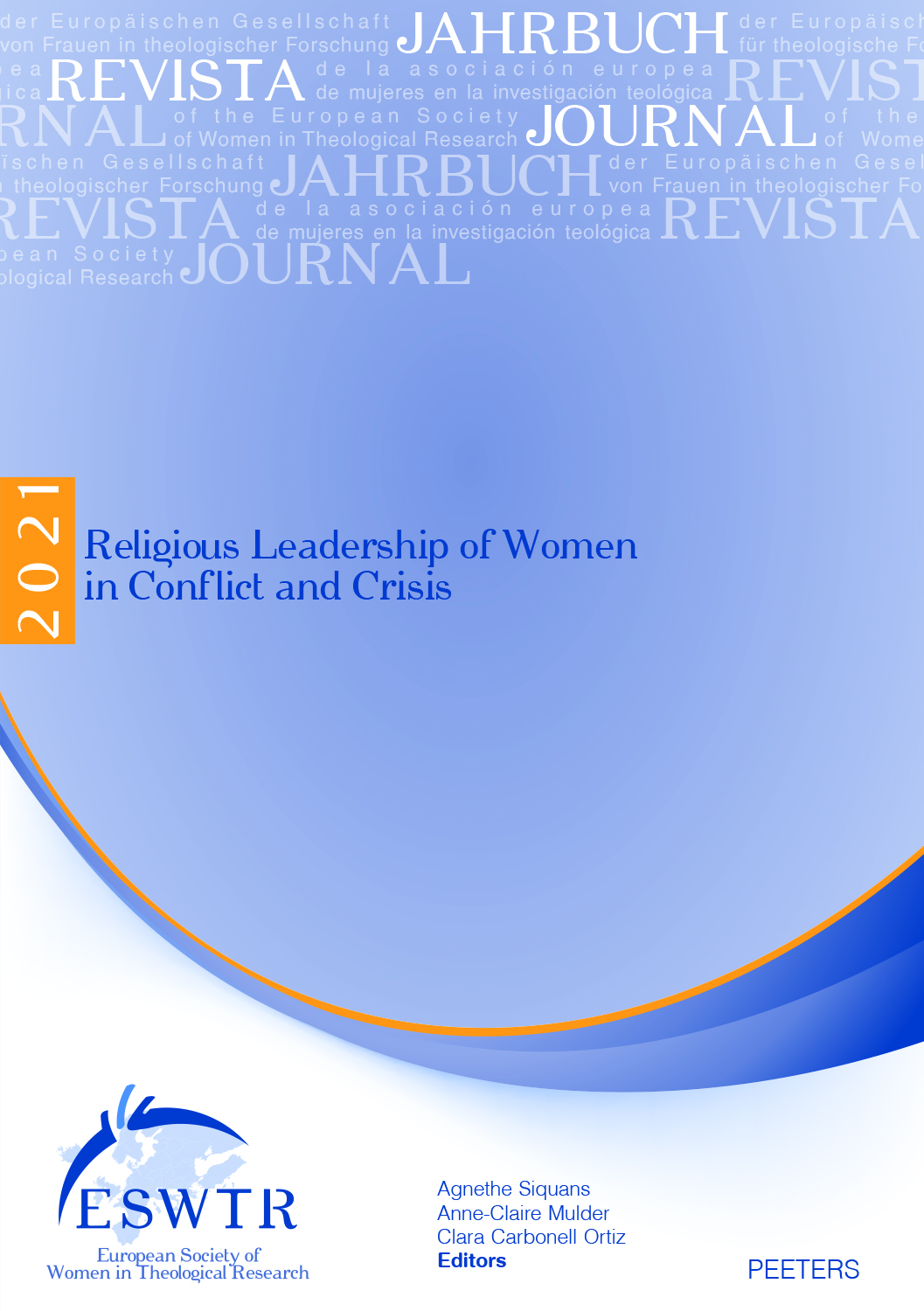 Document Details :

Title: Feminist Perspectives in Neopatriarchalism. Das Wort der Hoffnung mit der Welt teilen - Sharing the Word of Hope with the World - Voces de mujeres en tiempo de crisis
Subtitle: 16th International ESWTR Conference, 17-21 August 2015, Kolymbari, Greece
Author(s): DIEVENKORN, Sabine , KOUKOURA, Dimitra , TOLDY, Teresa
Journal: Journal of the European Society of Women in Theological Research
Volume: 24 Date: 2016
Pages: 1-11
DOI: 10.2143/ESWTR.24.0.3170022

Abstract :
Inmitten der europäischen Finanz- und Bankenkrise in Griechenland und der beginnenden Herausforderung durch Flüchtende vor allem aus Syrien fand im Spaetsommer die 16. Konferenz der ESWTR statt. Sie stand unter dem Titel 'Das Wort der Hoffnung mit der Welt teilen'. Das kein spezifisch feministisch theologisch oder feministisch pädagogisch geprägtes Motto leitend war, spiegelt sehr klar die aktuelle akademische wie politsche Situation von Frauen in Forschung und Gesellschaft. Angesichts der ökonomischen und gesellschaftlichen Herausforderungen, scheinen spezifisch feministische Themen und konstruktive Gender-orientierte Debatten zu aus dem öffentlichen Raum zu verschwinden. Die Artikel, die sich dem Thema aus einer ganz bemerkenswerten Perspektive naehern, befassen sich mit der aktuellen öffentlichen Debatte, die jegliche Genderforschung und Gendersensitivität zur Ideologie abzustempeln versucht, um ihr so mit dem Zweifel an ihrer Wissenschaftlichkeit jegliche Berechtigung zu entziehen. Im Forum vereinen sich eben jene Stimmen, die Das Wort der Hoffnung in und mit der Welt teilen. Dies oft unter ausserordentlich spannenden Bedingungen.


---

In the Middle East, women's cries of agony are elevated for the centennial of the Armenian Genocide and the inconceivable Syrian tragedy. In Cyprus, women's lament for their missing loved ones has lasted for half a century, while on the Mediterranean coasts the impoverished voices of the refugees transport the cry of the humanist crisis to Europe, which has already been added to the existing economic and ethical crises. In the European South, angry voices are raised against the unjust distribution of wealth. Corporate Social Responsibility and the Social Economy are pushed as solutions. The ethical crisis is due to the marginalisation of moral values that adjoin communities and ensure the progress of the members and of the whole, but mostly due to self-absorption and the dwindling of religious belief. To remedy it, those who cultivate values must be awakened and create a proper ethos: families, spiritual leaders, educators, the social environment, and all who express a religious belief. In the already multicultural Europe, all religious traditions as well as intellectuals can contribute to the revival of moral values. Particularly important is the awakening of the Christian faith, re-evangelisation, which, according to the common statements of the European Churches, consists their imperative debt. With thoughts, illumined by the resurrectional light that the Myrrh-bearing women encountered, Christian women in today's crisis can convey the experience of the resurrected Christ to numerous recipients: to their children, their students, their relatives, their colleagues, and their interlocutors in the mass media and social media.


---

Las crisis son momentos de encrucijada. La presente hace que en Europa, aunque no solo en ella, vuelva a sembrarse de nuevo una cuestión que ha atravesado su historia y que con frecuencia reaparece. Se trata de la búsqueda de chivos expiatorios que 'expíen' la incapacidad de los seres humanos para encontrar soluciones ante los fracasos de sus modelos sociales. El grito femenino por la igualdad, por la justicia, por la humanización del mundo en tiempos sombríos nos recuerda la herencia universal de la fe. No supone retomar malos sueños, perdidos ya, con los que se pretendía imponer el cristianismo, sino afirmar el diálogo inter-religioso basado en la creencia de que no hay fe que no constituya la afirmación innegociable de la humanidad para todo ser humano.


Download article