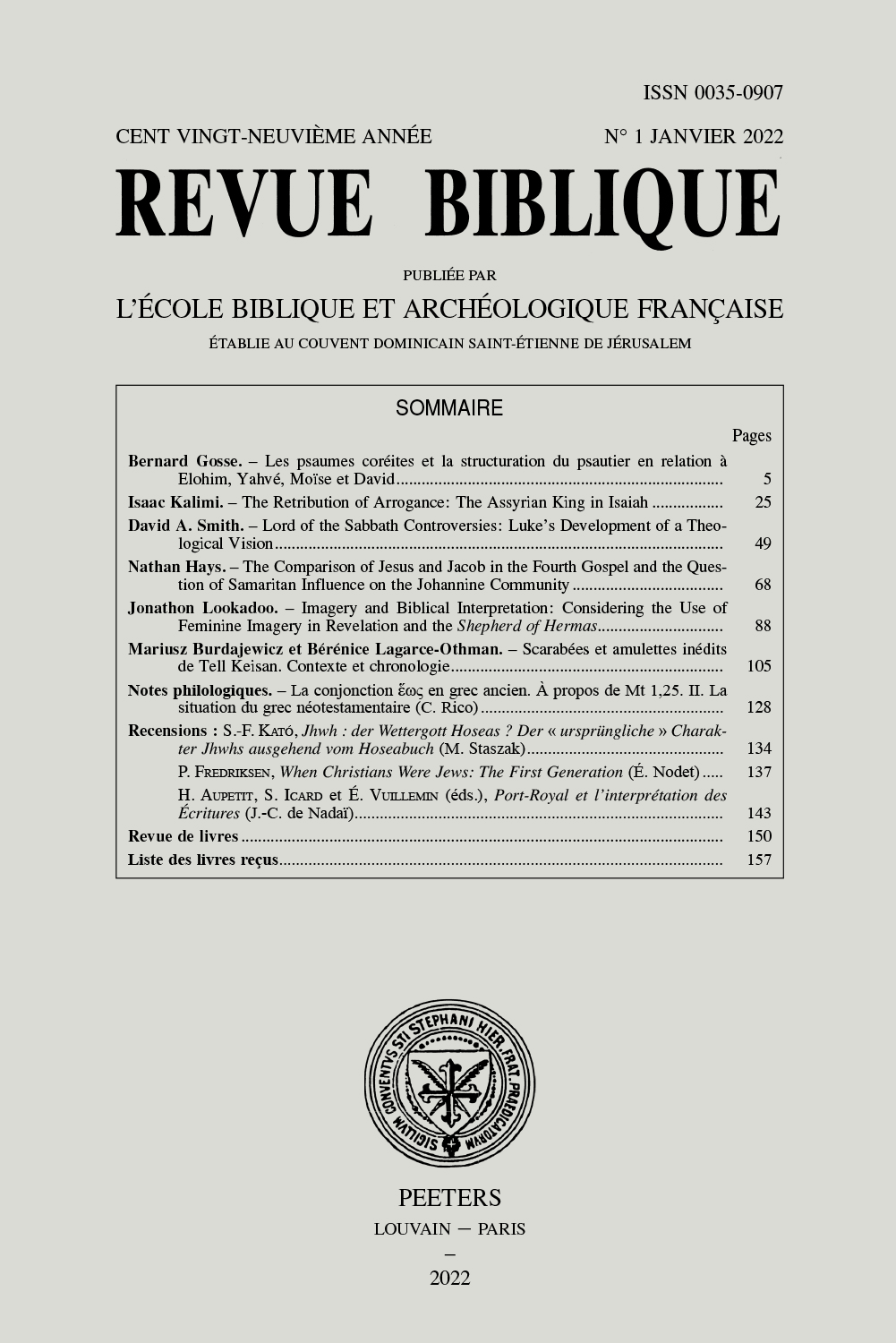 Document Details :

Title: More than Family Dispute
Subtitle: Mk 13:12-13A and Isa 66:5
Author(s): JÖRIS, Steffen
Journal: Revue Biblique
Volume: 121 Issue: 3 Date: 2014
Pages: 359-374
DOI: 10.2143/RBI.121.3.3157140

Abstract :
Mk 13:12-13a features the prediction of failing family bonds. This peculiar statement has attracted different scholarly interpretations. Most scholars conclude that the saying alludes to Mic 7:6. However, an analysis of the relevant parts in Mark 13 reveals that the disciples are the ones that are delivered by the Jewish authorities and represent the 'brother' that suffers deliverance. Their fate is compared with Jesus' own suffering and it is established that the terminology of family bonds (e.g. 'brother') is understood by Mark as referring to the followers of Jesus. Further, it is pointed out that Mk 13:12-13a refers to Isa 66:5, which supports the understanding that Mk 13:12-13a presents an inner-Jewish conflict as it refers to persecutions of early Jewish Christians conducted by Jewish authorities.


---

Mc 13,12-13a est l'annonce de la faillite des liens familiaux. Cette affirmation a généré bien des interprétations chez les chercheurs. La plupart y ont vu une allusion à Mic. 7,6. Toutefois, une analyse des passages pertinents en Mc 13 révèle que les disciples sont ceux qui sont livrés par les autorités juives, et représentent le «frère» qui subit la dénonciation. Leur cas est comparé à celui des souffrances de Jésus; on montre que la terminologie des liens familiaux (ici, «frère») est utilisée par Marc pour désigner les disciples de Jésus. Ensuite, on fait remarquer que Mc 13,12-13a renvoie à Is. 66,5. Cela renforce la compréhension que Mc 13,12-13a illustre un conflit interne au judaïsme, car il fait allusions aux persécutions des judéo-chrétiens par les autorités juives.


Download article