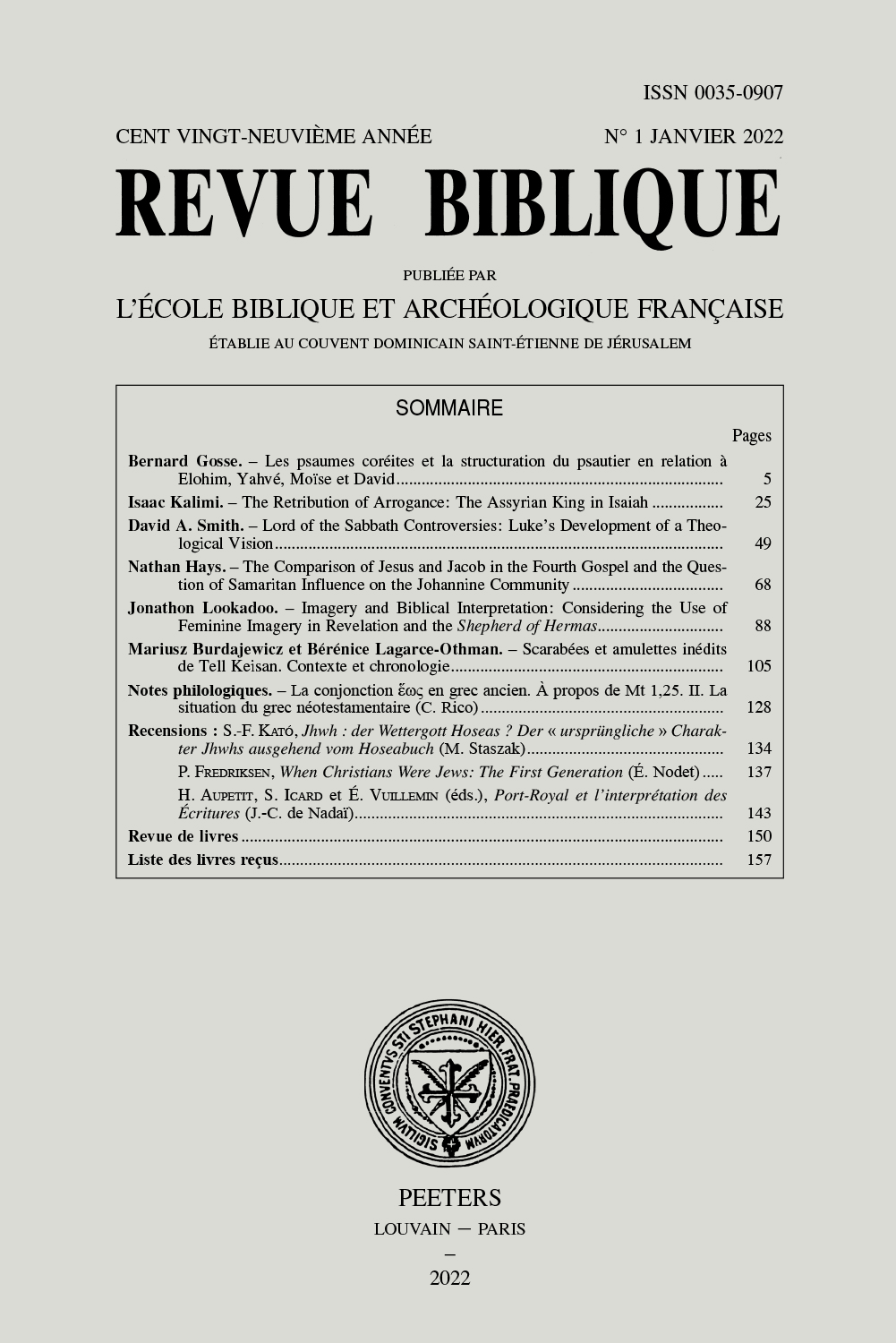 Document Details :

Title: The Motif of Extinction in Job 4:7-11
Author(s): PINKER, Aron
Journal: Revue Biblique
Volume: 121 Issue: 3 Date: 2014
Pages: 338-358
DOI: 10.2143/RBI.121.3.3157139

Abstract :
A new perspective on the sub-unit Job 4:7-11 is presented, which retains vv. 9-11 as a balanced passage, and views the sub-unit as Eliphaz's effort to counter Job's perception that his lineage has been terminated. It is argued that the motif of 'extinction', emphasized by the keywords אבד (trice), כחד (once), and כלה (once), serves for defining a major concern of Job in his unfortunate predicament. Job's death wish, expressed in chapter 3, is motivated by his belief that he is doomed to eternal extinction because of the loss of his children. Eliphaz's words in unit 4:7-11 are then interpreted from this perspective, and their logic is demonstrated.


---

Nous présentons une nouvelle perspective sur la section Jb 4,7-11, qui maintient les vv. 9-11 comme équilibrés, et considère la section comme l'effort d'Éliphaz pour contrer la croyance de Job en la disparition de sa lignée. Le motif de «l'extinction», rehaussé par les mots-cléfs אבד (trois fois), כחד (une fois) et כלה (une fois), détermine un souci majeur de Job dans sa détresse. Le désir de mort de Job, exprimé au chap. 3, vient de sa conviction qu'il est voué à une éternelle extinction de par la perte de ses enfants. Les mots d'Éliphaz, en 4,7-11, sont à interpreter sous cet angle, et leur logique est démontrée.


Download article