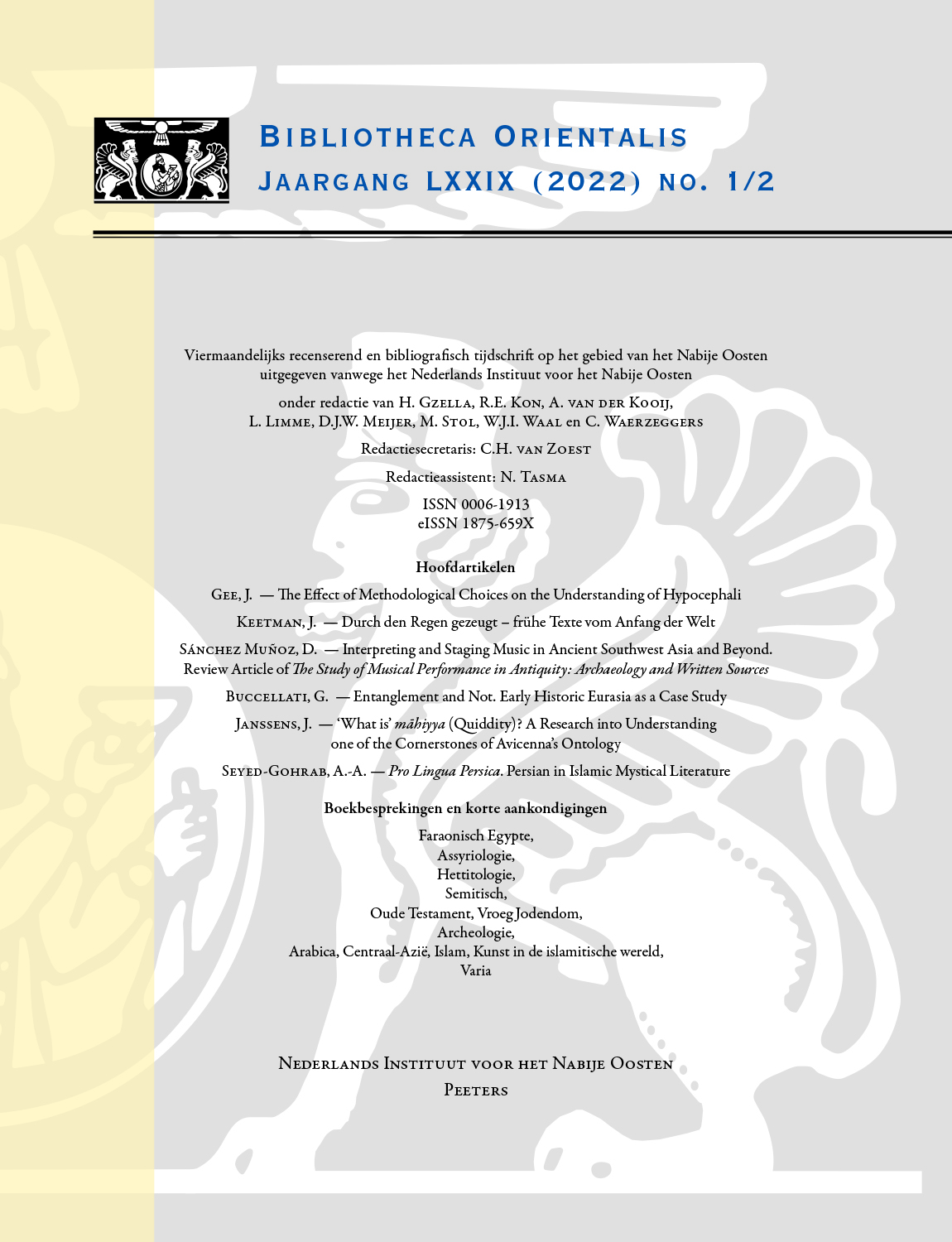 Document Details :

Title: Archeologie
Author(s):
Journal: Bibliotheca Orientalis
Volume: 73 Issue: 1-2 Date: 2016
Pages: 213-259
DOI: 10.2143/BIOR.73.1.3157133

Abstract :
KERTAI, D. - The Architecture of Late Assyrian Royal Palaces. Oxford University Press, Oxford, 2015.

BARTL, P.V. - Die Ritzverzierungen auf den Relieforthostaten Assurnaṣirpals II. aus Kalḫu. (Baghdader Forschungen 25). Verlag Philipp von Zabern, Mainz am Rhein, 2014.

KLENGEL-BRANDT, E. - Die neuassyrische Glyptik aus Assur. Mit Beiträgen von Sabine Böhme und Othmar Keel. (Wissenschaftliche Veroffentlichungen der Deutschen Orient-Gesellschaft 140). Verlag Otto Harrassowitz, Wiesbaden, 2014.

BIANCHI, A., DOHMANN-PFÄLZNER, H., GEITH, E., PFÄLZNER, P., WISSING, A. - Die Architektur und Stratigraphie der zentralen Oberstadt von Tall Mozan / Urkeš. Mit ein Beitrag von Christoph Kümmel. (Studien zur Urbanisierung Nordmesopotamiens, Serie A, Band 1). Verlag Otto Harrassowitz, Wiesbaden, 2014.

KREPPNER, F.J., SCHMID, J. - Die Stratigraphie und Architektur des 'Roten Hauses' von Tall Šēḫ Ḥamad / Dūr-Katlimmu. Mit Beiträgen von Jens Rohde und einer Abhandlung über die Holzkohlefunde von Rainer Gerisch. (Berichte der Ausgrabung Tall Šēḫ Ḥamad / Dūr-Katlimmu 11). Verlag Otto Harrassowitz, Wiesbaden, 2013.

JACKSON, H. - Jebel Khalid on the Euphrates. Volume 4: The Housing Insula. (Mediterranean Archaeology Supplement 9). Meditarch Publishing, Sydney, 2014.

ROBERTS, H.S. - Sūkās XI. The Attic Pottery and Commentary on the Greek Inscriptions found on Tall Sūkās. (Publications of the Carlsberg Expedition to Phoenicia 14). Royal Danish Academy of Sciences and Letters, Copenhagen, 2015.

KOUKI, P., LAVENTO, M. - Petra - The Mountain of Aaron. The Finnish Archaeological Project in Jordan Volume III: The Archaeological Survey. (Petra - The Mountain of Aaron 3). Societas Scientiarum Fennica, Helsinki, 2013.

PORTER, B.W. - Complex Communities. The Archaeology of Early Iron Age West-Central Jordan. The University of Arizona Press, Tucson, 2013.

HODDER, I. (ed.) - Substantive Technologies at Çatalhöyük. Reports from the 2000-2008 Season. (Çatalhöyük Research Project 9; British Institute at Ankara Monograph 48; Monumenta Archaeologica 321). The Cotsen Institute of Archaeology, Los Angeles, 2013.

HEYDARI-GURAN, S. - Paleolithic Landscapes of Iran. (BAR International Series 2586). Archaeopress, Oxford, 2014.

STRONACH, D., MOUSAVI, A. (eds) - Ancient Iran from the Air. Verlag Philipp von Zabern, Mainz am Rhein, 2012.

HELWIG, B., RAHEMIPOUR, P. (Hrsg.) - Tehran 50. Ein halbes Jahrhundert deutsche Archäologen in Iran. Eine Ausstellung des Deutschen Archäologischen Instituts in Zusammenarbeit mit dem Museum für Inslamische Kunst, Staatliche Museen Berlin, 2.12.2011-4.3.2012 im Pergamonmuseum. (Archäologie in Iran und Turan 11). Verlag Philipp von Zabern, Mainz am Rhein, 2011.

PICKUP, S., BERGERON, M., WEBB, J.M. - Cypriote Antiquities in Reading. The Ure Museum at the University of Reading and the Reading Museum (Reading Borough Council). (Studies in Mediterranean Archaeology 20; Corpus of Cypriote Antiquities 30). Paul Åströms Förlag, Uppsala, 2015.

Korte aankondigingen:
OATES, D. - Studies in the Ancient History of Northern Iraq. Brtish School of Archaeology in Iraq, London, 2005.

HERRMANN, G., COFFEY, H., LAIDLAW, S. - The Published Ivories from Fort Shalmaneser, Nimrud - a Scanned Archive of Photographs. Oxbow Books, Oxford, 2004.

TUNCA, Ö., MOLIST, M. (éd.) - Tell Amarna (Syrie) I. La période Halaf. (Publications de la mission archéologique de l'Université de Liège en Syrie). Peeters, Leuven, 2004.

MARGUERON, J.-C., ROUAULT, O., LOMBARD, P. (éd.) - Akh Purattim 1-2. (Akh Purattim, Les rives de l'Euphrate). Maison de l'Orient et de la Méditerranée, Lyon, 2007.

HEIN, I. (ed.) - The Formation of Cyprus in the 2nd Millennium B.C. Studies in Regionalism during the Middle and Late Bronze Age. (Denkschriften der Gesamtakademie 52). Verlag der Österreichischen Akademie der Wissenschaften, Vienna, 2009.


Download article