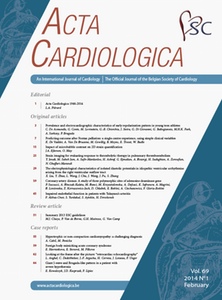 Document Details :

Title: High-dose clopidogrel versus ticagrelor for treatment of acute coronary syndromes after percutaneous coronary intervention in CYP2C19 intermediate or poor metabolizers: a prospective, randomized, open-label, single-centre trial
Author(s): Y. Zhang , Y. Zhao , M. Pang , Y. Wu , K. Zhuang , H. Zhang , A. Bhat
Journal: Acta Cardiologica
Volume: 71 Issue: 3 Date: 2016
Pages: 309-316
DOI: 10.2143/AC.71.3.3152091

Abstract :
Objective: The present study was designed to compare the outcome and safety of dual antiplatelet therapies (DAPTs) in patients with acute coronary syndrome (ACS) (intermediate metabolizers [IM] or poor metabolizers [PM]) undergoing percutaneous coronary intervention (PCI).
Methods and results: From September 20, 2013, to June 8, 2014, the study enrolled 329 patients with ACS scheduled for PCI. Of these, 181 (55%) patients with IM or PM were randomized in a 1:1 ratio to receive either high-dose clopidogrel or ticagrelor. The high-dose clopidogrel group received a 600-mg loading dose (LD) and finally 75 mg QD, and the ticagrelor group received 180 mg LD following 90 mg b.i.d. After 6 months of DAPT, the primary end point (composition of death, stroke, recurrent myocardial infarction [MI], and stent thrombosis) occurred in 4.4% of patients receiving ticagrelor compared with 20.0% of those receiving high-dose clopidogrel (P < 0.001). Survival probability analysis revealed a higher survival rate with ticagrelor (95% survival probability) than with clopidogrel (87% survival probability), indicating that the incidence rate of death, stroke, and recurrent MI is lower with ticagrelor than with clopidogrel (HR 2.54; 95% CI: 0.89 to 7.21; P = 0.07). Although the rates of major or minor bleeding event were high in the clopidogrel vs ticagrelor groups, they did not differ significantly. Dyspnoea and hyperuricaemia were more commonly observed in the ticagrelor group than the high-dose clopidogrel group (4.5% vs 3.8%, P = 0.03; 1.1% vs 7.7%, P < 0.001).
Conclusion: Ticagrelor is a more efficacious and safer treatment option in IM or PM patients with ACS compared with high-dose clopidogrel.