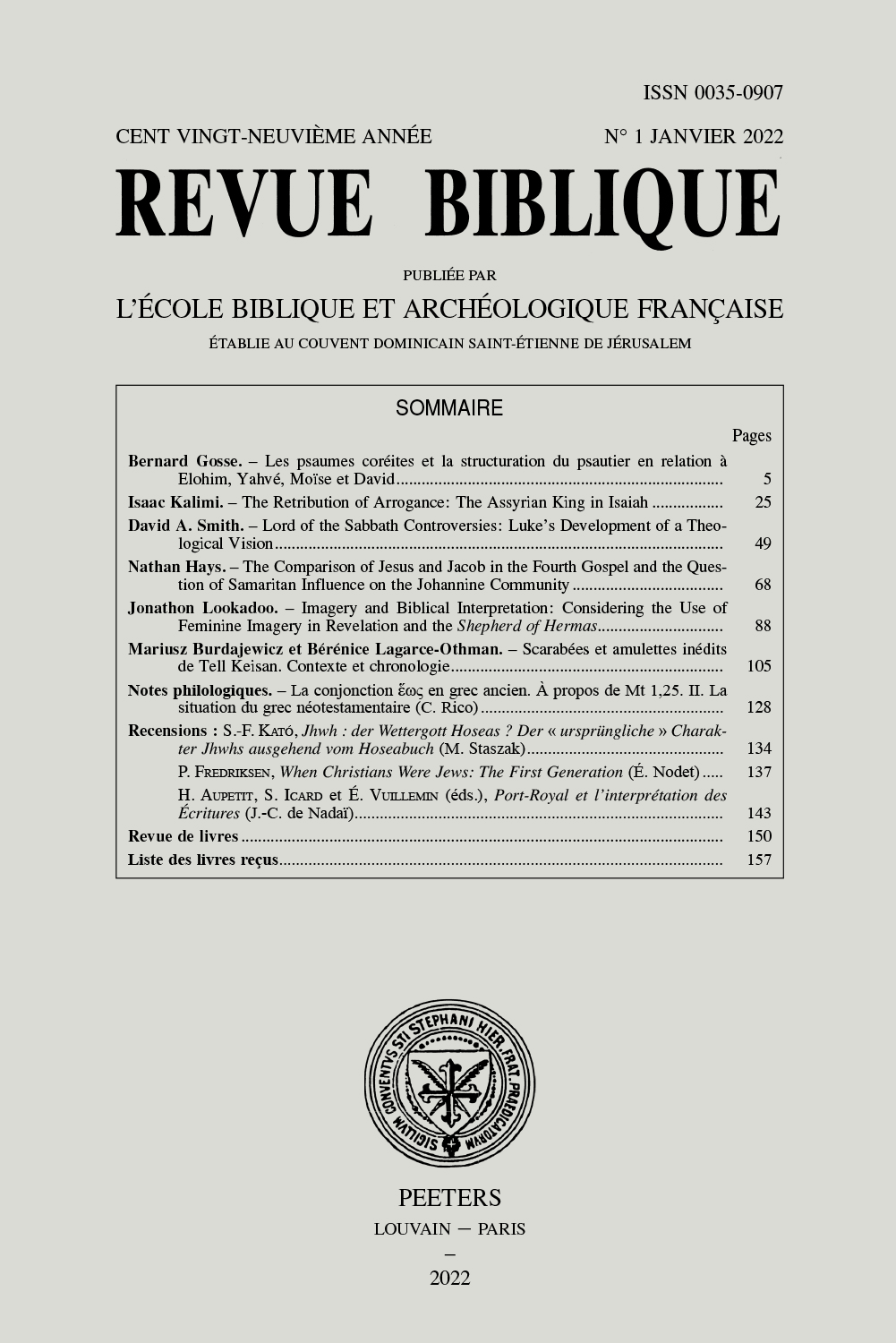 Document Details :

Title: Sânballaṭ de Samarie
Author(s): NODET, Étienne
Journal: Revue Biblique
Volume: 122 Issue: 3 Date: 2015
Pages: 340-354
DOI: 10.2143/RBI.122.3.3149583

Abstract :
L'identification et la chronologie de Sânballaṭ de Samarie sont malaisées. L'expression «fils de Sânballaṭ», accolée au nom d'un gouverneur, est attestée par des découvertes archéologiques (Éléphantine, W. Daliyeh), mais des sources juives (Néhémie, Josèphe) font clairement de Sânballaṭ lui-même un gouverneur de Samarie. De plus, le nom court sur plus d'un siècle, d'Artaxerxès Ier de Perse (vers -445) à Alexandre le Grand (-332), d'où une difficulté classique à identifier un ou plusieurs gouverneurs de ce nom. La solution proposée ici est que les traditions juives ont personnalisé Sânballaṭ comme gouverneur païen de Samarie, alors qu'à l'origine – selon les documents épigraphiques – Sânballaṭ serait en réalité une divinité éponyme rattachée à Ḥarrân, dans la même satrapie que Samarie, d'où la qualité «fils de Sânballaṭ» attribuée à un gouverneur ou à d'autres notables.


---

Sanballaṭ of Samaria is an elusive character: the phrase 'son of Sanballaṭ' appears in archaeological findings (Elephantine, W. Daliyeh) in connection with governors of Samaria, but for Jewish traditions (Nehemiah, Josephus) Sanballaṭ was clearly a leader of Samaria. A classical problem arises, since the name is witnessed over more than a century, from Artaxerxes Ist of Persia (ca. -445) to Alexander the Great (-332), and could refer to more than one Sanballaṭ. The solution ventured here is that Sanballaṭ was a Semitic eponym god attached to Ḥarran – in the same satrapy as Samaria –, which Jewish sources construed as a pagan governor of Samaria.


Download article