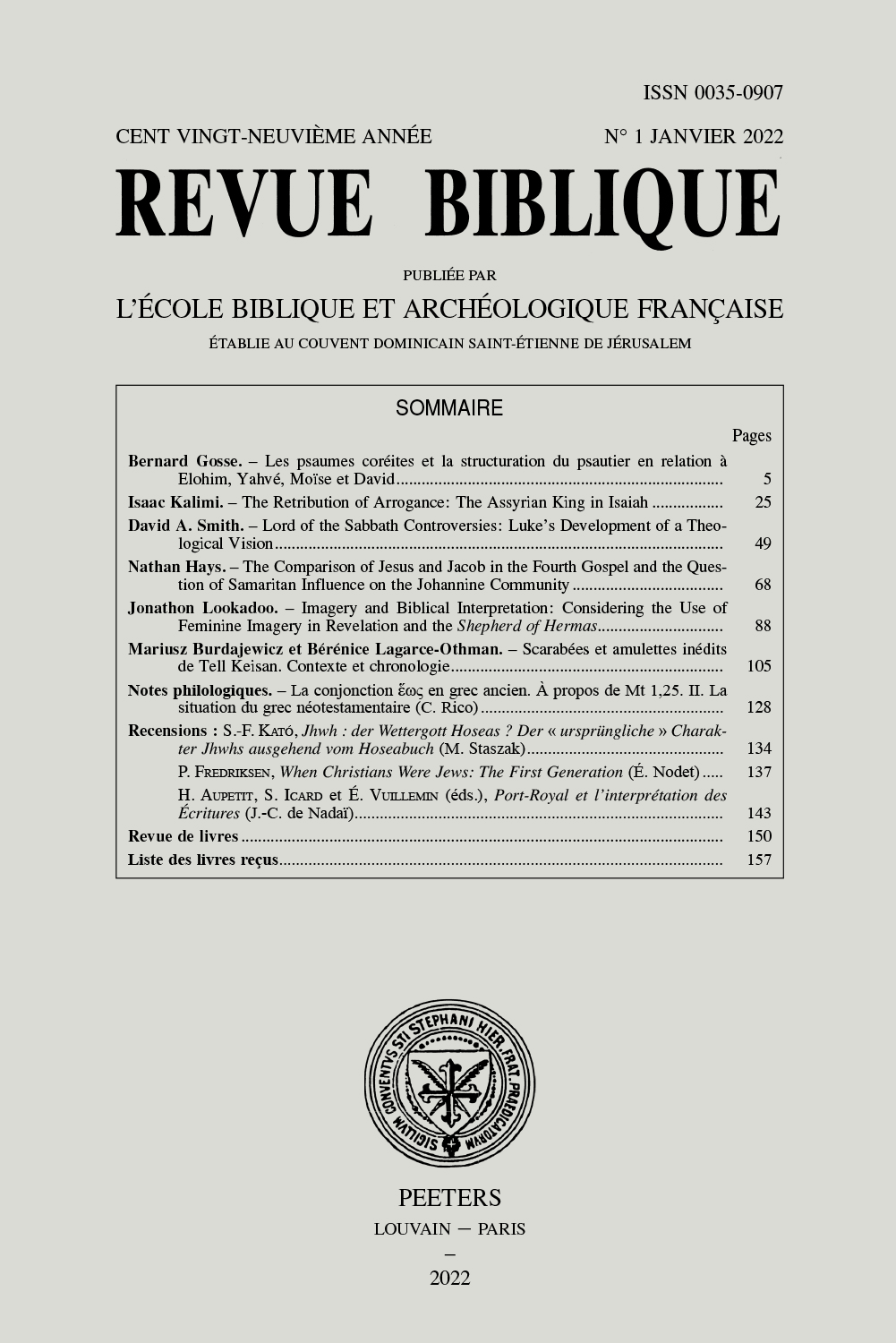 Document Details :

Title: Structure littéraire du livre de Tobie selon la forme courte du texte grec (1re partie)
Author(s): LICHTERT, Claude
Journal: Revue Biblique
Volume: 123 Issue: 2 Date: 2016
Pages: 183-216
DOI: 10.2143/RBI.123.2.3144359

Abstract :
C'est la version longue du texte grec du livre de Tobie qui retient habituellement l'attention des commentateurs. Plusieurs se sont risqués à en proposer une structure littéraire tout en restant relativement évasifs quant aux critères utilisés. Après avoir justifié le choix de la version courte, on proposera un découpage du texte à partir d'indices formels. L'objectif est de permettre, à partir de l'analyse de sa structure, de relire de façon renouvelée ce récit biblique et de développer son interprétation. La composition chiastique du livre mettra en évidence le parcours des principaux personnages marqué par différents signes de mort auxquels l'ange Raphaël répond en permettant à l'humain de rétablir la vie et en réinstaurant l'espoir qui triomphe, en finale, des épreuves. La première partie de cet article étudiera la composition de Tb 1,1-8,18.


---

This is the long version of the Greek text of the Book of Tobit that usually attracts the attention of commentators. Many have ventured to propose a literary structure while remaining relatively evasive on the criteria used. After justifying the choice of the short version, we propose a division of the text from formal indices. The aim is to allow, from the analysis of its structure, to read afresh this biblical story and develop its interpretation. The chiastic composition of the book will highlight the journey of the main characters marked by different signs of death which the angel Raphael responds by enabling the human to restore life and by reinstating the hope that eventually triumphs from hardship. The first part of this article will study the composition of Tb 1,1-8,18.


Download article