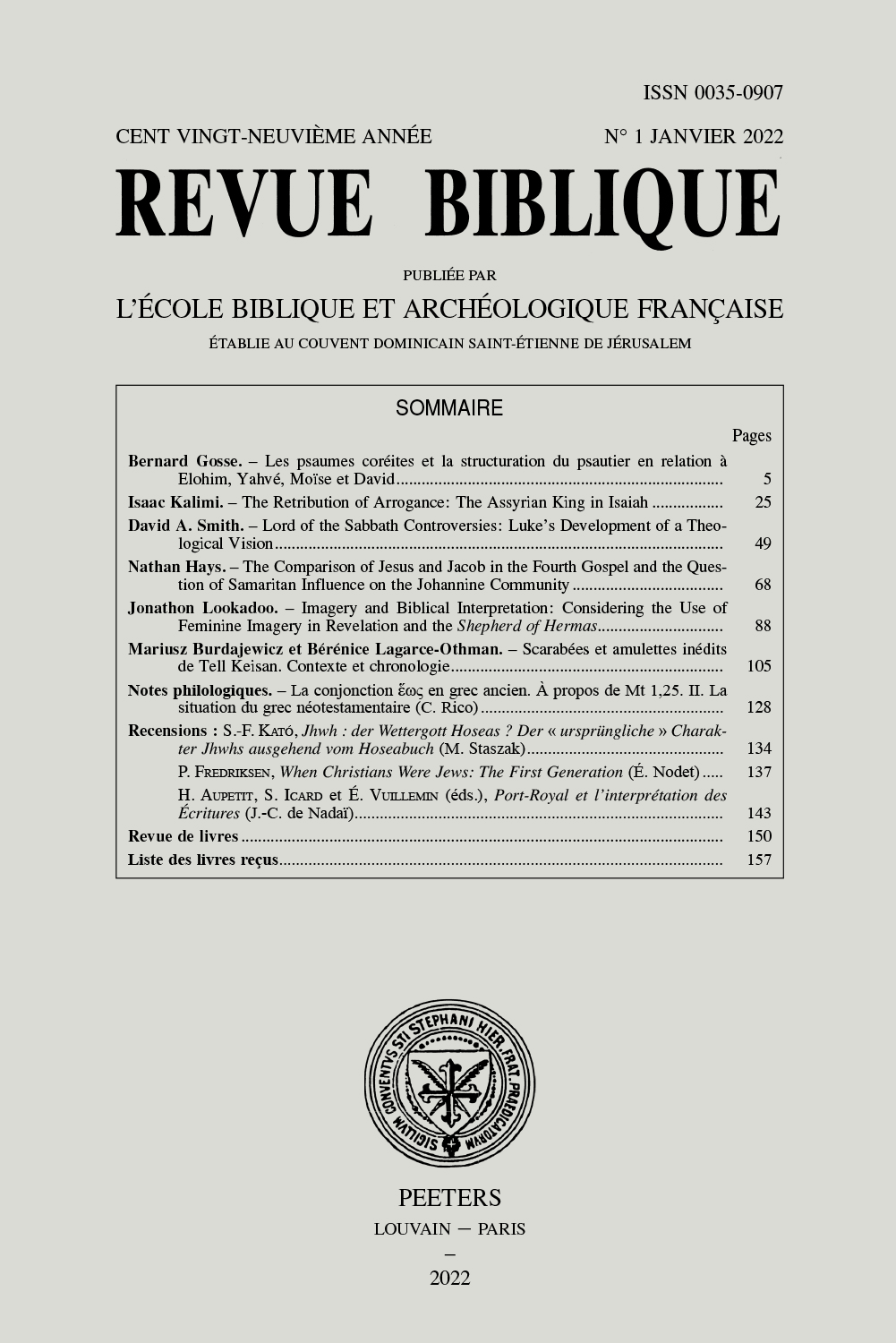 Document Details :

Title: Enjeux passés et actuels de l'exégèse du livre des Nombres
Author(s): ARTUS, Olivier
Journal: Revue Biblique
Volume: 123 Issue: 2 Date: 2016
Pages: 161-182
DOI: 10.2143/RBI.123.2.3144358

Abstract :
Au cours des vingt dernières années, le livre des Nombres, autrefois délaissé par la recherche exégétique, a fait l'objet d'un regain d'intérêt. Plusieurs hypothèses ont été émises pour rendre compte de sa fonction et de sa composition: pont entre des textes sacerdotaux (Gn-Lv) et le Deutéronome; livre dont le texte a été «fixé» tardivement, et où ont été rassemblés des «suppléments» aux lois de l'Exode et du Lévitique. L'analyse littéraire du livre permet cependant de le considérer comme une œuvre littéraire autonome et d'en mettre au jour une structure élaborée: la première partie (Nb 1-10) met en place la notion de «hiérarchie de sainteté» dans la communauté d'Israël, la deuxième partie (Nb 11-21) envisage les conséquences des fautes volontaires, la troisième partie (Nb 22-36), qui décrit en particulier l'installation de deux tribus et demie en Transjordanie, ouvre la voie à un judaïsme «alternatif», en diaspora, à distance de l'autorité du grand prêtre.


---

In the past, biblical scholarship had few interest for the book of Numbers. In the recent years several hypothesis have been proposed to explain its function and its composition: the book could have built a bridge between priestly texts (Gen-Lev) and the Deuteronomy; or it could have been the place where supplements to the traditions of Exodus and Leviticus were gathered. But the literary analysis of Numbers highlights a rather sophisticated structure in three parts: the first part (Num 1-10) introduces the idea of hierarchy of holiness inside the israelite community, the second part (Num 11-21) illustrates the consequences of the voluntary faults, and the third part (Num 22-36), describes the settlement in Transjordan of two and a half tribes, and in this way introduces the reality of an «other» judaism, in the diaspora, at a distance from the authority of the high priest.


Download article