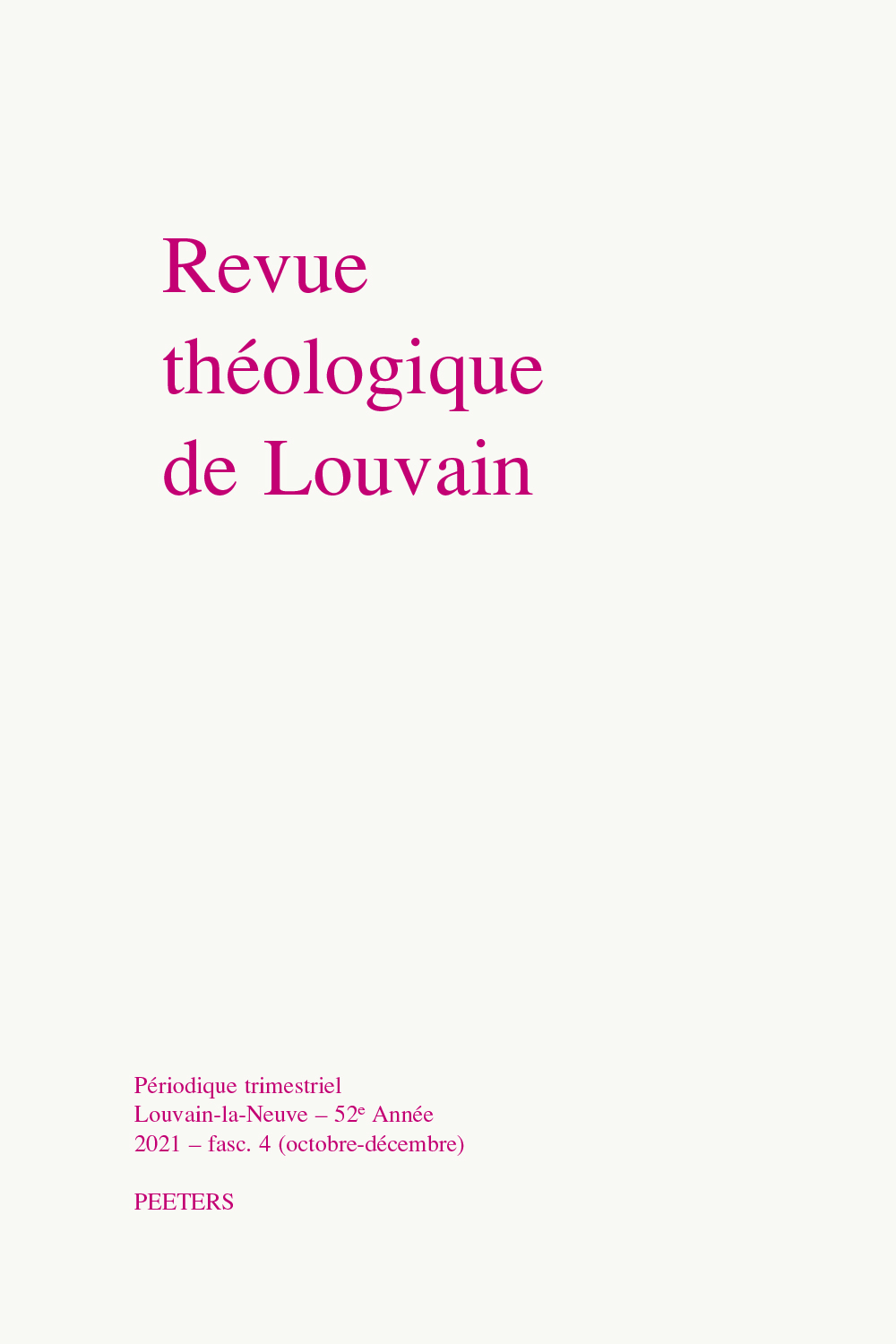 Document Details :

Title: D'une théologie du laïcat à une théologie de la condition baptismale?
Author(s): BORRAS, Alphonse
Journal: Revue Théologique de Louvain
Volume: 47 Issue: 1 Date: 2016
Pages: 76-101
DOI: 10.2143/RTL.47.1.3139396

Abstract :
Vatican II a marqué une étape dans la réflexion sur les laïcs. Il s'est basé sur les avancées théologiques du moment. Y. Congar en est un représentant emblématique. On retient ensuite le commentaire de LG 31 par E. Schillebeeckx. La description générique du laïc à partir de sa condition de baptisé et sa qualification spécifique à partir de la sécularité sont deux acquis indéniables de la théologie et du magistère contemporains. Ils doivent cependant être traités à partir d'une ecclésiologie totale. Mais de nouvelles questions surgissent. L'article relève celle de l'engagement ministériel de laïcs dans l'Église et celle des formes de vie associative où des laïcs sont impliqués avec une visée missionnaire. Une théologie de la condition baptismale est-elle suffisante pour réfléchir à ces questions? Les relations entre laïcat, ministère ordonné et vie consacrée, mais aussi l'engagement missionnaire de laïcs, notamment associés, semblent justifier une théologie du laïcat. Il y va de la mission de l'Église.


---

Vatican II constituted an important step in the reflection on laity. It was based on theological advances of the time, for instance the work of Y. Congar. Schillebeeckx's commentary of LG 31 is also noteworthy. The generic description of laity (being baptized) and the specific condition linked to secularity, are two undeniable steps forward in contemporary theology and the teaching of the Catholic Church. They must however be considered in light of ecclesiology as a whole. New questions do arise. This paper looks at ministerial commitments taken by laity in the Church, and forms of association, in view of missionary goals, where laity is involved. Is a theology of the baptismal condition sufficient to work through these questions? The connections between laity, ordained ministry and consecrated life, as well as the missionary commitment of laity, notably in association, seem to justify a theology of laity. The mission of the Church is at stake.


Download article