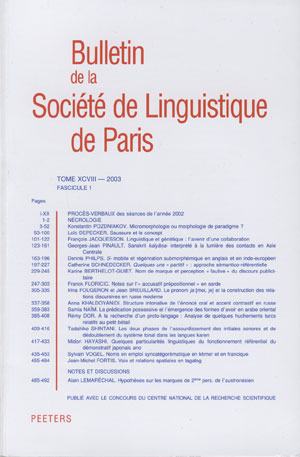 Document Details :

Title: Les prépositions nominatives de l'albanais
Author(s): PETIT, Daniel
Journal: Bulletin de la Société de Linguistique de Paris
Volume: 110 Issue: 1 Date: 2015
Pages: 359-443
DOI: 10.2143/BSL.110.1.3132114

Abstract :
Les deux prépositions albanaises nga «de» et te, tek «vers, chez» sont souvent mentionnées dans la littérature typologique pour leur construction extrêmement inhabituelle avec le nominatif. Ce n'est pas la seule difficulté à laquelle doivent faire face les linguistes qui traitent de ces prépositions: nga ne signifie pas seulement «de, en provenance de» (source), mais aussi «vers» (direction), ce qui est très surprenant, et te, tek ne dénote pas seulement la direction («vers, chez»), mais aussi la position («à, dans, chez»). L'objet du présent article est d'expliquer ces propriétés anormales et de jeter un peu de lumière sur la préhistoire de ces deux prépositions.


---

The two Albanian prepositions nga «from» and te, tek «towards» are often mentioned in the typological literature for their extremely unusual construction with the nominative. This is not the only difficulty with which linguists studying these prepositions must contend: nga means not only «from» (source), but also «towards» (direction), which is very surprising, and te, tek denotes not only direction («towards»), but also position («at, in»). The aim of this paper is to explain these abnormal properties and to shed some light on the prehistory of these two prepositions.


---

Die zwei albanischen Präpositionen nga «aus, von» und te, tek «zu, nach» werden in der sprachtypologischen Literatur für ihre äußerst ungewohnte Konstruktion mit dem Nominativ oft erwähnt. Dies ist jedoch nicht die einzige Schwierigkeit, mit der sich die Linguisten, die diese Präpositionen untersuchen, auseinanderzusetzen haben: nga bedeutet nicht nur «aus, von» (Ausdruck der Quelle), sondern auch «zu, nach» (Ausdruck der Richtung), was sehr überraschend ist, und te, tek bezeichnet nicht nur die Richtung («zu, nach»), sondern auch die Position («bei»). Ziel des vorliegenden Aufsatzes ist es, diese abnormalen Eigenschaften zu erklären und dabei ein bisschen Licht auf die Vorgeschichte dieser zwei Präpositionen zu bringen.


Download article