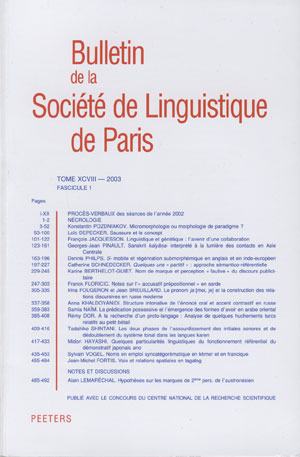 Document Details :

Title: Pour une sémantique de l'usage
Subtitle: Le cas de l'instrumental sujet en français
Author(s): POIBEAU, Thierry
Journal: Bulletin de la Société de Linguistique de Paris
Volume: 110 Issue: 1 Date: 2015
Pages: 339-358
DOI: 10.2143/BSL.110.1.3132113

Abstract :
Cet article porte sur la question de l'instrumental sujet, c'est-à-dire des phrases dont le sujet est l'instrument et non l'agent de l'action exprimée par le verbe. Nous montrons que ce phénomène pousse à remettre en cause les frontières traditionnelles entre rôle sémantique et fonction syntaxique. L'analyse montre en outre la complexité de la notion d'acceptabilité d'une séquence, quand à la fois la structure prédicative, le contexte linguistique et le focus jouent un rôle. A partir de ces observations, nous montrons que la notion d'acceptabilité est un phénomène construit qui se prête mal à la formalisation, même si on peut identifier certains des facteurs qui rendent une séquence acceptable ou inacceptable.


---

This article is about the notion of the instrumental subject, or more generally about sentences in which the subject is the instrument and not the agent of the action expressed by the verb. We show that this phenomenon calls into question the boundaries between semantic roles and syntactic functions. It also reveals the complexity of acceptability judgments when the predicative structure, the linguistic context, and the focus all play a role. From these observations it can be shown that the acceptability of a sequence is a construct that lends itself poorly to formalization, even if certain factors that make a sequence acceptable or not can be identified.


Download article