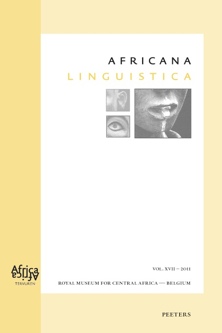 Document Details :

Title: Cycles of Negation in Rangi and Mbugwe
Author(s): GIBSON, Hannah , WILHELMSEN, Vera
Journal: Africana Linguistica
Volume: 21 Date: 2015
Pages: 233-257
DOI: 10.2143/AL.21.0.3122582

Abstract :
The Tanzanian Bantu languages Rangi and Mbugwe both employ a double negation marking strategy. In Rangi, verbal negation is achieved through the presence of a pre-verbal negative marker and a negative marker which appears either post-verbally or in a clause-final position. In Mbugwe, negation is indicated by a prefix that appears on the verb form and an optional post-verbal negative marker. This paper presents a descriptive account of negation in these two closely related languages, as well as exploring possible origins and grammaticalisation pathways involved in the development of the respective negation strategies in each instance. We propose that negation in these two languages shows evidence of the stages of Jespersen's cycle: with what started out as a single marker of negation giving way to a bipartite negation strategy. We present data exemplifying negation in the two languages, contributing to the discussion of the development of negation in Bantu and the applicability of Jespersen's cycle in the language family, as well as highlighting the possible role played by language contact in the development of negation in these languages.


---

Les langues bantu de Tanzanie que sont le rangi et le mbugwe utilisent toutes deux la négation à double marquage. En rangi, la négation verbale s'effectue à travers la présence d'un marqueur préverbal et d'un autre apparaissant en position postverbale ou en fin de proposition. En mbugwe, la négation est indiquée par un préfixe s'ajoutant à la forme verbale et un marqueur de négation postverbal facultatif.Le présent article décrit la négation dans ces deux langues proches, et explore les origines possibles des négations respectives de chacun des deux cas ainsi que les cheminements de grammaticalisation qu'implique leur développement. Nous proposons que dans les deux langues la négation atteste diverses étapes du cycle de Jesperson: avec ce qui était au début le seul marqueur de négation, et qui devient une négation bipartite. Les données que nous livrons exemplifient la négation dans les deux langues, apportent une contribution à la discussion qui concerne le développement de la négation dans les langues bantu et l'applicabilité du cycle de Jespersen, et met en lumière le rôle possible joué par le contact linguistique dans le développement de la négation dans ces langues.


Download article