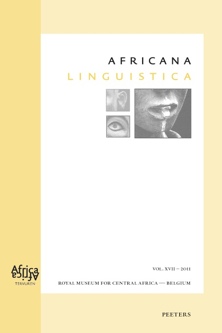 Document Details :

Title: Introducing a State-of-the-Art Phylogenetic Classification of the Kikongo Language Cluster
Author(s): DE SCHRYVER, Gilles-Maurice , GROLLEMUND, Rebecca , BRANFORD, Simon , BOSTOEN, Koen
Journal: Africana Linguistica
Volume: 21 Date: 2015
Pages: 87-162
DOI: 10.2143/AL.21.0.3122579

Abstract :
It is shown how past lexicostatistic efforts eventually led to lexically-driven phylogenetic classifications of the Bantu languages. As a new case study, 95 North-West and West Bantu language varieties are sampled across geographical space, with a focus on the wider Lower Congo region. This leads to the discovery of a discrete clade within West-Coastal Bantu, which we term the Kikongo Language Cluster (KLC), a disparate continuum of closely related Bantu languages. Both a branching tree and a continuum model are called in to 'define' the true nature of the KLC, and pre-historical implications are drawn from this.


---

Durant le XXe siècle, de nombreuses études lexicostatistiques ont été réalisées sur les langues bantu permettant ainsi une meilleure compréhension de celles-ci. Par la suite, le développement des méthodes de classification a permis d'appliquer aux données linguistiques les méthodes appelées «phylogénétiques» empruntées au domaine de la biologie. Pour cette nouvelle étude, nous avons sélectionné le lexique de base de 95 langues bantu représentatives des zones nord-ouest et ouest, avec une attention particulière portée sur la région du Bas-Congo. Les résultats mettent en exergue la découverte d'un groupe particulier que nous avons nommé «agglomérat linguistique kikongo» (Kikongo Language Cluster - KLC), qui se situe au sein du groupe bantu de la côte ouest. Ce groupe, composé de langues bantu proches, constitue cependant un groupe hétérogène. Afin de mieux définir la vraie nature du KLC, nous avons appliqué à nos données les méthodes phylogénétiques. Les arbres et réseaux obtenus permettent de commencer à reconstruire l'histoire et l'évolution de cet agglomérat linguistique.


Download article