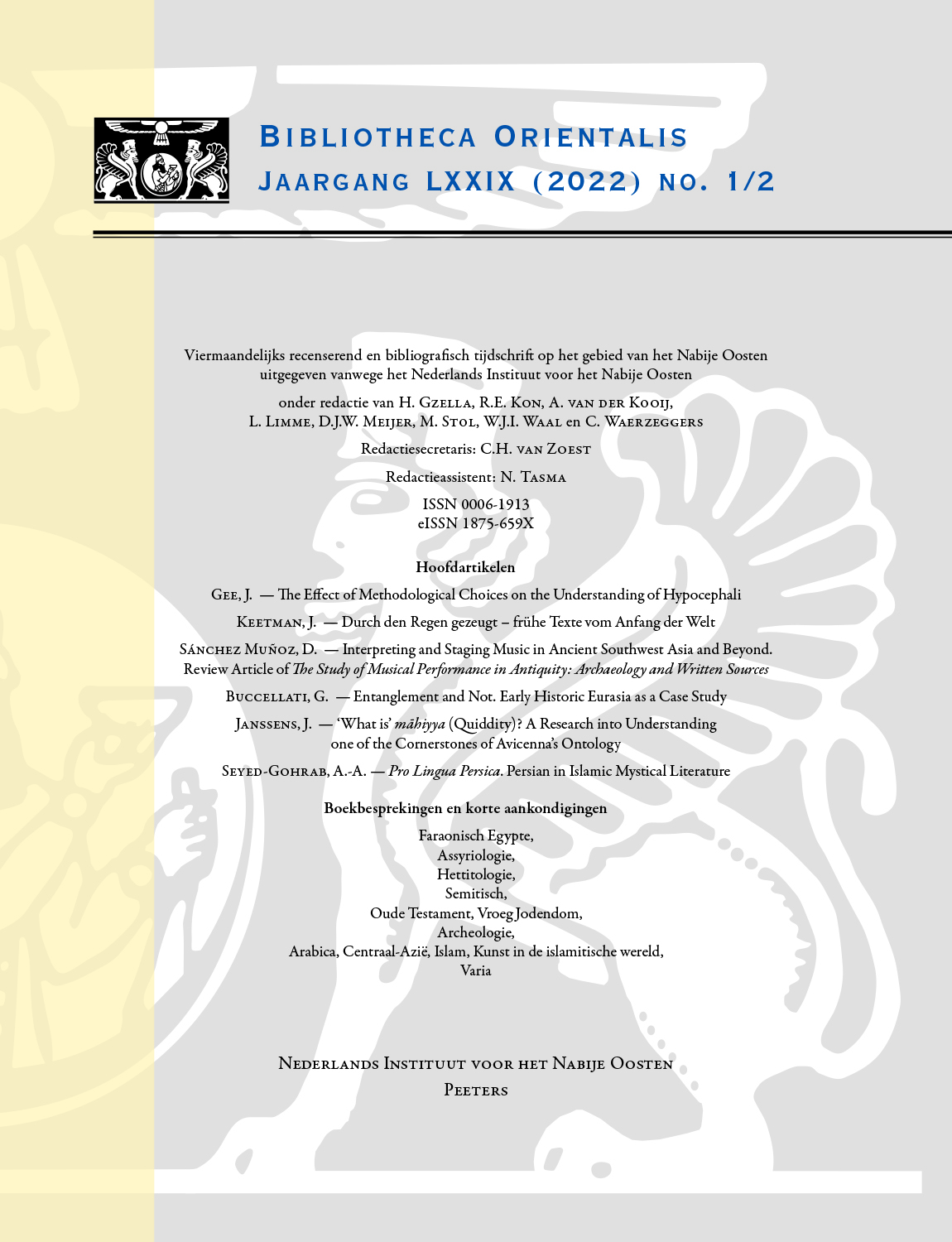 Document Details :

Title: Archeologie
Author(s):
Journal: Bibliotheca Orientalis
Volume: 72 Issue: 1-2 Date: 2015
Pages: 151-177
DOI: 10.2143/BIOR.72.1.3085182

Abstract :
BEUGER, C. - Die Keramik der Älteren Ischtar-Tempel in Assur. Von der zweiten Hälfte des 3. Jahrtausends bis zur Mitte des 2. Jahrtausends v. Chr. (Wissenschaftliche Veröffentlichungen der Deutschen Orient-Gesellschaft 138). Verlag Otto Harrassowitz, Wiesbaden, 2013.

BIANCHI, A. - Comparative Studies on the Pottery of Sector AK of the Royal Building in Tell Mozan / Urkeš (Syria). (Studien zur Urbanisierung Nordmesopotamiens, Serie D: Supplementa 2). Verlag Otto Harrassowitz, Wiesbaden, 2012.

HASPELS, C.H.E., BERNDT, D., with contributions of H. Çambel) - I am the Last of the Travelers. Midas City Excavations and Surveys in the Highlands of Phrygia. 2nd revised and enlarged edition. Archaeology and Art Publications, Istanbul, 2012.

RITTER, N.C. - Die altorientalischen Traditionen der sasanidischen Glyptik. Form - Gebrauch - Ikonographie. (Wiener Offene Orientalistik 9). LIT Verlag, Münster, 2010.

STEINER, M.L., KILLEBREW, A.E. (eds.) - The Oxford Handbook of the Archaeology of the Levant c. 8000-332 BCE. (Oxford Handbooks on Archaeology). Oxford University Press, Oxford, 2014.

ARBEL, Y. - Ultimate Devotion: The Historical Impact and Archaeological Expression of Intense Religious Movements. (Approaches to Anthropological Archaeology). Equinox Publishing Limited, London, 2009.

CHRUPCAŁA, L.D. (ed.) - Chist is Here! Studies in Biblical and Christian Archaeology in Memory of Michele Piccirillo ofm. (Studium Biblicum Franciscanum, Collectio Maior 52). Edizioni Terra Santa, Milano, 2012.


Download article