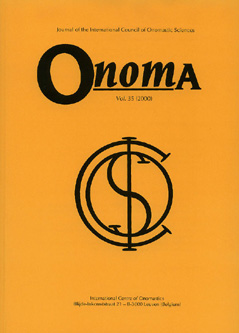 Document Details :

Title: The History and Practice of the Regulations for Changing One's Family Name in Hungary
Author(s): FARKAS, Tamás
Journal: Onoma
Volume: 47 Date: 2012
Pages: 35-56
DOI: 10.2143/ONO.47.0.3085138

Abstract :
The aim of the present paper is to analyse the legal regulation and the official procedures of family name changes in Hungary from the beginning of official personal name use until the present days. The study focuses not only on the regulations for name changes but also on their realisation in practice. The paper provides an overview of the historical changes of these regulations and procedures, including their more or less technical details, and the relationship of these factors to ever-changing historical backgrounds. The study devotes special attention to the related onomastic aspects, especially to the restrictions concerning the range of adoptable name types (non-Hungarian sounding names, frequent names, names of archaic spelling, compound surnames and protected names). The reasons behind the principles impacting the restrictions, their changes and the problems that they present in practice are also analysed in detail. The study surveys two centuries of family name changes in Hungary; however, the perspectives and the orientation of the study may well be revealing in terms of certain issues with respect to name changes in other countries.


---

Le but du présent article est d'analyser la réglementation juridique et les procédés officiels concernant les changements de nom en Hongrie depuis l'introduction officielle des noms de famille jusqu'à nos jours. L'interrogation porte à la fois sur les questions de la réglemantation et celles de sa réalisation pratique (y compris le côté technique). L'article passe en revue les changements historiques du domaine, cherchant à établir un rapport entre ces derniers et le contexte historique. Divers aspects d'ordre onomastique sont fortement soulignés, notamment en ce qui concerne les catégories des noms de famille non autorisés (sonorité différente par rapport à celle des noms hongrois, fréquence importante, forme archaïque, noms de famille composés, noms protégés). Les fondements des principes qui réglementent le choix des noms sont également examinés ainsi que les variations de leur application et les problèmes théoriques et pratiques qu'ils soulèvent. L'article est consacré à l'analyse de la réglemantation des changements de noms en Hongrie pendant deux siècles, néanmoins, ses points de vue peuvent être instructifs pour aborder des questions analogues posées par les changements de noms effectués dans d'autres pays.


---

Ziel dieses Artikels ist es, die offizielle Regulierung und die Prozesse der
Familiennamensänderungen in Ungarn vom Beginn der offiziellen Personennamensbenutzung bis heute darzustellen. Nicht nur die Regeln in Theorie werden analysiert, sondern auch ihre Umsetzung in die Praxis. Der Artikel gibt einen Überblick über die geschichtlichen Veränderungen von diesen Regulierungen und Prozessen, einschließlich ihrer mehr oder weniger fachlichen Details, sowie über die Beziehung dieser Faktoren zum wechselnden historischen Hintergrund. Besondere Aufmerksamkeit wird den verwandten onomastischen Aspekten dieser Fragen gewidmet, vor allem die nicht verwendeten Namentypen (nicht ungarisch klingende Namen, häufige Namen, Namen archaischer Rechtschreibung, Doppelnachnamen, geschützte Namen). Die Gründe der die Namenwahl regulierenden Prinzipien, der Wechsel ihrer Anwendung und die sie betreffenden theoretischen oder praktischen Probleme werden ausführlich besprochen. Zwar schildert der Artikel die Regulierungen der Namensänderungen von zwei Jahrhunderten in Ungarn, aber die Aspekte können aufschlussreich auch im Bezug der Fragen der Namensänderungen in anderen Ländern sein.


Download article