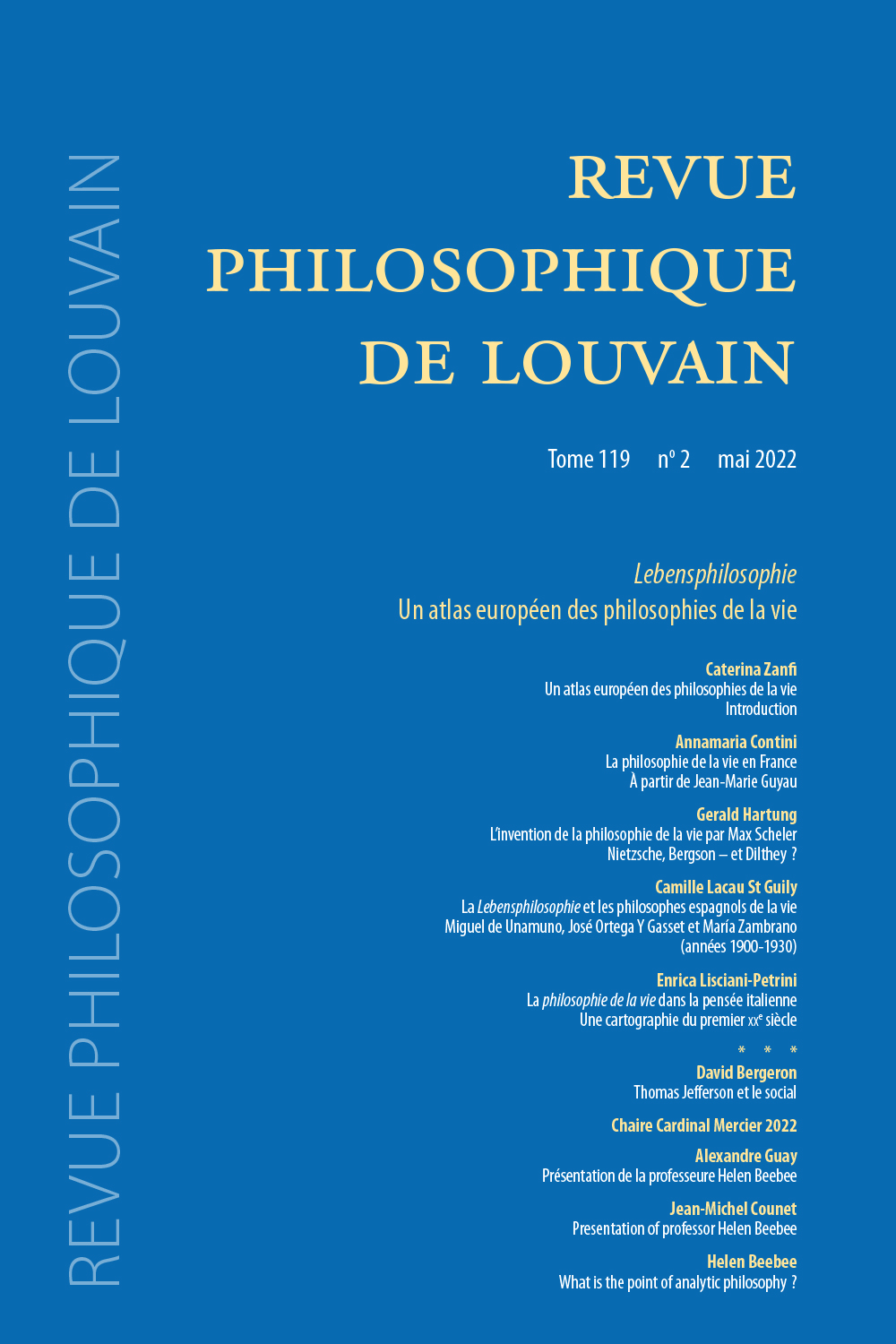 Document Details :

Title: Qu'est-ce qu'un phénomène physique?
Subtitle: Sur la théorie des sensations dans la Psychologie du point de vue empirique de Franz Brentano et ses conséquences pour la scientificité de la psychologie
Author(s): GYEMANT, Maria
Journal: Revue Philosophique de Louvain
Volume: 113 Issue: 1 Date: février 2015
Pages: 63-83
DOI: 10.2143/RPL.113.1.3073467

Abstract :
Dans sa Psychologie du point de vue empirique Brentano fonde le caractère scientifique de la psychologie sur le geste qui délimite le domaine particulier de cette science aux seuls phénomènes psychiques, en excluant les phénomènes physiques. La distinction entre ces deux types de phénomènes devient ainsi essentielle pour le projet brentanien d'une psychologie scientifique. L'objectif de ce travail est de montrer d'une part que la critique que Husserl fait à la fin de ses Recherches logiques de la distinction brentanienne entre phénomènes psychiques et phénomènes physiques ne tient pas compte entièrement de la finesse de la théorie brentanienne des phénomènes physiques. Il s'agira cependant, par la suite de montrer les difficultés qui découlent précisément de cette conception brentanienne complexe des phénomènes physiques, en particulier ceux qui se présentent sous la forme des sensations. Nous montrerons que la théorie brentanienne des sensations à l'époque de sa Psychologie donne à ces phénomènes un caractère double, à la fois physique et psychique, et met ainsi en danger le projet même de délimiter définitivement le domaine de la psychologie aux seuls phénomènes psychiques.


---

In his Psychology from an Empirical Standpoint Brentano founds the scientific character of psychology on gesture which limits the particular domain of this science to psychic phenomena only, excluding physical phenomena. Thus the distinction between these two types of phenomena becomes essential for Brentano's project of a scientific psychology. The aim of this study is to show on the one hand that Husserl's criticism at the end of his Logical Investigations of Brentano's distinction between psychical phenomena and physical phenomena does not entirely take account of the finesse of Brentano's theory of physical phenomena. Thereafter, however, an attempt will be made to show the difficulties that arise precisely from Brentano's complex view of physical phenomena, particularly those that present themselves in the form of sensations. We shall show that Brentano's theory of sensations at the time of writing his Psychology gives these phenomena a double character, both physical and psychic and thus endangers the very project of definitively limiting the domain of psychology to psychic phenomena only.


Download article