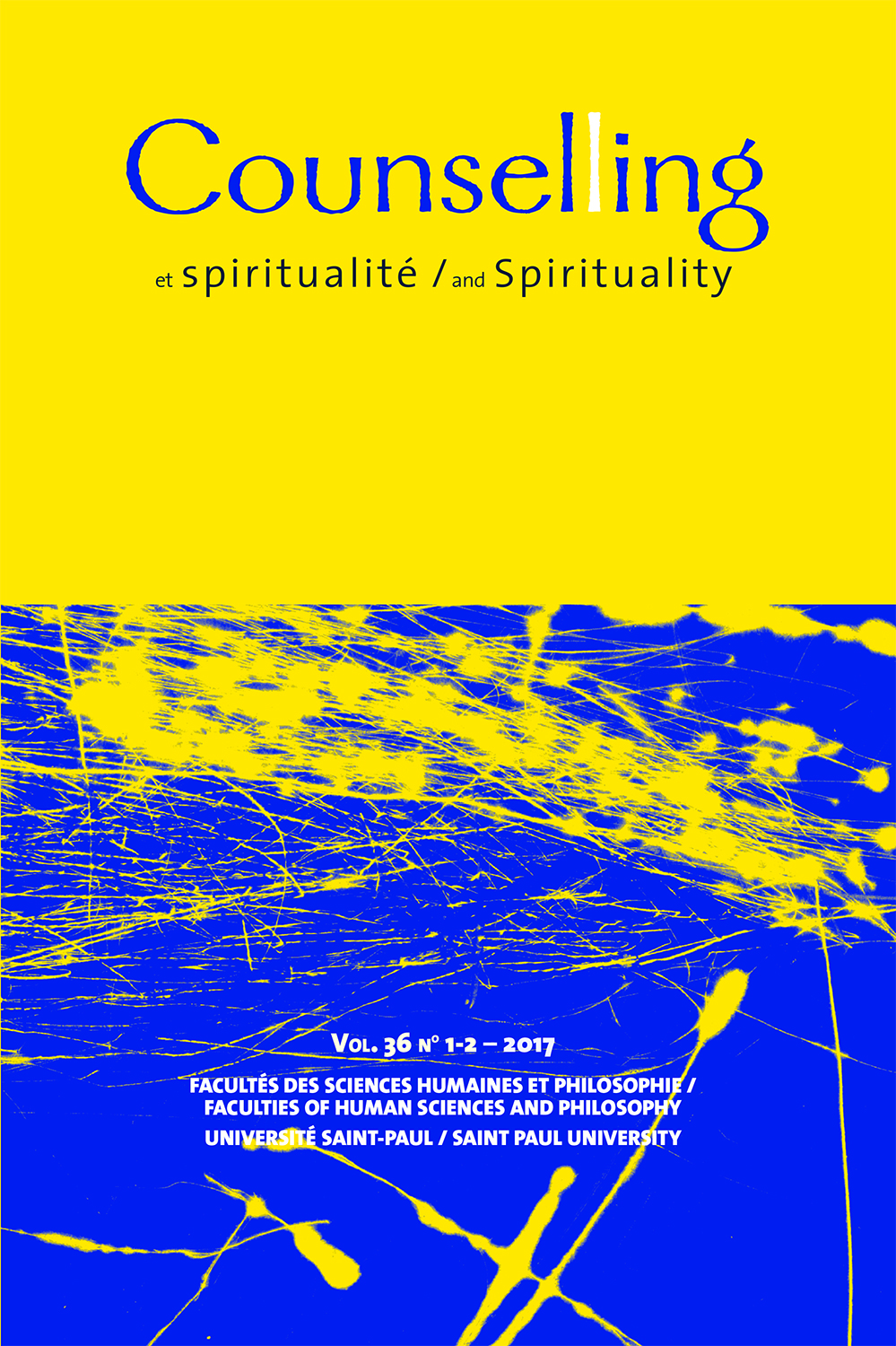 Document Details :

Title: Mindfulness Meditation & Gratitude Journalling
Subtitle: The Experiences of Graduate Counselling Psychology Students
Author(s): CHLEBAK, Catherine M. , JAMES, Susan , WESTWOOD, Marvin J. , GOCKEL, Annemarie , ZUMBO, Bruno D. , SHAPIRO, Shauna L.
Journal: Counseling et spiritualité / Counselling and Spirituality
Volume: 32 Issue: 2 Date: 2013
Pages: 79-103
DOI: 10.2143/CS.32.2.3017318

Abstract :
Stress-impacts, both short and long term, are well-documented occupational "land-mines" that counsellors navigate throughout their careers- in particular novice therapists and trainees (Shapiro, Brown, & Biegel, 2007). A known antidote is self-care, a process of creating and maintaining self-awareness and self-regulation (Baker, 2003). Its impact cannot be underestimated: self-care is integral in creating psychological wellness both personally and professionally and for counsellors, ethical obligations are stipulated (APA, 2002; Elman, 2007; Harris, 2010). In literature, two emerging and theoretically linked self-care practices, mindfulness and gratitude (Nelson, 2009; Shapiro et al. 2007), were examined with nine graduate counselling psychology students. A 15-minute mindfulness meditation and gratitude journalling intervention was conducted; qualitative data of weekly gratitude diaries and an interview at study-end was collected and analyzed. Four themes emerged from the interviews: a) Routine and Structure, b) Relationships, c) Attitudes of Mindfulness, and d) Overall Impacts. The diaries revealed three themes: Relationships, Situational/Life Circumstances, and Ineffable Life Enhancers. An argument is made for the inclusion of a mindfulness curriculum, further studies of gratitude counselling interventions, and a research-based mindfulness and gratitude relationship.


---

Les impacts du stress, à court et long terme, sont connus professionnellement comme des terrains minés que les conseillers parcourent tout au long de leur profession, particulièrement, les thérapeutes et les stagiaires en début de leur carrière (Shapiro, Brown, & Biegel, 2007). L'antidote connu est l'auto-soin, un processus de création et de maintien de la conscience de soi et de l'auto-régulation (Baker, 2003). Son impact ne peut pas être sous-estimé: l'auto-soin est essentiel dans la création du bien-être psychologique personnel et professionnel et prévoit des obligations éthiques pour les conseillers (APA, 2002; Elman, 2007; Harris, 2010). Dans la littérature, deux pratiques émergentes d'auto-soin théoriquement reliées, la pleine conscience et la gratitude (Nelson, 2009; Shapiro et al. 2007), ont été examinées auprès de neuf étudiants de troisième cycle en psychologie du counseling. Quinze minutes de méditation de pleine conscience et la pratique de la tenue de journal sur la gratitude ont été effectuées. Par la suite, les données qualitatives des journaux intimes pourtant sur la gratitude hebdomadaire et une interview à la fin de l'étude ont été recueillies et analysées. Les entrevues ont fait ressortir quatre thèmes: a) routine et structure, b) relations, c) attitudes de la pleine conscience et d) impacts globaux. Les extraits des journaux ont révélé trois thèmes: a) relations, b) circonstances situationnelles de la vie et c) stimulateurs ineffables de vie. Puis, un argument convaincant est introduit pour inclure un programme portant sur la pleine conscience, d'autres études d'interventions relatives à la gratitude en counseling et de la recherche basée sur la pleine conscience et sur les relations de gratitude.


Download article