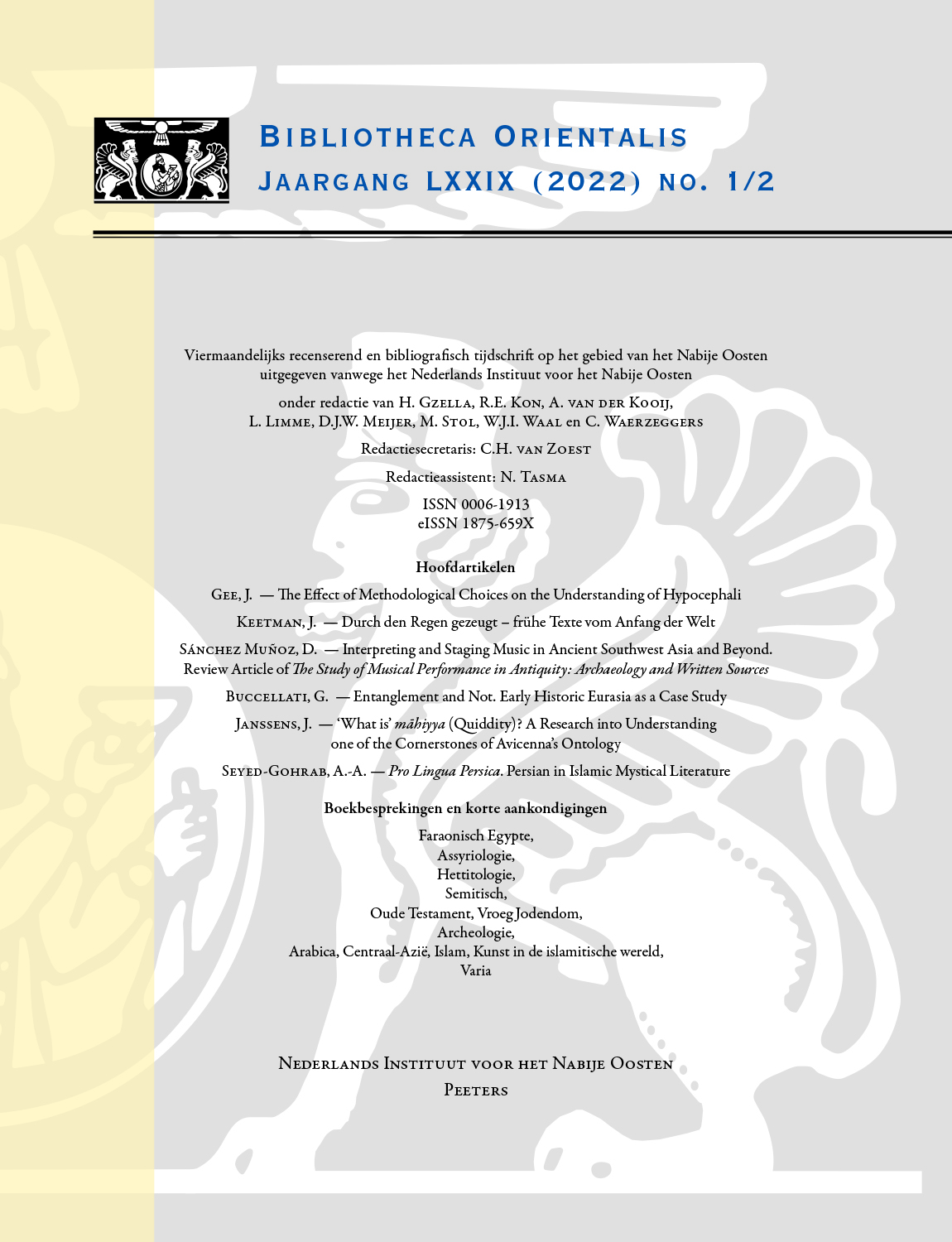 Document Details :

Title: Archeologie
Author(s):
Journal: Bibliotheca Orientalis
Volume: 70 Issue: 5-6 Date: 2013
Pages: 771-800
DOI: 10.2143/BIOR.70.5.3013243

Abstract :
SCHMITT, A.W. - Die Jüngeren Ischtar-Tempel und der Nabû-Tempel in Assur. Architektur, Stratigraphie und Funde. (Baudenkmäler aus assyrischer Zeit 14). (Wissenschaftliche Veröffentlichungen der Deutschen Orient-Gesellschaft 137). Verlag Otto Harrassowitz, Wiesbaden, 2012.

HERRMANN, G., LAIDLAW, S., COFFEY, H. - Ivories from the North West Palace (1845-1992). (Ivories from Nimrud 6). Oxbow Books, Oxford, 2009.

KAMLAH, J. (ed.) in cooperation with MICHELAU, H. - Temple Building and Temple Cult. Architecture and Cultic Paraphernalia of Temples in the Levant (2nd-1st Mill. B.C.E.). Proceeedings of a Conference on the Occasion of the 50th Anniversary of the Institute of Biblical Archaeology at the University of Tübingen (28-30 May 2010). (Abhandlungen des Deutschen Palästina-Vereins 41). Verlag Otto Harrassowitz, Wiesbaden, 2012.

SAGONA, C. (ed.) - Beyond the Homeland. Markers in Phoenician Chronology. (Ancient Near Eastern Studies Supplement 28). Peeters, Leuven, 2008.

PELTENBURG, E. (ed.) - Cyprus. (Associated Regional Chronologies for the Ancient Near East and the Eastern Mediterranean 2). Brepols, Turnhout, 2013.

GÜTSCHOW, C. - Methoden zur Restaurierung von ungebrannten und gebrannten Keilschrifttafeln - Gestern und Heute. (Berliner Beiträge zum Vorderen Orient 22). PeWe Verlag, Gladbeck, 2012.

MANASSERO, N. - Rhyta e corni potori dall'Età del Ferro all'epoca sasanide. Libagioni pure e misticismo tra la Grecia e il mondo iranico. (BAR International Series 1750). Archaeopress, Oxford, 2008.

Korte aankondigingen:
KAELIN, O. - 'Modell Ägypten'. Adoption von Innovationen im Mesopotamien des 3. Jahrtausends v. Chr. (Orbis Biblicus et Orientalis, Series Archeologica 26). Vandenhoeck & Ruprecht, Göttingen, 2006.

NAGEL, W., STROMMENGER, E., EDER, C. - Von Gudea bis Hammurapi. Grundzüge der Kunst und Geschichte in Altvorderasien. (Arbeiten zur Archäologie). Böhlau Verlag GmbH, Köln, 2005.


Download article